Innovating the humble earthen pot to manage waste from home in an eco-friendly way

29-June-2012
Vol 3&nbsp|&nbspIssue 26
In a day and age when gadgets, technology and sci-fi call the shots, there are those like Poonam Kasturi Bir who have not just helped in reviving the cause of the humble earthen pot, but also innovated it to manage waste from our homes in an eco-friendly manner.
Fondly called the compost wali, this alumnus of the National Institute of Design began her tryst with pottery in a small way back in 2006.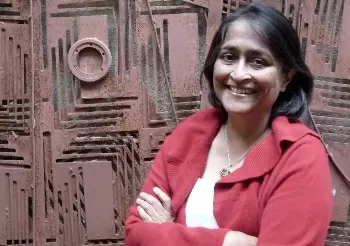 Poonam's khambas have travelled far and wide and are today seen even in countries like Chile and the US
From the time she first got 30 odd pots made to convert kitchen waste to manure for family and friends, Poonam has come a long way with her venture, Daily Dump.

When she began, Poonam knew she was taking a risk, but unmindful of the fears plunged into it anyway. "I was convinced that it would work, but I realised that it could even fail. I did have my own fears," she admits.

However, having worked in a corporate environment, she was convinced that she had to contribute to a worthwhile cause.
Today, at least ten thousand people spread out in Bengaluru, Goa, Chennai, Delhi, Mumbai, Hyderabad, Cochin, Pune and Coimbatore are using her khambas – terracotta pots – to turn their waste into compost.

Poonam's three-tier terracota composter costs around Rs.1200. Waste is filled in the top two containers and the compost is stored in the bottom most unit.

All that one needs to do in order to use the three-tiered khambha is to add dried leaves on a daily basis to the wet waste and keep transferring the waste between the top two containers as they get filled up.
As the concept caught on in Bengaluru, Poonam started setting up Daily Dump 'clones' in other cities as well. The clones are authorized to make similar khambas using potters in their local areas.

Poonam's khambas have travelled far and wide. The khamba model is followed by people even in Chile, and the US.

But what has been the user feedback? Most users are happy and they start using it on a regular basis. However, it is estimated that about 15 percent users drop out in course of time.
Word of mouth publicity has helped the teen khambha grow into what it is today, an environment friendly initiative, which helps manage home waste effectively.
Poonam is now looking at upgrading and reinventing the product. "We are now working on another model, especially for people who do not have the time to make compost." She says the new model would be ready by July 2012.

As for tips on waste management, she concurs that the most important thing people should do is to segregate their waste, into dry and wet.

"We need to relook at our own dustbins. There are a lot of people who go through our waste, like the rag pickers. "If we don't want to scurry through the waste we have generated from our own kitchens and homes, how do we expect them to do it?"
A point surely worth considering, pondering and doing something about.

Trending Now: