Three youth realize their childhood dream by inventing a waterless car wash

22-June-2012
Vol 3&nbsp|&nbspIssue 25
Three school friends who dreamt of engaging in some social action when they became adults have realized their dream by setting up 'India's 1st waterless car wash' service agency at Coimbatore called '3C Clean Care'.

Offering door-to-door service, they wash cars using an eco-friendly cleaning liquid called carnauba wax that is extracted from a Brazilian palm tree.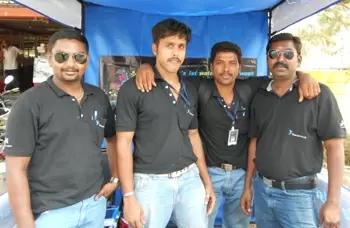 3C's promoters hope to save millions of litres of water in the next few yearsby extending their service to other parts of the country
Not a drop of water is wasted. The customer need not drive to the service station either. It is service at your doorstep literally. And appointments are fixed at the customer's convenience.

At a pre-appointed time, servicemen arrive at the client's place with a spray can containing the special liquid, a piece of soft cloth, and a vacuum cleaner to clean the interiors.

After spraying the liquid on the car, it is wiped with the cloth. "It is an imported cloth that absorbs all the dust and dirt from the car's surface, and leaves no scratch on the body," says K Karthikeyan (28), MD of the company.

It takes about 20 minutes to half an hour to wash a car and the timing depends on the size of the vehicle. Since no water is used in the entire process, it is estimated that about 25 litres of water is saved during each car wash.

3C's promoters hope to save millions of litres of water in the next few years by building their client base in Coimbatore first and then expanding it to other parts of the country through a franchisee model.

Launched on March 22, World Water Day, the company already has about 200 'satisfied' customers, who are supportive of 3C's eco-friendly enterprise that also creates awareness on water conservation, promotes tree planting, and as a social cause even offers part-time jobs for college students.

Customers find their rates reasonable and their door-to-door service with monthly packages attractive. On a monthly basis, the customer gets five washes for Rs.400, or ten washes for Rs.650. The company also offers quarterly, half-yearly, and annual schemes, with discounts.

E Balachander, an industrialist, who has engaged 3C to maintain his two cars, is pleased with their service. "I am able to keep my cars clean. But what is more satisfying is the realization that you are saving some precious water by opting for the waterless wash."

Balachander was even gifted with a sapling on his wedding anniversary in May in keeping with 3C's policy of presenting its customers with a sapling, sweet box, and a motivational book on their birthdays and wedding anniversaries.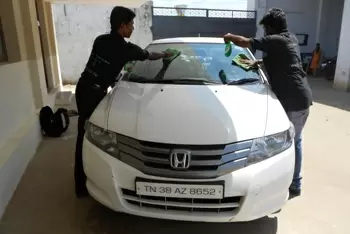 "We do not stop with gifting the plants. We also take care of them during our visits to the customer's place. This way we ensure the saplings survive and grow into trees," says Karthikeyan.

P Raja (31) and Rajesh Kumar (33) are 3C's two other founding MDs, who are treating this venture as an opportunity to serve society. All three have a job or business that gives them a regular income.

3C is their gift to society. They have already started impacting many lives. Sathish Kumar, a 2nd year BSc student of Government Arts College, Coimbatore, has a part-time job in the company and washes cars during after college hours. "This job gives me the money to pursue my studies," he says.

3C's waterless wash has a drawback in the sense that it can't remove dirt from the underside of a car. But nevertheless it is an initiative that deserves encouragement.

Wish to share your story?
Trending Now: