Wa-Bike! A revolutionary idea that involves using home grown bamboo to make bicycles

13-April-2012
Vol 3&nbsp|&nbspIssue 15
If 40000 carbon spewing vehicles are added in a year in a small city like Imphal where one can reach anywhere in just a 6-Km radius, then it is time to take some drastic steps to save the environment of this beautiful city before it gets filled by smoke, dust, and pollution, and starts choking itself to death.

Imphal, capital of the north-eastern State of Manipur, is blessed with nature's bounties and a salubrious climate. But pollution levels are rising here, pushing some environmentally conscious persons in the city to look for an out of the box solution.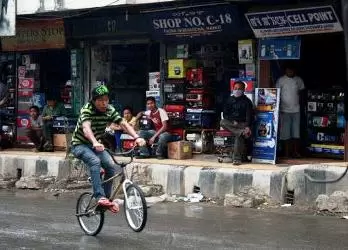 Wa Bike! Bamboo frames are as strong as steel, say the developers of the bamboo bicycle
Working on the premise that pollution could be brought under control if more people started using bicycles for commuting, the Manipur Cycling Club (MCC) and South Asia Bamboo Foundation (SABF) have joined hands to develop a 'green' bicycle' - which is made of bamboo frames instead of the aluminium or steel frames used in normal cycles.

Branded as 'Wa-Bike' (bamboo is known as Wa in various parts of South East Asia) three prototypes of the bamboo bicycles have already been successfully tested. One of them is a sports model.

"We will continue to test the bikes for another six months and make more improvisations," says James Meiteicha of MCC. He adds that by April end, two more prototypes will roll out.

Kamesh Salam, founder-director of SABF, had provided the technology for treating the bamboos before use, and had also identified the varieties that could be used in the bicycles.

But can bamboo frames match the strength of steel? James says when bamboo is treated through a series of processes, it becomes stronger than steel.

The bamboo is soaked in water, subjected to a smoking process, and then treated chemically to make it strong and termite resistant. Its light weight is an added advantage. Also, it is a better shock-absorber than steel.

Craftsmen from SABF and MCC came together at a workshop early this month to develop the prototypes that were later tested successfully. They are now working on making further improvisations.

However, as Kamesh pointed out earlier, bamboo bicycles are not new to the world. They are being used in parts of Africa and South East Asia.

Ramananda Wangkheirakpam, who is the key person behind MCC, says bamboo bicycles makes economic sense in Manipur as bamboo is found abundantly in the region, even in the backyards.

There are around 255 bamboo varieties in the world, out of which around 44 are found in the Northeast region alone.

The bamboo varieties growing in Chandel and Churachandpur area of Manipur and Kalapara region of Tripura have been found ideal for making bicycle frames. Other parts of the cycle are procured from any cycle manufacturer.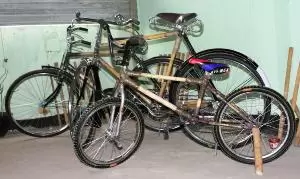 The Wa-Bikes have already found takers and Manipur's Environment Department has placed orders for one thousand bicycles. It plans to park these bicycles at tourist locations like Kangla Palace and college campuses, and offer them on rent to visitors.

About nine craftsmen, who underwent training recently, are involved in the development of the bicycles. Mass production of the bicycles will start in another 6 months to one year.

James and Ramananda, along with few other concerned citizens had started the MCC on January 23, 2011 to foster environment, economy, and health in Manipur.

Promotion of bamboo bicycles is to encourage sustainability and is an effort toward climate change mitigation. The duo had been alarmed by the increasing number of vehicles in Imphal, what with banks providing easy loans.

A small city where cycles used to be a major mode of transportation was being flooded with vehicles resulting in rising pollution. Adding to the woes was absence of any stringent checks by the Pollution Control Board.

The duo is also excited that cycle parts from unused bicycles lying at homes in Imphal could be recycled as Wa-Bikes and they could hit the road in a new avatar.

Would Wa-Bikes become a fad in Manipur soon? One has to wait and see.

Trending Now: