A woman leads her Adivasi community, setting an example for all leaders

26-January-2012
Vol 3&nbsp|&nbspIssue 4
With her dread locks, the faded sari and her dusty feet with cracked heels, 56-year old Sukhantibai of Handitola village in Chhattisgarh's Rajnandgaon district looks like yet another poor Adivasi woman living in an underdeveloped region.

But hidden behind the look, is a lady of iron will who from a farm laborer, has risen to the rank of a Sarpanch and now leads a village in the midst of the raging Government vs Maoist war.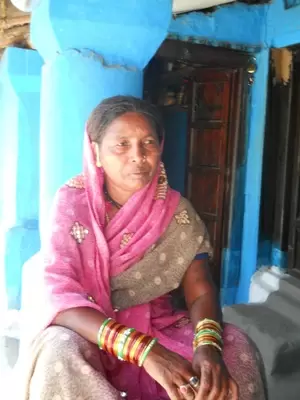 Sukhantibai is an ideal leader whose selfless service to people has won her respect from all, including the Maoists
Her story of that transformation is fascinating: In 2005, a villager – a Dalit man - had hung himself in Handitola. By the time the body was found, it was on the verge of decomposing. But nobody dared go near him; for some, the man was an 'untouchable', while others were plain scared.

Then, Sukhantibai came with a sickle in her hand and, even as the whole village stared in fear and awe, stood upon a stool, cut the rope and lowered the body. Few days later, the villagers unanimously selected Sukhantibai – a Gond Adivasi woman and the most courageous of them all - as their Sarpanch.

It has been 7 years since then and Sukhantibai is serving her second term, having been re-elected in 2009 Panchayat election. However, despite being in power for seven long years, she remains very humble; her house is still a mud hut with uneven walls and a tiny courtyard; her kitchen consists of a wood stove, a couple of earthen pots and a few small tins containing tea leaf and spices; her family has to fetch drinking water from the tap at the entrance of the village and, what's more, there is still no toilet in her house.

Says Sukhantibai, 'The government has a scheme called "Nirmal gaon yojana," to provide toilet and water for all. But the money is coming in small amount, so only a few families are getting the benefit at a time. There are 1260 people here. So far, 170 families have received water and toilets. I am trying to ensure that the rest of the families get them before my term ends.'

Since the supply starts at the beginning of the village and her house is at the far end, Sukhantibai will be among the last to receive the benefits of any scheme.

This is a revelation of her personality: if she wanted, she could have got the water straight to her house, like most others do. But she has instead let herself be among the "rest" who will have to wait for their turn to come.

This is a sign of her honesty- a quality that has won her the trust of the local people, including the Maoists who are known for opposing any government development project.

However, beside honesty, there are other qualities that define Sukhantibai: love for serving people, selflessness, and courage unlimited. As a poor landless tribal woman, an unmarried Sukhantibai worked as a laborer in the house of the 'Patel' - the richest man in her village. The village then had no electricity, no roads and no tap water.

But, since her election to the post of Sarpanch, she has been trying to do as much as possible for her community that has been a deprived lot for ages. As a result, the village boasts of many facilities: the primary school has been upgraded to 8th grade, separate toilets for boys and girls, a primary health center, an anganwadi, a large playground, a community hall, a community temple, electricity poles and drinking water taps.

However, her work for the welfare began long before she even became a Sarpanch. In 1995, on learning that Leprosy – a dreaded disease in her community – was curable, she organized several health camps with the help of villagers.

In each camp, she cleaned and bandaged the wounds of those who had advanced case of leprosy, before distributing among them medicine which she had collected from the block hospital. While she discovered the joy of serving people through this, villagers discovered in her a Good Samaritan and also a dutiful daughter of the community.

Today, as the Sarpanch, she maintains that camaraderie with the villagers, putting their problems before her own. For example, the house that she lives in now was bought from the Patel, who she once worked for. But, even after 15 long years, he refuses to transfer the ownership of the land in her family's name, simply because he doesn't think as an Adivasi she or her family has a right to own land.

Yet Sukhantibai hasn't approached a court against the Patel. The reason is that there are problems of others in her village that needs to be solved first: lack of safe drinking water, lack of water to irrigate their fields and no toilets.

"Court cases are lengthy affairs and I have no time to get involved into that right now," she says, before adding, 'I at least can eat a square meal and wear a coarse sari. My people here don't even have that. If I, the Sarpanch, start feeling sorry for myself, who will solve the problems of my people?'

To solve the problems, however, she sometimes devises some innovative solutions. Consumption of illicit liquor, for example, is a growing menace among the village youth.

To stop that, Sukhantibai does what a grandmother would do to her grandchildren: threaten to break their legs, if caught drinking inside the village. And to inspire the neighbors to educate their children, Sukhantibai, previously a 5th class dropout, rejoined school at 53 years of age and passed 8th grade under the Open school system.

Finally, she has a vision for the women of her village, whom she wants to step out of their life behind the curtains. Says Sukhantibai, '10 years ago, none of our girls would step outside their homes. Today, they are running shops and businesses.

"During a fair, you can see so many of them setting up food stalls. It makes me very happy. Adivasi women are very strong in body and mind. So, I also want them to enter politics. Women must have a say in the affairs of the village. It will only make our village more developed.'

As a state, Chhattisgarh may often be in the news for violence and conflicts, but right in the middle of this conflict zone stands Suhkantibai – a barefoot soldier who fights against enemies like illiteracy, poverty and deprivation with the only weapons she has: goodwill, honesty and love.

Trending Now: