A corruption free society can exist only if people are basically honest

Marianne de Nazareth
&nbsp | &nbsp Bangalore
05-January-2012
Vol 3&nbsp|&nbspIssue 1
It fills your heart with hope. To know that there is this 39-year-old man from Hyderabad named Abdul Mujeeb Khan, who is on a walk from Kanya Kumari to New Delhi, to inspire the common man to be honest.

"My walk is called 'Honest Steps' and it is to connect with a million Indians and inspire them to commit to personal honesty. The foundation of an honest nation or a corrupt free society lies in the honesty of each of its citizens," states Abdul with conviction.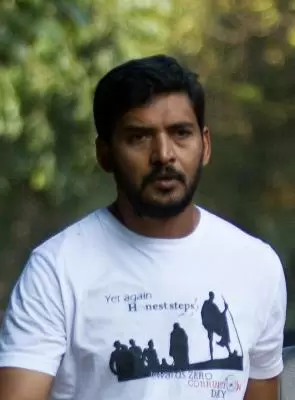 Abdul Mujeeb Khan rightly believes that a honest society has to start from the self
Abdul, who runs a non-profit organization in Hyderabad called 'Bhumi- Centre for Leadership Development,' hopes to cover 5,500 km through 15 states in his endeavour to spread his conviction.

"I look up to Gandhiji who stood for honesty and truth," he says, as he and nine other volunteers walking with him entered Kerala after beginning their walk from Kanya Kumari on 18 December.

On the way, supporters join the walk for a short stretch, some accompanying them for few days, or even a few kms. The idea is to get the involvement of as many people as possible in their mission to raise awareness on the need for honest living.
The response of the people he met in fairly affluent Kerala is varied. They had largely been positive and supportive of his enterprise, with people showering him with blessings and feeding him along the way.

However, he has also met cynics who do not expect him to succeed. "We have slept in petrol bunks for free along the way. We have been fed fish and prawns by the fisher folk community, which has been a delicious experience.

"We have also survived on 'Phut' which is the cheap street food of Kerala, which consists of a cylindrical coconut bar, which costs Rs7 that's eaten along with a plate of savoury channa for Rs10. The meal is very filling and we have all kept well through the 15 days in Kerala," he says.

So what is it that prompted Abdul to throw up all he was doing and undertake this mammoth walk?

Everytime he sat around with friends to chat, all they discussed was that India's honesty level among 150 countries, hung at a base, shameful low of 95th rank. "All we talked about was GDP and nowhere was the fact that we were lacking in honesty ever focussed on," lamented Abdul.

Indian parents teach their children to be honest at a personal level, explains Abdul, but in the larger context, the engagement with others is what is called 'practical,' he adds. Look the other way and pay bribes to get your work done is the norm.

What Abdul believes is simple. He draws a parallel with the existence of the police force. Inspite of the police being around there is violence and crime; we are not guaranteed a crime free society.

Similarly, even if we have a Lokpal Bill he says, unless we feel the need to be honest ourselves and make a change by imbibing the values of honesty at an individual level, there will be no change. It is to make people understand that they have to shake themselves up to make a difference is why he has decided to undertake this walk.

Abdul is looking to reach Raj Ghat on the 7th of April 2012 and on the 8th of April he wants to observe a Zero Corruption Day with fellow citizens who support his stand.

How many of us can stand up to the courage of our convictions? Let us salute Abdul for his will power and the strength of purpose, to spread what he believes will help build a new and truly 'shining' India.


Trending Now: