Kenyan woman journalist at UN climate change conference has hot stories to tell

Stella Paul
&nbsp | &nbsp Durban
05-December-2011
Vol 2&nbsp|&nbspIssue 48
It was on 7th of November that Audrey Wabwire, a radio journalist living in Nairobi, Kenya, boarded a Durban-bound truck. Her aim: to see the effect of climate change at the local community level and to share these stories from the ground to the world leaders, gathering 3 weeks later at the UN-led climate change meeting.
She spent 21 days on the road, traveling through 5 countries – Kenya, Tanzania, Malawi, Botswana and Zambia - before arriving in Durban on 27th.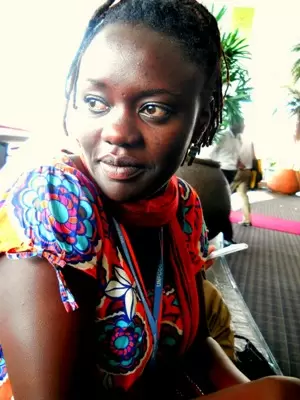 Aubrey Wabwire reported grassroots stories of climate change from 5 countries travelling in a truck from Nairobi to Durban
For 21 days she slept in the truck, sharing the space with 9 other journalists from other small African nations who had the passion to cover climate change, but lacked the resources to travel around to cover the issue extensively.
The opportunity to do this came when they were invited by the African Adaptation Program- an agency that raised awareness about climate change - to join a convoy that was traveling from Nairobi to the UN climate change conference at Durban (28 Nov – 9 Dec, 2011).
It was a difficult journey for Audrey. In Nairobi, people had come to know about the roadshow and were waiting to hear the stories from the ground. But all day, she was in the truck, travelling through barren land and villages where internet or mobile network didn't exist.
Sometimes the convoy did pass through cities and townships, but the trucks would be parked well outside the city center from where it would be impossible to reach a cyber cafe, write and file a story and be back in time.
But resilience had the upper hand. Against all odds, she filed two stories - one each week.
"I wrote my reports by hand during the short breaks when we stopped for a few minutes. Then I called my office in Nairobi and asked my colleagues to record my voice. I also recorded voices of locals whom I met along my tour and played those for my colleagues who re-recorded them," recalls Audrey.
Contrary to how it sounds, it was a job far from being so simple. Sharing the space within the truck with others meant there was noise all around. So, she had to wait till the dead of the night, when everyone would go to bed, to call her office. "I used to go to the toilet. It was dirty and smelly as we did not have enough water. But it was the only quiet place," she says.
This, however, wasn't the only challenge the journalist overcame. As the truck moved all day, it was only in the night that they could cook and eat a hot meal. For breakfast and lunch, they ate packed, cold food for all 3 weeks.
As the truck moved further ahead, washing became almost impossible. "In Botswana, where it is very close to the desert (Kalahari), there was no water. We had only a few buckets of water for cooking. So, there was no question of taking a bath, though it was very hot", says Audrey.
Moving from one weather (rainy, wet in Nairobi) to another (dry, hot in Zambia and Botswana) was a challenge and Audrey felt that she was now trying to adapt to a fast changing climate in her own life.
And then there were battles of a more personal kind: a single mother, she had to leave her 5-year-old son with another woman who promised to take care of him.
She misses her son deeply, but feels indebted to the neighbor for being so kind. "It's this woman who made it possible for me to come here. If she had not agreed to take care of my son, I couldn't have made it at all," she says with a smile.
Undoubtedly, the trip has brought out the tough side of her, but, how has it helped to deepen her knowledge of the core issue - climate change?
"It was a great learning scope. I saw and learnt things that I could have never done otherwise. Along the border of Tanzania - Zambia alone, I counted ten rivers which were completely dry. It was the most visible sign of climate change as a ground reality.
"Every day, as we passed through villages, I also met locals - farmers, cowherds and women - and had a first account of what was happening around them, how they were personally affected by climate change. Most of them did not know what climate change is. But what they told me was that things around them have changed - this tree was greener, that vegetable doesn't grow anymore and so on."
Now, at the UN conference, she feels that, as a media person she has evolved a lot during the 3 weeks. She learnt that the journalists have a tough job to translate to their audience, all these small gaps and changes which communities show to them, as effects of climate change.
However, she also feels that the governments should not read the reports with skepticism, but accept that as views from the ground.
Exploring, interacting, discovering and voicing - here is a journalist who is doing all this and more, to bring climate change into the public focus. Climate change then, is no longer a non-issue, not to this young firebrand journalist.


Trending Now: