'Mud for make-up and petrol for perfume'
Mohita Nagpal
&nbsp | &nbsp New Delhi
22-October-2011
Vol 2&nbsp|&nbspIssue 42
With leather jackets on their slender shoulders and bulky helmets on the head, they zoom past crawling traffic with a gentle twist of the wrists. Their plaits do a little dance in the air as their bikes leave a trail of dust and awe-struck onlookers.
They like 'mud for make-up and petrol for perfume'. They are women with a penchant for biking - they are "Bikernis", a curiously Indianised description.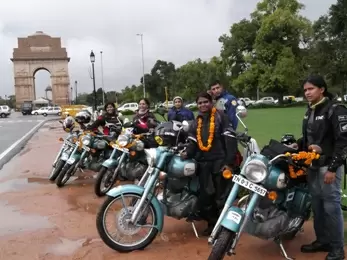 Ready for more: Ten members of the group recently rode from New Delhi to Leh (Photos: IANS)
Defying gender stereotypes and odd glances, they hit the long road whenever will commands, adrenaline rushing to the head.
Formed in January this year on Facebook, Bikernis is not just a group of Indian female bikers; for these women, motorcycles are an extension of their selves.
They handle the beasts with enviable ease, know the road like the back of their hand, participate in impromptu races with eager-to-prove-a-point men and take off on long trips at the slightest whim.
Formed by 23-year-old Urvashi Patole, a corporate communication executive moonlighting as a biker, The Bikernis has brought together 43 women bikers from across the country.
Ten members of the group recently rode from New Delhi to Leh, aiming for a place in the Limca Book of Records as the "largest group of girls to cross the world's highest motorable pass".
The oldest of the 10 was a 53-year-old from Gujarat while the youngest was 21. The machines were sponsored by Royal Enfield, with a support team trailing them along narrow passages and valleys.
"I wanted to create a platform for likeminded women. We usually ride with men. But this group helps us ride with women and shed our inhibitions," said Bangalore-based Patole over telephone.
Born in Pune, Patole got hooked to riding at 16. "I used to do crazy things with cycles," she reminisces.
Her first bike? An Activa! "Then I moved to a 100 CC bike and then a Royal Enfield 350 CC," she says with pride.
And how did her family take to her passion?
"My dad confessed that even he was a bike lover in his youth. So I got to know that it's in my genes...my sister was like, 'oh, that's so unladylike'."
Though her sister got over her anxieties, Patole's journey has not been devoid of preachings on gender roles.
"Some men get real hurt, they believe a woman's place is at home. They ask me if I'm trying to prove a point. I just laugh... I see a three-letter word written on their forehead - ego," she says with a laugh.
Bidaye Sheetal, 33, a Mumbaikar, was also part of the expedition to Leh.
"I usually ride with guys. So obviously I'm the pampered one. But with girls, there's a sense of responsibility towards them," says Sheetal.
The businesswoman has biked her way to Kashmir, Goa, Kargil, Manali, Ladakh and Siachen - mostly alone.
But have the roads always been good to her?
"I take precaution. I carry my own food...sandwiches and stuff. I don't stop at dhabas, as that way you attract attention."
"Sanitation is a problem. You can't relieve yourself anywhere you want like a guy. You have to look for 'ghats' or big rocks," she adds.
Then there's Chennai-based Chitra Priya, 26, who kick-started her biking career at 18, driven by her "need for speed".
The freelance filmmaker is also a connoisseur of bikes, what with eight beauties lined up in her little garage. After years of biking with guys, the Leh expedition was something out of the ordinary for Chitra.
"So far, only boys have taken such challenges. So it was an amazing experience to be part of an all-girl group," she said. - IANS


Trending Now: