A beedi-roller's son becomes an educationalist and is still raring to go higher
29-September-2011
Vol 2&nbsp|&nbspIssue 39
The school that Harekal Hajabba built probably has no parallel in the world. The 55-year-old 'founder' is an illiterate man who sells fruits for a living. But as the head of the school's development and maintenance committee, he toils day and night to ensure that every child in the hamlet that he grew up in enjoys the fruits of formal education.
A beedi-roller's son, Hajabba could not go to school. There wasn't one in his village. But thanks to his efforts over the past 15 years, 300 children in the small hamlet of Nyupadpu, 35 km from Mangalore, are in school.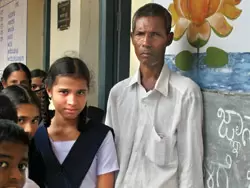 Selfless hero: Hajabba earns just Rs.150 a day and has five mouths to feed, but his poverty does not hinder his social work
"I wanted to ensure that no child here would be deprived of education the way I was. Much has been achieved and much remains to be done," he says.
Time was when the backward village of 50 houses would only produce illiterate youngsters who, like Hajabba, had no option but to join the lowly-paid labour force in and around Mangalore.
Formal education was a mirage for the children of Nyupadpu. In 1995, Hajabba, a fruit-seller since the age of 16, decided to do get his village a school.
Of course, this was easier said than done. He ran from pillar to post secure a grant to start a school. Four years later, the local authorities sanctioned the plan but did little else.
The plan approval was only a piece of paper. The authorities made no arrangements for either a plot of land or a building for the proposed school.
So, for several years, Hajabba's school, which started with 28 students enrolled in classes 1 to 4, was housed in the local mosque.
After a relentless struggle with the district administration, he managed to secure land from the district commissioner. It was in a hilly area, so Hajabba spent his savings to flatten the land.
He then appealed to everyone in and around the village to contribute to the school building fund.
Soon, he raised enough funds for the construction work to begin. He himself took active part in laying the bricks. Finally, in 2003, the edifice of Hajabba's dream was up and running.
The initial grant was for classes 1 to 4. The school was later extended up to Class 7. The salaries of the four teachers that were employed came from the funds that Hajabba had raised.
Today the primary school has six teachers and 168 students (88 boys and 80 girls). In 2007, Hajabba managed to set up a high school, which now has 125 students (66 boys and 59 girls) and eight permanent staff members.
The pass percentage of the first Standard 10th batch was only 35 per cent. The last batch registered a much improved 65 per cent. The high school now is well equipped with a laboratory, staff rooms, toilets and drinking water facilities.
It also has a room for cooking food sanctioned under the Dasoha Yojane. Computer rooms have been built, but the machines have yet to be installed.
The school headmistress said, "Hajabba is an amazing man. He never gives up until he gets what he desires for the school. He serves as a postman, carrying our applications to the authorities, and brings in the required funds."
The local people, too, cannot thank him enough. "He never uses school funds when he runs from one government office to another. Instead, he relies totally on what he earns by selling fruits on the streets of Mangalore," said one Nyupadpu resident.
He does all this despite the myriad problems of his personal life. He earns no more than Rs 150 a day and has five mouths to feed. His wife is ill, and so is his younger daughter.
His elder daughter has had to give up her studies to look after her ailing mother. His son, Ismail, dropped out of school after Class 8. But Hajabba carries on regardless.
In 2004, Kannada Prabha, a leading Kannada daily, awarded him the "Man of the Year" award along with a cash prize of Rs 1 lakh. In 2009, CNN-IBN awarded him a "Real Hero" prize, carrying Rs 5 lakh as cash.
Hajabba spent all the award money for the development of the school despite the fact that his own financial state often forces him to skip a meal. But his commitment to the school never wavers: he is there every morning, cleaning the premises and getting the building ready for the day.
Is he resting on his oars? No. One dream realised, he now wants a junior college for Nyupadpu. Knowing him, it is only a matter of time.
Published by arrangement with The Sunday Indian


Trending Now: