An entrepreneur sets up a BPO in his village in Karnataka
10-September-2011
Vol 2&nbsp|&nbspIssue 36
In modern day India, one can easily visualise educated urban youth sitting in well-equipped Business Process Outsourcing (BPO) centres in cities like Bangalore, Chennai and Delhi, and serving clients living in America, UK etc.
Can one, however, imagine not-so-well-educated rural youth doing the same thing sitting in a remote village of India?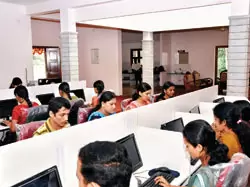 Bold initiative: Narayan Bhide set up the BPO in his village to provide jobs to the local youth (Photo courtesy: The Sunday Indian)
Well, Munjdaje, situated 75 km off Mangalore city, is a village that now boasts of a Business Process Outsourcing unit thanks to the ambition of a man to bring white collar jobs to his village and engage those who have been at a disadvantage.
The BPO, called 'chips.ework' has a workforce of 25, entirely drawn from the surrounding villages.
Another interesting thing about 'chips.ework' is that in employment, it has given priority to candidates who had either been rejected by the so-called reputed companies or those who have had average academic background.
Most of the employees are native Tulu speakers from the surrounding villages. Some of them are just class 10th pass. A little know-how of computer is enough to get a job in this village BPO.
The man behind the venture is 43-year-old Narayan Bhide, a law graduate. Bhide said, "This is my village and I have done it for the local talent. This is not purely a commercial venture. It is a kind of experience and an experiment."
He further added, "It is an effort to provide employment to the locals and to stop them from migrating to big cities in search of livelihood."
Against all odds, Bhide, whose leg was amputated 15 years ago, launched chips.ework in July 2011 in the village with a budget of Rs. 10 lakh.
He was aware that setting up a BPO in a village was fraught with risks, but he was willing to take risks in order to realise his dream of bringing jobs to rural India.
Citing the non-disclosure agreement, Bhide didn't reveal much about the work being done at his BPO and about his clients. The working hours are from 9 am to 5 pm. There is no shift system in 'chips.ework'.
Bhide has paid the salaries for the first month from his pocket and is now waiting to see how things turn out financially.
His next aim is to move into the profitable field of medical transcripts, which would raise some revenue. Besides running the BPO, Narayan Bhide grows export quality anthuriums and runs a mini hydro-electric power station in the outskirts of the village.

Published by special arrangement with The Sunday Indian

Trending Now: