An eatery owner from Erode serves lunch at Re.1 for the poor
Sundharabuddhan
&nbsp | &nbsp Erode
17-August-2011
Vol 2&nbsp|&nbspIssue 32
The proverbial well never goes to the thirsty, the latter has to come over to it to quench his thirst. But Venkatraman of Erode, Tamil Nadu, defies this logic and himself goes to the needy to give them coupons for an almost free meal. Venkatraman runs a small eatery near the Government Hospital in Erode. Everyday, he goes to the nearby hospital looking for attendants of poor patients. He gives them a token costing Re 1. If they come to his eatery and produce that token, they can have a full meal without shelling out any extra bucks!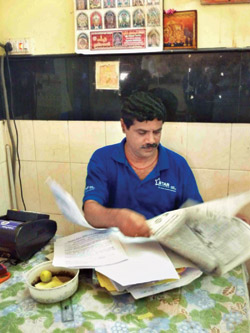 Super service: A normal meal costs about Rs 35 at Venkatraman's eatery, but he offers it at a discounted price of Re.1 for 30 poor people everyday (Photo courtesy: The Sunday Indian)
Sri AMV Homely Mess at Erode, run by Venkatraman, is very popular among the poor who come to the Erode Government Hospital.
Venkatraman was born in a joint family of 30 members. So, helping others came naturally to him. "I started this eatery in 1995. As the Government Hospital happened to be nearby, I used to note the struggles of the patients' attendants. I have seen many poor people struggling to buy food. I wanted to feed them. So I came up with this Re 1 token idea," says Venkatraman.
He adds, "Now many people know about this one-rupee lunch. So they come to me to get the token. An old woman has been eating here for the last six months."
Venkatraman doles out 30 such tokens everyday. "Though I am not very rich, I am able to manage this as other customers pay the full amount," informs the son of a former railway employee. A normal meal usually costs about Rs 35 at his eatery.
But why should the token cost Re 1 at all? Venkatraman has a logic: "If we give something absolutely free to somebody, they won't respect it. Only if they give something from their pocket, even if it is as meagre as one rupee, they will value it."
Venkatraman has two daughters. The elder one is studying BSc. His younger daughter got admission in an engineering college, but Venkat did not have the money to pay the college fee. People from the Ramakrishna Math in Chennai came to know of this and they came forward to help his daughter get admission in the engineering college.
The daily social service that Venkat does has obviously brought him fame across the state and newspapers in Chennai have written about him. The help extended to him was only a fitting recompense for a man who has brought succour to many. Venkatraman is happy that his daughter is now in an engineering college. However, his problems haven't ended: he is still struggling to pay the rather steep hostel charges.
But problems at the home front do not deter him from continuing with his social service. He reasons, "When I was young, there were times when I struggled to get one square meal a day. But now God helps me to feed others. Sometimes we cannot help others despite wanting to do so. But I am able to do so by God's grace."
Though this world is predominantly inhabited by selfish people, the acts of a few good souls make it a better place. Venkatraman is clearly one such good samaritan.

Published by special arrangement with The Sunday Indian

Trending Now: