A sting operation to put on record the Obvious that is corruption

04-August-2011
Vol 2&nbsp|&nbspIssue 31
When we entered the hut, the army of flies and a seventy-something-old man's fragile, lean fingers were engaged in a combat. The battle field was a broken mud vessel containing an ounce of cooked dal-chawal. The man is Ganga Ram, whose 27-year-old son Kamlesh committed suicide on May 24 in Anathura village of Banda district, Uttar Pradesh.
Kamlesh was a BPL farmer and couldn't repay a loan of Rs 18,000 that he took to buy seeds and fertilisers from the UP-Allahabad Gramin Bank. Negligible agricultural produce for the last three years and the constant threats of the recovery agents forced Kamlesh to hang himself from a neem tree.
His father, Ganga Ram, now alone, oscillates between starvation and the leftover food of the neighbours. He neither has a death certificate, nor a post mortem report, because he did not have Rs. 300 to bribe the officials.
In Bundelkhand, 80 percent of the population is dependent on agriculture out of which 76 percent are debt ridden. The average loan amount on each farmer in the region is at least Rs 45,000.

Kamlesh is one among the 1400 farmers, who have committed suicide in Uttar Pradesh in less than three years, for being unable to repay their debt. Yet, Uttar Pradesh government does not recognise even a single one.
Vultures feed on the dead. Government officials feast on dead farmers. Both of them are known, unchallenged and unconditionally accepted facts. And which is why, conducting a sting operation (for Headlines Today) to record the gluttony of these officials did not mean unearthing or exposing an unknown fact. It was important to state the Obvious.

As I posed as a relative of the dead farmers, to visit these government officials, I had to ask no manipulative questions, make no attempt to probe. One had to just record the Obvious – with the help of the spycam.
Village after village, the families of the farmers who have committed suicide talk of the same experience: of the visits they have to make to towns across long distances, of bribes they pay to petty officials, of the unending certification process, of losing working days and the big expenses incurred in this run around.
For any family, to claim compensation, besides paying a bribe to acquire death certificate and post mortem report, a copy of the 'jamabandi' is a prerequisite. It is a family-details record from the Block office and is required to apply for any relief scheme to get a BPL card. The 'fixed' rate for this document, I discovered during my investigation, is Rs 50.
Under the Land Reforms Act, a lot of BPL, landless farmers were donated land for farming. However, most of them did not get legal possessions. To get that, the land has to be measured by the Lekhpal and the details need to be recorded in the Block office.
Posing as an NGO official, I tagged along with Surajdeen, to visit the Revenue officer, Munna Lal, Naraini Block. A revenue inspector is the head of 12 Lekhpals.

Munna Lal, at first asked for an alcohol bottle, imported whiskey, merely to give a hearing. Once the bottle was got, Lal, rejected it, asking for a large bottle, which was bought for Rs 360, which is almost half a month expense of a BPL family.
After a lot of negotiation, Lal said he could only give a date a month later. He also wanted a bribe of Rs.3000, which would be roughly the expenses of Surajdeen's family for 4 months!

Once the land is measured by the Lekhpal, it needs to be transferred to the inheritors of the dead farmer.

It is only then that the family can apply for 'Kisaan Bima yojana' that gives a compensation to the family of the dead farmers (and not farmers who commit suicide) on the basis of the size of the land. To get that, the family member has to make incessant rounds of the office of the Court Clerk, who carries out duties of the Chief Revenue Officer of the Block.
Posing as a relative of Chhedi Lal, whose father had committed suicide this April, I met Harish Chandra, Court Clerk, Naraini tehsil. Chhedi Lal had visited this office several times, and had already paid the peon some bribe in order to seek an appointment with Harish Chandra. As we entered the office, Harish Chandra made an excuse that he has some urgent work and he cannot discuss the matter then. But once, he was handed over a note of Rs 100, and a packet of gutkha, he agreed to talk.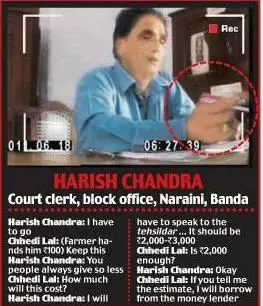 Harish Chandra went on to tell that since a lot of people are involved in the process of transferring the land, everyone has a cut and the final amount can only be told after a consultation with the Chief Revenue Officer. That too, when Chhedi Lal informed him that he will have to borrow money from a moneylender to pay the bribe. Eventually, a rough estimate of Rs 2000 was given.

After the story was aired, apart from several politicians like Rahul Gandhi and Sharad Yadav, Prime Minister Manmohan Singh also reacted saying that it's an extremely distressing situation and asked the Planning Commission to take note.

Even the National Human Rights Commission issued a notice to the Chief Secretary, UP Government, calling for a report on the matter of officials taking bribes from the families of the dead farmers.

And yet one wonders what does is it take in this country to acknowledge that its farmers are dying of hunger and in debt, be it in Kalahandi, Vidarbha or Bundelkhand.

Neha Dixit is an investigative journalist with Headlines Today


Trending Now: