Dr Nagabhairava Jayaprakash Narayan is willing to wait like Mamata Banerjee

Mahesh Avadhutha
&nbsp | &nbsp Hyderabad
15-July-2011
Vol 2&nbsp|&nbspIssue 28
"When Mamata Banerjee could wait for 34 long years to topple the Left government in West Bengal, we too can. We are just beginners in politics and our time will come sooner or later," says Dr Nagabhairava Jayaprakash Narayan, the founder of Loksatta party in Andhra Pradesh.
Narayan, who was elected to the State assembly from Kukatpally constituency in 2009, describes himself as a "physician by training, a civil servant by choice and a democrat by conviction."
The former IAS officer is making his presence felt in the political arena. His party, Loksatta, was the first to file a case in the Supreme Court seeking cancellation of 2G Spectrum license and recently it organized a roundtable meet on Jan Lokpal bill in New Delhi.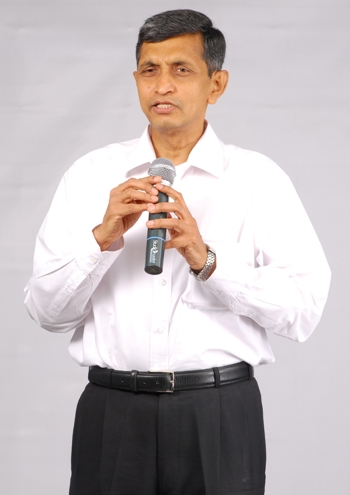 A Role Model: JP is prepared to wait for his turn to rule Andhra Pradesh
Widely known as JP, Narayan was born on January 14, 1956, in Godavarru village in Krishna district of Andhra Pradesh. Son of a railway employee, he spent the early part of his life in Andhra Pradesh and Maharashtra. After doing his intermediate education in Vijayawada, he studied medicine in Guntur medical college.

Like most youngsters of the 1970's, he was attracted to Loknayak Jayaprakash Narayan's movement that gained momentum following the declaration of the national emergency by then Prime Minister Indira Gandhi.
When doctors were allowed to take Civil Service Exams in 1979, JP decided to give it a shot. He entered the Indian Administrative Service in 1980.
JP had a highly distinguished and eventful career as a bureaucrat. As Collector of Prakasam District, he was instrumental in the creation of a record 2, 00,000 acres of irrigation with direct participation of people.
As Joint Collector of Visakhapatnam, he worked for the speedy rehabilitation of 8000 youth (all of whom got jobs) from families displaced due to the setting up of Visakhapatnam Steel Plant.
As Collector of East Godavari District, he spearheaded the reconstruction of drainage and irrigation network in Krishna and Godavari deltas. Narayan played a key role in the evolution of Hyderabad into a Hitec City and an IT hub.
He quit the IAS after 16 years, in 1996. "The choice was between staying inside the system and trying for reforms, or to come out of the system, challenge and force the government to make reforms. I chose the latter," says JP.

JP along with few like-minded people launched the Loksatta (people's power) movement in 1997. "We formed Loksatta with the aim of spreading knowledge in the sector of governance among people of India. Our message to common people is to assert collectively with knowledge," he said.

On October 2, 2006 coinciding with the birth anniversary of Mahatma Gandhi, Narayan floated a political party, also named Loksatta.

The party drew inspiration from the thoughts and ideals of two great personalities of the nation, M.K. Gandhi and B.R. Ambedkar. "Education and Medicare to all is our main motive. We will work to eradicate corruption and bring in electoral reforms," Narayan had said while launching the party.

Loksatta contested in 2008 bye-elections. In the 2009 general elections held in the state, it contested from 249 assembly seats. Though JP was the only one to win a seat, the party secured overall about 1.9 percent votes polled in the State.

What about his future plans? "Education, healthcare, agriculture, empowerment of women, jobs to unemployed youth are high on the party's priority list and come 2014 elections, we are confident of executing our plans better," he signs off.


Trending Now: