From Mumbai's red light area to battling trafficking; a Nepali woman's heroic struggle
Sudeshna Sarkar
&nbsp | &nbsp Kathmandu
11-July-2011
Vol 2&nbsp|&nbspIssue 27
When Hillary Clinton hugged Charimaya Tamang, the 34-year-old Nepali woman had reason to be proud. While all the other nine heroes feted by the US secretary of state were lawyers and officials, she was a former victim of Mumbai's notorious Kamathipura red light area who was being honoured for battling trafficking.
It was a long march to recognition and triumph by the woman who was sold to an Indian brothel owner at the age of 16 and tried to kill herself during her 22-month life of hell in Kamathipura.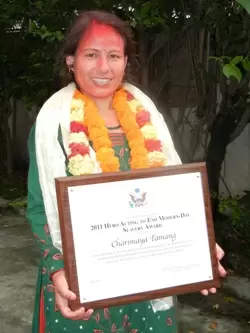 Honoured: Charimay poses with the citation she received from US Secretary of State Hillary Clinton recognising her as an anti-trafficking hero (Photos: IANS)
"I tried to hang myself," says Charimaya, back in Kathmandu after last month's Washington trip. "But the shawl I had used frayed and I was left alive. I thought god must have saved me for a purpose."
When a raid by Indian cops in 1996 led to Charimaya's release from the brothel along with nearly 200 other trafficked victims from Nepal, she realised during her seven-month stay in a transit home in India what her mission was going to be.
The home was worse than prison and the victims were treated as criminals and untouchables by the warden. The government of Nepal ignored the Indian authorities' call to take the girls back home, a delay that cost lives.
"I will never forget the 14-year-old who had contracted AIDS," says Sunita Danuwar, another Kamathipura survivor who too was sent to the same transit home.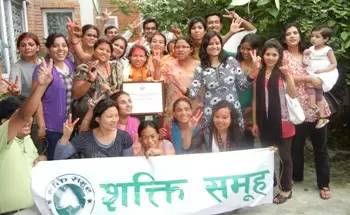 It's a team effort! Charimaya, with other members of Shakti Samuha, in Kathmandu
"When it was clear she was very ill, we begged the warden to send her to hospital but she refused, saying we were no saints and deserved what we got. The girl died soon after that."
The death and other sufferings made Charimaya, Sunita and 14 more survivors like them decide to stay together when they finally returned to Kathmandu on the initiative of three Nepali NGOs and form Shakti Samuha, the only organisation in Nepal by, for and of trafficked victims.
Today, Shakti Samuha runs two safe homes for survivors in Kathmandu and one for girls in Pokhara. It is also lobbying in 10 of Nepal's districts most vulnerable to trafficking to form survivors' peer groups. Of the founding members, two died of HIV/AIDS.
Charimaya, who is also the first victim to file a police complaint against the eight Nepalis who sold her, says there was little comfort in seeing them receive conviction.
"At that time, the anti-trafficking law was not as stringent as it is now. The four main perpetrators received jail terms up to 10 years and are now out of prison. The other four were let off with a few years in prison," she says. - IANS


Trending Now: