A judge of integrity, K Chandru blazes a new trail in the judiciary

N Asokan
&nbsp | &nbsp Chennai
24-June-2011
Vol 2&nbsp|&nbspIssue 25
Andhra Pradesh High Court Judge V V Rao created a stir recently by saying that Indian judiciary would take 320 years to clear the backlog of 31.28 million cases pending in various courts across the country. But if there are more judges like Justice K Chandru of the Madras High Court, who has the distinction of passing orders on a record 54,000 cases, it may not take that long.
One of Justice Chandru's landmark judgements was in a case between Bharat Petroleum Corporation Ltd (BPCL) and Petroleum Employees Union. When BPCL contended that the union's call for strike was illegal, Chandru dismissed the petition and asked them to go to the fora created under the Industrial Disputes Act.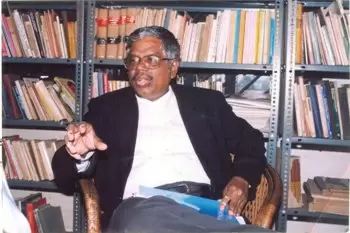 Stunning statistics: Justice Chandru pronounced 1780 judgments on a single day last year. His monthly average: 1500 verdicts (Photo courtesy: Nakkheeran)
Similarly, when police denied permission for a public meeting in 2007, a bench comprising judges Chandru and Mishra said that holding a public meetings was a fundamental right.
In a dispute between Diravidar Kazhagam and Periyar Diravidar Kazhagam over the publishing rights to EVR Periyar's writings, Chandru observed that the writings of a leader like Periyar should be free to all.
When Pinniyakkal, a woman priest, was prevented from performing pooja at a Durgai Amman temple in Madurai district, Chandru ruled that legally nothing could stop a woman from performing pooja in a temple.
If Chennai is free of hoardings and digital boards on the roadside, it is because of the order of the division bench comprising Justice Chandru. The drive to demolish illegal buildings and encroachments is also because of an order passed by him.
In the Indian courthouse, where the last vestiges of the Raj comes back to assert itself, Chandru comes with a refreshing difference. When he walks out of his chamber, the scene is conspicuous by the banter of lawyers – and of the absence of the archetypal mace bearer.
In the words of someone who practically lives in the corridors of the court, "As soon as Chandru became a judge, he did away with this colonial mace carrying. He went one better, notifying advocates not to address him as 'My lord' in the court."
On June 9, 2010, at court hall number 24 of the Madras High Court, Chandru delivered 75 verdicts. In April, 2010, he pronounced 1,780 judgments. The average tally of this judge: 1,500 verdicts a month. As in charge of appeal suits, Chandru has asked the staff to list at least 100 cases daily.
Chandru has always been a rebel with a cause. In his college days, he ran the Students' Socialist Forum (SSF) before joining the CPI(M) where he and his friends were absorbed into the Students Federation of India (SFI), CPM's student wing.
In his third year at the Madras Christian College (MCC), he spoke at a meeting organised by the Madras Rubber Factory (MRF) employees locked in a dispute with the management. As MRF management members were on the MCC board, his expulsion was but a natural consequence.
After finishing law in 1976, he started practicing in the Madras High Court. He joined the Rao and Reddy law firm under Barrister V.G. Rao, a London-educated leftist and a famous trade unionist in Chennai.
The spotlight was on him again when he appeared on behalf of CPI(M) before the Justice Ismayil Commission probing atrocities during Emergency in the Chennai Central Jail.
As an editorial team member of Lawyers Collective, a legal journal from Mumbai, he wrote extensively about the irregularities committed by Supreme Court Judge Ramasamy while the latter was the Chief Justice of the Chandigarh High Court.
It was after this that the movement for impeachment of Ramasamy started. Chandru spearheaded it along with noted advocate Indira Jaisingh.
He was elevated as a Madras High Court Judge on July 31, 2006. He became a permanent judge in 2009.
On the day of his swearing November 9, 2009, he created a flutter by submitting his assets and liabilities in a sealed cover to Chief Justice H. N. Gokhale. Think of judicial accountability, think Justice Chandru.
Published by special arrangement with Governance Watch


Trending Now: