Guarding borders, soothing lives at India-China border
Rahul Vaishnavi
&nbsp | &nbsp New Delhi
10-June-2011
Vol 2&nbsp|&nbspIssue 23
Assigned with the strenuous job of guarding one of India's most sensitive borders with China, stress is a part of the job of Indo-Tibetan Border Police (ITBP) soldiers. But a 'noble' stress buster is not only soothing the nerves of the force but also helping the locals.
Offering counselling, medical care, animal husbandry and promoting handicrafts of the border inhabitants, especially the elderly, the ITBP has been assisting the locals in maintaining a good standard of life.
"These efforts have long been a part of ITBP's culture. In recent years, we have diversified and are reaching out to as many beneficiaries as possible with a special focus on the aged people," said Deepak Pandey, public relations officer of ITBP.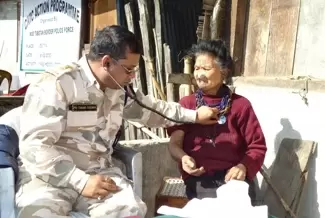 At people's service: ITBP doctors provide medicare at the doorsteps of the elderly (Photo: IANS)
A mountain trained force, the ITBP is deployed from Karakoram Pass in Ladakh to Diphu La in Arunachal Pradesh covering 3,488 km manning border outposts on altitudes ranging from 9,000 to 18,500 feet in the western, central and eastern sectors of the India-China border.
The force has its presence in a number of states, including Uttarakhand, Himachal Pradesh and north-eastern states that includes Tawang district of Arunachal Pradesh which is claimed by the Chinese.
"Most of our men are professionally trained mountaineers and skiers and have been carrying out numerous rescue and relief operations in the Himalayas. So the 'social' work we are doing is an extension of that," Pandey said.
The ITBP organises health camps for the locals and also their cattle - as they are a major source of income and sustenance in the difficult hilly terrain.
Tips on how to increase cattle produce and keep them healthy, medicines and equipment are provided by the doctors.
Sunehri Devi from Uttarakhand's Mana village said over telephone: "Many women like me suffer from backache and spinal problems as we have to carry heavy loads up the hill on a daily basis. With the advice of doctors and the medicines, my condition has improved a lot over the last few months," she added.
According to Pandey, as the youth from such regions shift to major cities in search of greener pastures, many households have only the aged and single occupants.
Meanwhile, actively promoting local handicrafts and food, the ITBP organises crafts and food fairs in the hills regularly. Work done by locals is put up for sale, especially for tourists. The work is also displayed at ITBP's annual fair in Delhi.
Products like Pashmina and Kullu shawls, Buddha statues from Ladakh, Kinnauri caps, dry fruits from Himachal Pradesh, pickles and spices are put up for sale in these fairs.
"Interestingly, our soldiers form a major chunk of the buyers," Pandey said. - IANS

Trending Now: