Karunashraya is a home for those in their death bed

Marianne de Nazareth
&nbsp | &nbsp Bangalore
20-May-2011
Vol 2&nbsp|&nbspIssue 20
It feels like an ashram, an abode of peace and quiet when you walk into Karunashraya. Just off the Varthur Main Road, leading to the IT hub of Bangalore in Whitefield, Karunashraya is an oasis of calm in the hurly burly of crass commercialism that Bangalore has become.

Kishore Sundar Rao (74) the managing trustee has been with Karunashraya ever since the idea of setting it up was conceived. "We started operations in 1999. Yet, even today, not many people know about us or are aware of what we do or even understand what palliative care is all about. I used to volunteer in hospitals like Kidwai and found there was a void in the area where patients had reached the terminal stage- when medicine and doctors can do no more."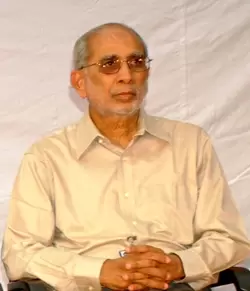 Great thought: Kishore Sundar Rao conceived Karunashraya touched by the plight of terminally ill patients
"So in 1992, when I retired from Madura Coats, Karunashraya was started along with support from the Indian Cancer Society and the Rotary Club of Bangalore Indiranagar."

Karunashraya's idea of palliative care is 50 percent medical and 50 percent psychological. "Our patients and their families are grateful for the care we provide which gives them a calm and dignified end," says Kishore. Apart from the 50 bedded in-patient facility at Karunashraya, they also run a Home Care Service where the nurse goes to the homes of cancer patients who need dressings to be done. They also counsel the patient and the relatives, show the relative how to handle the patient, give medicines for controlling pain and later on when they are immobile, they see that the patient gets admitted at Karunashraya. Between Karunashraya and the Home care service they have extended care to over 10,000 advanced stage cancer patients.
Oasis of calm: Karunashraya has created an ambience of peace and quiet for the inmates
At Karunashraya, I find a 14 year old boy with leukemia looking very weak but his family is around giving him strength and the nurses and doctors flit in and out making him comfortable. In another room a young man with throat cancer has his forehead massaged by his wife while he lies quietly signalling his thanks with his eyes.
If the patient requests a particular dish to eat, it is brought from anywhere in the city because it might just be their last meal. In the centre of the building is a restful water body, around which the rooms are built enforcing the concept of the hospice being an oasis of peace.

It is expensive to run Karunashraya says Kishore Rao, but he does get MNC's coming forward with both money and volunteers. "You will be surprised to see how many young well qualified people come in to volunteer and help in any way possible. Bangalore still has its heart very much in place and our patients benefit from the extra support."

All care given to the advanced stage cancer patients, both at Karunashraya and at their homes comes free of cost. The patients at Karunashraya are given food, medicines, physiotherapy if needed and other medical attention. "This land has been leased from the government and because we are a charitable organisation where there is no charge levied on the patient, we subsist on the generosity of patrons like the Tata trust and the Rotary Club which are our biggest source of funds," says Kishore.

To Kishore, the words of Rabindranath Tagore enshrine the belief behind Karunashraya: Death is not extinguishing the light/ It is putting out the light because the dawn has come.


Trending Now: