Deep inside the Naxal heartland to bring out the truth about child soldiers

Kavita Kanan Chandra
&nbsp | &nbsp Mumbai
06-May-2011
Vol 2&nbsp|&nbspIssue 18
A Maoist stronghold is not a place that journalists normally visit. But after taking an arduous journey into the deep forests of Saranda in the Jharkhand-Orissa border and meeting the military commander of People's Liberation Guerrilla Army (PLGA), 25-year-old Neha Dixit of Headlines Today came out with a chilling story.

Her interview with a child warrior of the Naxals went like this:

Q : What made you join the Bal Sangathan?
Girl: Police had set our house on fire and took away my father with them. Some sangathan (organization) people were present around at that time. So I came along with them.
Q: How many children have come here in the last 2-3 months?
Girl: Four batches of 30-40 kids have come.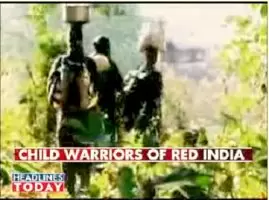 Neha, who recorded the activities in the Naxal training camps with a spycam at great personal risk, laments the loss of innocence of children as young as six, who are trained in guerrilla warfare.

In a span of 3 months, 400 children (ages 6-16) have been recruited in Bal Sangathan, she says. Caught between police atrocities and coercion by Naxals, the deprived children in the villages of Maoist belt have little choice.

After entering the Maoist hub in the Dandakarnya range - covering parts of Madhya Pradesh, Orissa, Andhra Pradesh and Chhattisgarh – Neha trekked through a difficult terrain in dense green forests with hillocks and wildlife for more than 40 km. The sharp looks of Naxals, their frisking and checking did not deter her from carrying the hidden camera.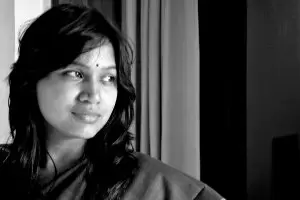 Bold journo: Neha Dixit is a former Tehelka reporter, whose investigative skills has been an asset to any organisation she works with
Caught in a crossfire between the Andhra Police (Greyhounds) and the Maoists, separated from the cameraperson, sleeping under a tree in pitch dark with the Naxals and watching a wild bear having a feast of 'mahua' flowers a few feet away were some of the chilling moments of Neha's adventurous journey.

But then this Lucknow bred girl was always sure of herself. She had to face stiff resistance for her choice of career in journalism from her family. Yet, after her graduation from Miranda college in Delhi, Neha managed to do a course in Convergent Journalism from Jamia Millia Islamia. Three years at Tehelka magazine and now with Special Investigation Team of Headlines Today, Neha has found her calling in investigative reporting.

Neha's first glimpse of a child warrior was a six-year-old Abhishek who acted as a courier between her and a Naxal. "Children of different age groups are trained and assigned different roles. The new entrants (6-12 years) are first used as spies and couriers. They roam around in the neighbouring villages collecting information about meetings organized by local politicians. They are trained in basic drills and armed with .303 rifles," says Neha.

"Children above 12 years of age are deployed as fighters to engage in hostilities against the security forces, to make and plant landmines and bombs, to gather intelligence and for sentry duty. One group of 10 children all above the age of 12 were being trained in basic physical exercise by three white men with an accent. Their identity was not revealed," says Neha.

Neha has done some noteworthy investigative stories earlier that include one on illegal mining in Aravalli hills. In another report on honour killings in Haryana, she exposed the role of cops in such murders.

Neha's boss, Editor (Investigations) at Headlines Today, Harinder Baweja, herself an intrepid investigative reporter, says: "Neha is a fearless reporter; she has many skills which include large portions of tenacity so essential to investigative reporting." Neha says she derives her strength from her mother and Harinder, whom she calls her mentor.
Awards and accolades have already come the way of this young and promising journalist. She has won the Anupama Jayaraman award (2009), Laadli Media Award for best investigative feature (2009-10) and the New Television award for best investigative feature.

Trending Now: