The World Globe Award winner Manimaran is a dedicated social worker

Sharada Balasubramanian
&nbsp | &nbsp Coimbatore
22-April-2011
Vol 2&nbsp|&nbspIssue 16
The urge to help others runs through his veins. He always carries a first aid box, a few dhotis and sarees in his bag. "If I see someone injured or someone wearing torn clothes, I immediately rush to their help," says Manimaran, who had received the World Globe Award from former Indian president A P J Abdul Kalam.

Though he is just 25-years-old, Manimaran, who dropped out of school in the ninth standard due to poverty at home, has already won accolades and awards for his social service.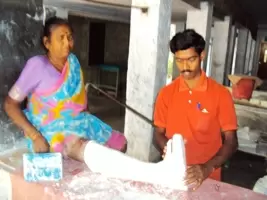 Good deeds: When Manimaran watched the plight of a woman suffering from leprosy, he decided to devote his life for such neglected people
Today he takes care of 51 leprosy patients in Tiruvannamalai. The Tamil Nadu government has given him the space to take care of these patients. He feeds them, takes care of their medical needs, and is a strong source of emotional support for them.

For Manimaran who was inspired by the service and dedication of Mother Teresa, meeting Sister Nirmala at the Missionaries of Charities in Kolkata was a memorable event.

"She blessed me and gave a pendant with Mother Teresa's image embossed in it. She told me that I should wear that only when I get a Nobel Prize for my service," he recalls.

But how did he devote his life to take care of leprosy patients? "I was in class nine when I wanted to devote my life for a social cause. My father was a farmer and had great dreams of educating me. Unfortunately, due to financial conditions, I was not able to study beyond ninth standard."

His father always encouraged him to devote his life for a cause. After he dropped out of school, he joined his brother who worked in a textile mill in Tirupur. He earned Rs 1000 every month.

He gave Rs 500 to his father and with the rest of the money, he purchased food packets and distributed to needy old people in temples, roads and pavements. "It gave me immense happiness. I never really wanted money for myself," he shares. He continued doing this for a long time.

Then a particular event changed his life. "I was travelling and the bus stopped in one place due to breakdown. That's when I noticed an old lady suffering from leprosy, asking people to give her water. Everyone shunned her and shooed her off."

Manimaran stood there and watched the lady. He wanted to see if someone came forth and helped her. No one did. Finally, the lady was about to drink water from the sewage when Manimaran stopped her. "I had Rs 2000 in my hand. With that I got her water, washed her face and fed her," he said.

The old lady hugged and thanked him and requested him to take her with him. "At that point I was in no condition to take her with me. So, I gave Rs. 300 to an auto driver and told him to take care of her for two days. I told him I would come back and take her."

After couple of days, he went to fetch her, but she was nowhere to be found. That was a life changing moment for him.

"It was Kalam who suggested that I should set up an organisation which would ensure that the work I have taken up continues after me," he says, explaining how World People Service Centre emerged. He aims to serve more people with this initiative.


Trending Now: