Shedding the khaki uniform for the black gown, all to take on corruption
Kavita Kanan Chandra
&nbsp | &nbsp Mumbai
04-March-2011
Vol 2&nbsp|&nbspIssue 9
Y P Singh's target remains the same: Corruption. This former IPS officer, now in his late forties, was fed up with his constant struggle as an honest cop pitted against corrupt politicians and sycophant bureaucrats. So, he quit the service and started using law as a weapon to combat corruption.

After graduating from Elphinstone College in Mumbai, Singh joined the IPS in 1985 in the Maharashtra cadre. After serving in districts like Akola, Solapur and Wardha, he was posted in the Food and Drug Administration in Mumbai and then shifted to the CBI.

It was in CBI he investigated some high profile cases like the Rs 750 crore MS Shoes scam, Panna-Mukta oilfield case and US-64 scam. Instead of being hailed for the same, his superiors got miffed by his detailed investigations. As an upright and honest officer in a system beset with corrupt people, he earned the wrath of his seniors.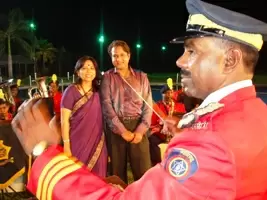 Rebel officer: Singh refused to dance to the tune of the corrupt police system and decided to quit the IPS (in picture – Singh with his wife watching the Mumbai police band perform)
His book 'Carnage By Angels' depicting the trials and tribulations of an honest IPS officer might well be a work of fiction but much of it was based on the realities of a corrupt society we live in. The book was a bestseller when it was released in 2003 and was later made into a movie, 'Yahi Sach Hai', which won international accolades, including the California film award.

"Y P Singh is a person of conviction and matching assertion that is a rare combination. He followed basic principles of administration committed to core ethical values," says S S Puri, former Director General (Anti-Corruption bureau), Maharashtra. In 2005, Singh quit the service as he was dejected over the non-payment of salary for two years.

Since then, he has not looked back and plunged himself full-time to fight for public causes. Recently, he filed a PIL against the NOC (no objection certificate) given by the Chief Fire Officer to the Wankheede stadium in Mumbai. "How could they violate basic safety measures when thousands of lives are at stake?" questions Singh in light of the scheduled World Cup finals to be played in Mumbai and the city always under threat from terrorists. He says that the approved plan showed four access roads for fire brigade to pass smoothly. However the existing three access routes to Wankhede are not constructed according to approved plans. He said that these routes could not facilitate smooth moving of fire brigade vehicles. "On the basis of our complaint, immediate inspection of the stadium was ordered," he says

Even after his unpleasant experiences with a corrupt system he seconds his children's aspiration to join the Civil Services. "This is one place you get a lot of exposure and a great opportunity to serve society," says Singh, who urges people notto get dismayed by the system. Disillusionment can lead to inertia and not much will change.

Singh has found a great support in his wife Abha Singh, an officer with Indian Postal Service , who was a finalist and first among women in Lead India Campaign, (a campaign run by a leading daily).


Trending Now: