Involving local hunting tribe in conservation helps saving tigers

Akash Bisht
&nbsp | &nbsp Ranthambore
04-February-2011
Vol 2&nbsp|&nbspIssue 5
In a small office of Tiger Watch, an NGO associated with protection and conservation of wildlife in Ranthambore National Park, Rajasthan, Dharmendra Khandal, whose phenomenal work in busting the poaching network earned him the 'person of the year' honour by wildlife magazine, Sanctuary, says: "It was a very difficult job and it took us years before we could attain any kind of success."

The field biologist, who holds a doctorate in Botany, hails from a village called Ramgarh Shekhawati in Rajasthan and has been fascinated with wildlife from his early years. After getting his doctorate from Rajasthan University, Dharmendra moved to Mumbai to help his family business. Few months into the trade, he realised that business wasn't his calling.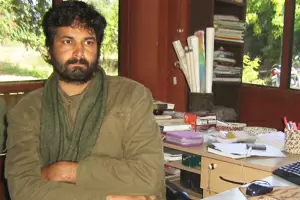 Crime-buster: Dharmendra Khandal, while cracking the poaching network in Ranthambore, reached out to traditional tiger hunters and found them other work
He returned to Jaipur and landed the job with Tiger Watch in 2003 and conducted a tiger survey. Based on photographic evidence, his report claimed that more than 18 tigers were missing from the park. Soon after his report, people began criticising him for creating an unnecessary fuss. When Dharmendra submitted his report to the forest department, they rejected his report, and banned him from entering the park for his field work.

In 2005, reports started appearing in the media that the entire tiger population in Sariska – another tiger reserve in Rajasthan – was being annihilated by poachers. So the government formed a task force to do a fresh count of tigers and the new study confirmed Dharmendra's earlier report on Ranthambore tigers.
However, not 18, but 22 big cats were missing from the park. So raids were conducted on nomads like Moghiyas, a traditional hunting tribe, and the raiding teams recovered flesh, bones, paws, guns, traps, et al.

Dharmendra was aghast. He managed to scrounge funds from a Ranthambore based NGO and a Delhi school teacher who was petrified with the tiger crisis and encouraged students to raise money by selling crafts. "The NGO provided us with a jeep and men. We then decided that conducting raids isn't our area of expertise and we should only provide intelligence to police and forest department. We formed a team and got good support from the district police," he says. After taking some Moghiya men into confidence, the team apprehended one of India's notorious poachers Neema Tenzing with 34 leopard skins. The continuous raids broke the spine of the organised poaching network in Ranthambore.
But, Dharmendra felt that something was still amiss as he knew that these poachers would be out of jail in three months and would continue to pursue the trade. He then decided to bring the Moghiyas into the ambit of mainstream and provide them other forms of livelihood. "Just catching them and putting them behind the bars was not a great strategy. We began to focus on long term strategies like building schools and hostels for children, and providing them better health care," he explains. Women were trained in handicrafts.
These "long-term strategies" helped Dharmendra establish cordial relations with the community and helped in reaching out to them. "Today, more than 20 Moghiya children are living and studying with us, women earn more than Rs 2000 each month, men are given jobs and even money for any information. We run a 60 bed hospital where free consultation is given to the Moghiyas," he adds.
Dharmendra has employed a few Moghiya men with Tiger Watch and this he believes has helped this secretive community to trust him. "The story of Khandal's unlikely transformation into a crime fighter is, in many ways, the story of modern tiger conservation in India. It's the tale of an individual stepping up, against all odds, when the system designed to protect tigers falls apart completely," the National Geographic magazine wrote recently.


Trending Now: