How One Woman is Transforming Lives in Kerala's Tribal Villages
Rama Devi Menon
&nbsp | &nbsp
11-October-2023
Vol 14&nbsp|&nbspIssue 41
In Adichilthotti, a small village nestled in the Edamalayar valley of Ernakulam district, Kerala, 70-year-old Kanakamma is weaving a kannadipaaya ("kannadi" means "mirror" and "paaya" means "mat" in Malayalam).

The special thing about 'Kannadipaaya' is its design, the way it is woven, and the type of bamboo used. This style is famous among the Muthuvar tribe and recently got a special Geographical Indication (GI) tag.


Dr. Manju Vasudevan (right) started Forest Post along with Dr. Sreeja KG
When you enter this village, you will first see its beautiful rainforests. You will also notice tree ferns near rocks, gushing streams, and the rich fertile soil where locals grow crops like coffee and pepper.
Muthuvar tribe members, both men and women, are traditional bamboo weavers. Like Kanakamma, many here are skilled in crafting bamboo products.
In another part of Kerala, near a branch of the Karuvannur River coming from the Parambikulam hills, there's a small Malayar community. They live close to the Kadar people from the nearby village, Anapantham in Thrissur.
They are experts in the production of beeswax soaps and scrubs, herbal hair oils, wild food preserves and pickles.
All these men and women are part of a team working for Forest Post, a social enterprise, founded by Dr. Manju Vasudevan, an ecologist, along with Dr. Sreeja KG, an agricultural economist.
Currently, around 60 women and 10 men, aged 24 to 70, from nine villages in Thrissur, Idukki, and Ernakulam districts are engaged in various activities, like making beeswax skincare items such as bathing and exfoliating soaps for Forest Post.
They use ingredients like cinnamon, rose petals, and jasmine for soaps, and neem and coconut oil for oils and scrubs. They also make bamboo crafts like kannadipaaya, winnows, baskets and combs, and wild foods like pickles using pepper, ferns, bilimbi, bamboo rice, shatavari and mango ginger.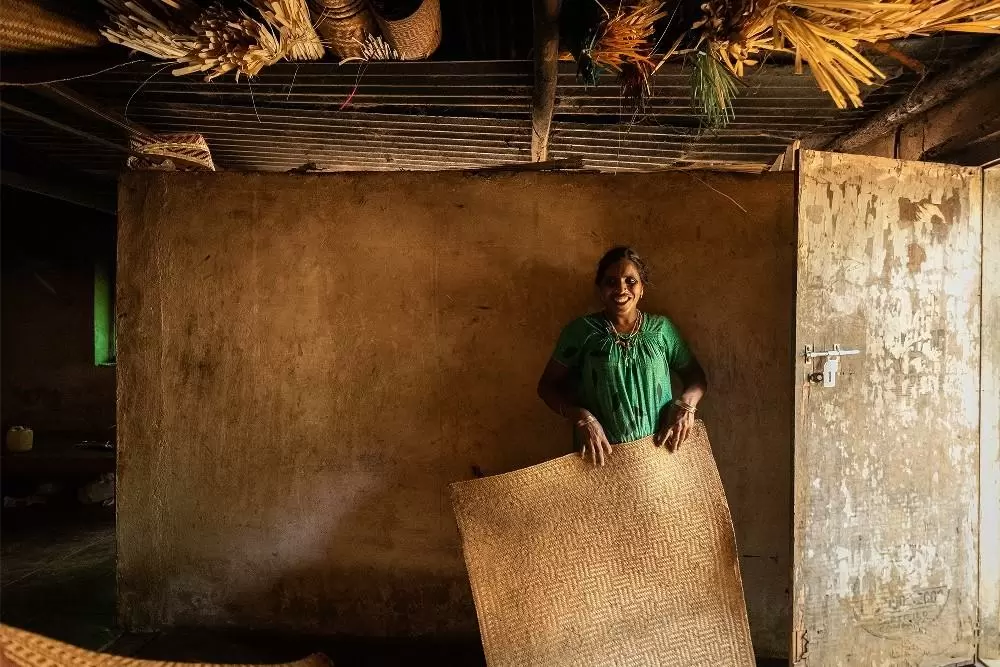 Kannadipaaya woven by the Muthuvar tribe has received the GI (Geographical Indication) tag

In 2021, Manju started 'Forest Post' with the help of Keystone Foundation in Nilgiris and as part of the activities of a grassroots network under the Global Alliance for Gender and Green Action.
"Then we saw the need to reach out to markets, streamline production from the Adivasi women's collectives, and make a good business plan. The United Nations Development Programme–India helped us with this," recalls Manju.
By July 2021, she set up Dharaa Livelihood Initiative LLP in Thrissur, which now handles the marketing of these products.
"I grew up all over the country since dad worked in the Defence Accounts. I feasted on channels such as National Geographic and enjoyed early college trips to wildlife reserves," says Manju.
"I did my Masters in Ecology from Pondicherry University, so there was never any shortage of wilderness time, and there was always an overlap with communities."
During her studies, she and her peers would venture on forest trails guided by Adivasis who intimately knew the forest.
Admiring the Adivasis, Manju holds deep respect for their artisans. She believes their knowledge and skills are often underrated.
Manju spent the early years of her career researching canopy pollinators and advocating bee habitat conservation, with organisations such as Ashoka Trust for Research in Ecology and the Environment (ATREE), a globally recognised non-profit focused on environmental conservation, and Keystone Foundation.
She holds a PhD in Pollination Ecology from Imperial College, London, and was a Fulbright Nehru post-doctoral Fellow (2014) at the University of California Santa Barbara.
Manju also spearheads the Conservation and Livelihoods Program at River Research Centre, Kerala, and consults with grassroots NGOs and conservation groups across the country.
She is one of the Duleep Matthai Nature Conservation Fellows, 2021. She is also India Chair, G-100 – Youth Enterprise and Leadership, an influential group of 100 women leaders from across the world.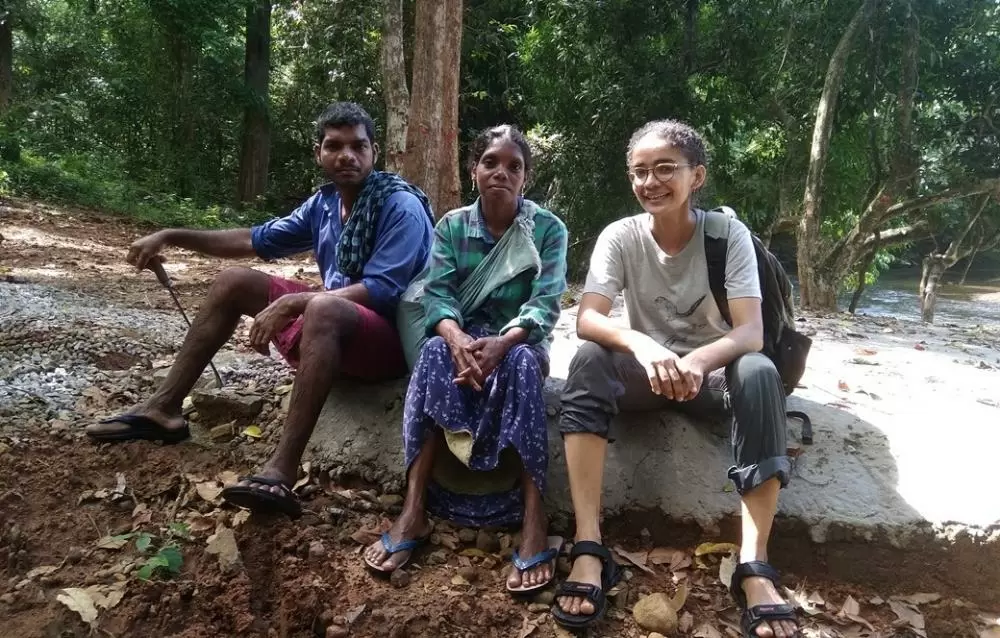 Manju is working with around 70 people from various tribal communities
"At the River Research Centre in Thrissur, we aimed to see if we could create meaningful livelihoods using Minor Forest Produce (MFPs). The idea was to allow people to live near their homes while having a steady income," explains Manju.
Now 45, she resides in Thrissur with her husband Joe John, once an environmental activist, who has since become a farmer.
Manju believed that by establishing a dignified source of income through meaningful interactions with forests, forest-dwelling individuals could be greatly assisted, preventing them from relocating to towns in search of low-paying jobs
She was deeply involved in the Conservation and Livelihoods Programme at the River Research Centre, along with Dr. Latha Anantha, a passionate advocate for river rights.
"At the River Research Centre, our primary goal was to fortify community forest rights, especially in the Vazhachal forest region. Here, in 2014, the Kadar and two other tribes were officially recognised with forest rights. Our strategy revolved around using Non-Timber Forest Products (NTFP) as a means to achieve this," shares Manju.
"When local people have a stake in the resources and can see its potential in enhancing livelihood, they tend to monitor the wellbeing of their forests, thus becoming guardians of the forest."
The project on livelihood intervention was backed by Keystone. That support primarily came from Global Action for Gender and Green Action, with Keystone acting as the nodal agency for numerous grassroots organisations in the country.
The UNDP pitched in with some financial support. "The UNDP's seed support (around Rs.3.5 lakh) helped structure the business entity, engage a brand strategist and helped with basic infrastructure in our production unit," says Manju.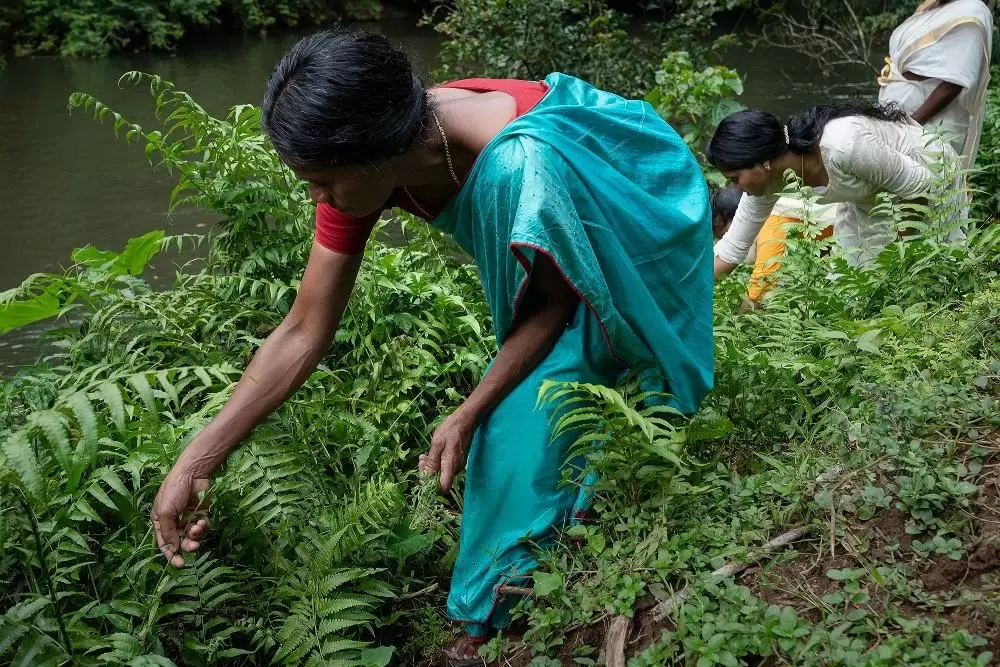 A tribal woman harvesting ferns
"This was to fuel our entry to operate as an LLP. We are expecting Rs. 10 lakh from the Kerala start-up mission soon."
Forest Post is primarily working with the Kadar, Muthuvar, Malayar, Hill Pulaya, Mannan and Irula tribes in villages in Thrissur, Idukki and Ernakulam districts.
"While 3-4 villages are in forest fringes, most are located within protected areas and we need permission to work here. Almost all the villages have road access. Alternatively, one can trek to some of these villages from the nearest bus stop," shares Manju.
Forest Post provides training to these Adivasis from making soaps and balms using beeswax to making pickles.
These tribals lead a humble lifestyle with their diet comprising ration rice and dal, river fish and crab, occasionally tubers and other wilds. Their children go to residential Adivasi schools.
"In our soap and balm production villages, women working with us earn 30-40% higher than the income that came from NREGA, where the average wage is around Rs. 300," says Manju.
"These women earn up to Rs. 10,000 per month, while the earnings of those weaving baskets and making pickles varies depending on the number of units they make."
Beeswax soaps and body butters are their best-selling products. Their other popular products include Macrame accessories and Kannadi Paaya bookmarks.
Macramé is a form of textile produced using knotting (rather than weaving or knitting) techniques. In the fringes of Chimmony Wildlife Sanctuary in Chalakudy, a small Malayar village specialises in Macramé products.
Forest Post's sales rose from an annual turnover of Rs. 9 lakh in 2021-22 to Rs. 38 lakh in 2022-23. "Although sales have gone up, expenses continue to be high - rentals, wages, transport," sighs Manju.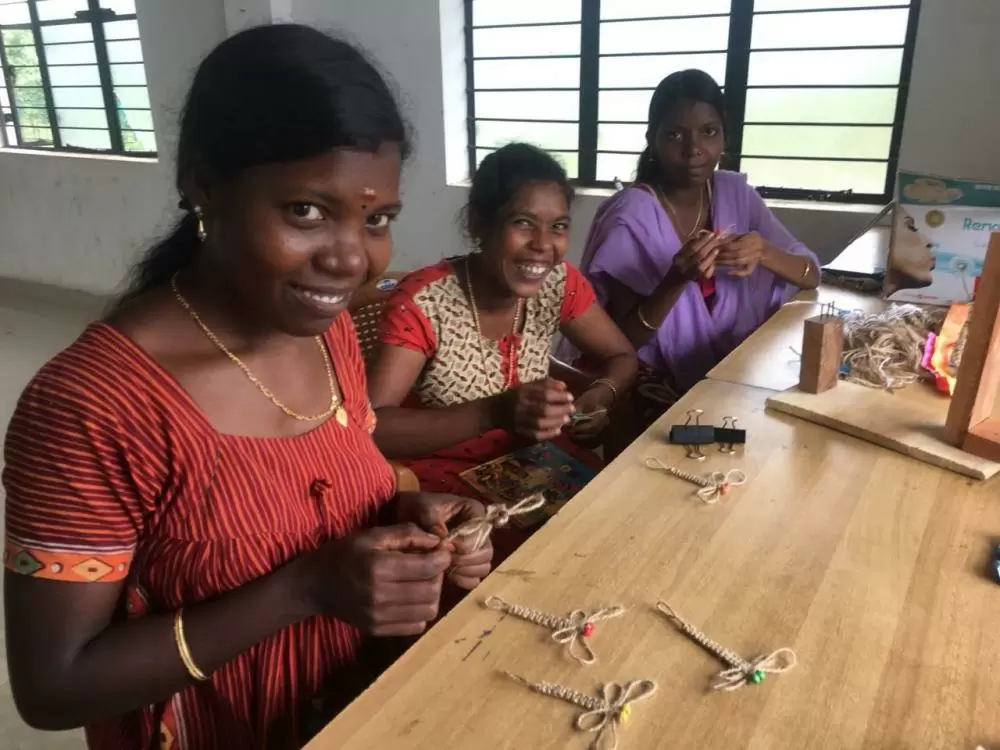 Women tribal artisans working at a Forest Post unit
"We market our products at events and expos, and have established a retailer network in Kerala and Bangalore. Most of our online sales come from our website, but we have recently expanded to e-commerce platforms such as Amazon and My Pahadi Dukan.
"The latter is a curated online marketplace showcasing products from individuals, communities, and small enterprises based in mountain regions."
Their products are also sold at Vanasree outlets, an initiative of the Kerala Forest Department, in Munnar, Chalakudy and Wayanad. - ©
TWL

Trending Now: