Good Samaritan Chacha-Chachi Couple in Himachal Pradesh Provides Shelter and Kindness to Stranded Visitors
Vishal Gulati
&nbsp | &nbsp Manali
17-July-2023
Vol 14&nbsp|&nbspIssue 29
In a Himalayan region of Himachal Pradesh that was battered badly by the monsoon deluge, it was the generosity, kindness and love of an elderly Good Samaritan Buddhist couple, famed with heartwarming back stories of warmth, that flowed in the "frozen mountains".

The couple -- Bodh Dorjee and wife Hishe Chhomo -- extended warm hospitality in the hours of crisis to nearly 50 tourists by offering shelter to those in need for four days before the rescue arrived.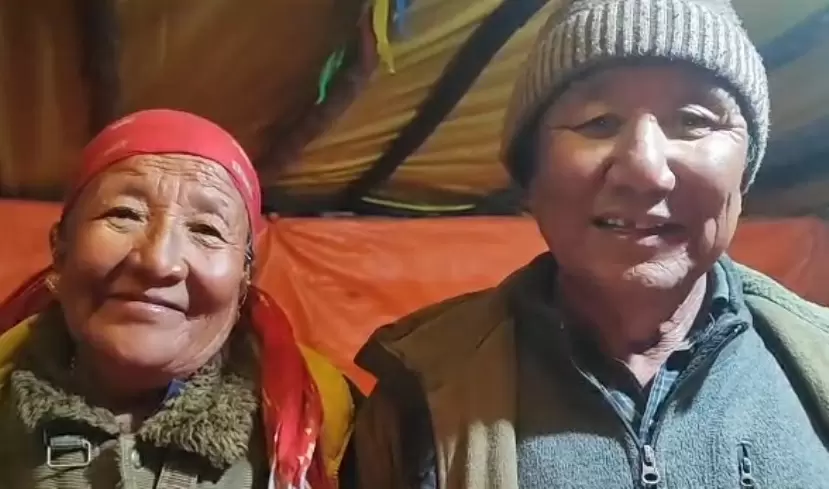 Bodh Dorjee and his wife Hishe Chhomo took care of the stranded tourists for four days before rescue arrived (Photos: IANS)

Popular among locals as Chacha and Chachi, the couple has been running a roadside makeshift eatery for 46 years at Baltal, located at an altitude of 13,084 feet with a glacier-fed gurgling river in the middle of it, where a sudden drop in the temperature, even in summer, can trigger winter-like conditions.
Their 'dhaba' made of stones with walls coated with mud and lime is a must-stop destination for those who are familiar with the Spiti's rugged landscape and are in the middle of nowhere without any sign of life, network or any modern facility.
Batal in Lahaul-Spiti district lies at a distance of 14 km from the Chandertal lake. It is the main trekking route to the scenic lake.
The elderly couple hosted disaster-struck tourists for four days in their makeshift tents popular for a rugged stay.
Over the years, they have helped and rescued scores of motorists and adventure freaks who were caught unaware in sudden snowfalls, landslides or any other emergencies.
"I don't even remember how many people stayed with us. Their count was as high as 50," Bodh Dorjee told IANS over phone.
He said they faced no problem at all.
"Whatever they were asking, be it a hot cup of tea or a glass of water or food, we have provided everything to them. We kept all of them like our children. They can sleep here or there, wherever they like."
"You can ask the tourists who stayed with that whether they faced any problem here or not," remarked Hishe Chhomo.
In a video shared by Assistant Public Relations Officer Ajay Banyal, who was involved in monitoring the rescue operation there, a tourist on being asked to share his experience while staying with them, remarked: "If I have my father and mother there (at home), I have my Chacha and Chachi here. I don't have words to express my gratitude to them."
For decades, the elderly couple is among the first to arrive at Batal with the thawing of winter snow. And they are last to leave the place with the onset of winter snow.
In winter, they stay in Kalath near Manali.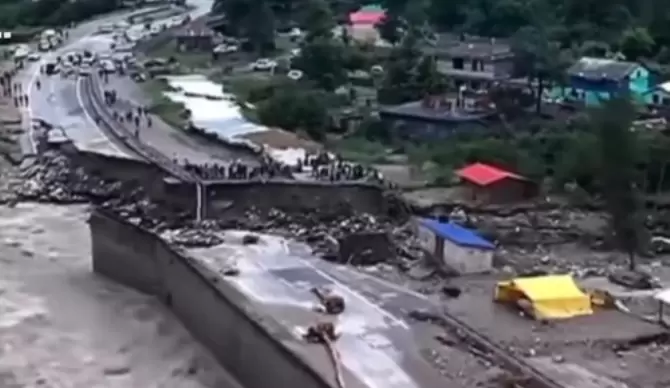 The couple has helped many tourists who have been caught in difficult situations during their visit to the region
Another tourist remarked: "Whatever I say (to express my gratitude) for them, it's much less. I can only say the amount of warmth they extended to us that even our parents won't deliver such kind of selfless service."
"Every human being should have parents like them," he added as he choked up with emotion while patting the back of Hishe Chhomo to express gratitude.
"They kept us like a family member... The people of Himachal are really very innocent," added another woman tourist.
"The best ever grandfather and grandmother I ever had. We will never have such best people like them, this I will say with a guarantee. They have taken care of us like their grandchildren and I will try to keep myself as humble as they are," added a tourist and warmly hugged Hishe Chhomo to express his gratitude.
For authorities, it took five days to clear snow and to make way for the vehicles and tourists to reach Manali.
'Chacha-Chachi dhaba' is popular for relishing rajma chawal with tasty chutney. And this is the only dhaba on the Manali-Keylong highway, the motorists' next stopover from Batal is either 40 km Losar or 90 km Manali.
Now Batal has a few dhabas. Some time back there was only one, Chacha-Chachi.
The couple had saved the lives of 110 people in 2010 when Spiti saw unexpected snowfall during the Uttarakhand floods.
Chacha and Chachi were honored by the President's Bravery Award for saving many lives and offering shelter. - IANS

Trending Now: