Waging a war for social change with a no-alms strategy

Ritu Pandey
&nbsp | &nbsp New Delhi
12-November-2010
Vol 1&nbsp|&nbspIssue 11
Spotting the dirt-smeared face of a little boy looking at you through the car window at a traffic signal with his palms stretched can bring out the human in you. You may throw a coin and speed away as the light turns green.

Do not do that, says Captain Navin Gulia, who has never parted with a coin at traffic signals in Gurgaon, a suburb of the Indian capital city of New Delhi, where he lives.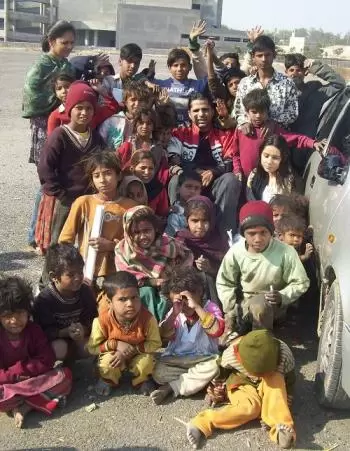 Real-life hero: Paralysed below the waist since 1994, Navin Gulia supports underprivileged, orphaned, and differently abled children through his organisation Adaa
But then he knows each of them by name and eggs the boys of Gurgaon and neighbouring villages to fight social apathy and achieve their dreams. Just the way he achieved his own, battling all odds.

A spinal injury in a freak accident left Capt Gulia paralysed below the waist in 1994. He lost his job, was bed-ridden and hospitalized for two years and came out only to find himself confined to a wheelchair. But as they say, when the going gets tough, the tough get going.

From his hospital bed, Gulia started preparing for a degree in computer education and in the next three years secured himself a Masters in Computer Management and a UGC lectureship.

He even returned to his hometown to take on a teaching job, but he was destined for a more exciting life, as he was soon doing powered hang gliding, microlite flying and going on record-making expeditions to some of the remotest spots in the country.

In 2005, he set up Adaa (Apni Duniya, Apna Ashiyanya), an organization that supports underprivileged children in Gurgaon and its neighbouring villages such as Kheli and Barhana. Capt Gulia now calls himself "a soldier for social change."

"A change where our streets are free of beggar kids and no child has to beg and be abused. In most Indian cities kids are forced into organized begging and social apathy is only adding to this menace. Children have no vote bank and hence no one cares," he says.

From his modest home in Sector 14 in Gurgaon, Capt Gulia supports more than 2,000 underprivileged, orphaned, abandoned and differently abled children with their rehabilitation and education.

Armed with amenities such as mobile classrooms, an ambulance and a 24x7 helpline, Capt Gulia and his wife, Khushi spend several hours through the day making rounds of the city and its neighbouring areas distributing food, clothes and other essentials to the needy children.

Adaa is lighting up many lives. Eight-year-old Anu was abandoned by her alcoholic father. She is now in fourth grade attending regular school. Sunny, son of a daily wage labourer, was born with only one arm and no functional legs.

In the past six years he has been with Adaa, the organization has got him six different pairs of artificial limbs and has spent more than Rs 5 lakh on his medical expenses. He is now in class seven and has stood first in his class in all the five years scoring over 98 percent marks every time.

A victim of acute polio, Geeta had to give up her education because she could not walk at all. Now she is doing her under-graduation through distance education.

Gulia admits that most of these rehabilitations have been possible because of generous help from his supporters. "My pension from the army is enough to keep my family going," he adds.

Trending Now: