For 70,000 people living in 20 villages 'Motorcycle Ambulance Man' is the only hope during medical emergencies
Gurvinder Singh
&nbsp | &nbsp
23-November-2020
Vol 11&nbsp|&nbspIssue 48
For nearly 70,000 people living in about 20 villages in Jalpaiguri district of West Bengal, 55-year-old Karimul Haque is the man to call up in the event of any medical emergency, since the national 108 ambulance services are not available in the region.

Whatever time of the day, even if it is middle of the night, Karimul, fondly known as ambulance dada, would rush to the spot on his motorcycle ambulance, sirens blaring, pick up the patient and transport them to the nearest hospital located about 50 km away.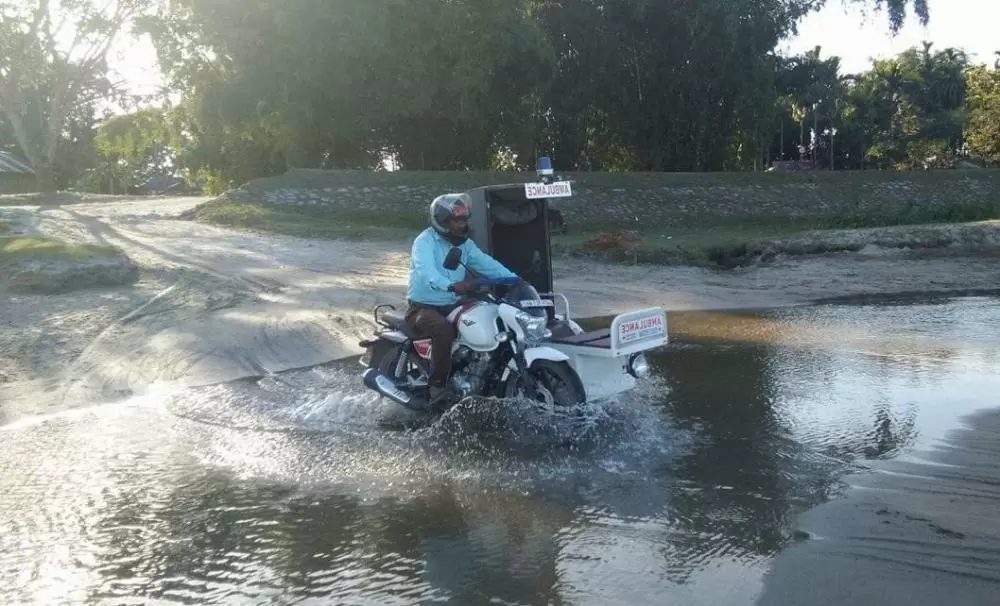 Karimul Haque has been using his motorbike since 1997 to shift patients to hospitals, with the nearest one 50 km away (Photos: Special Arrangement)

The villages lack proper roads and are surrounded by forests inhabited by wild animals making Karimul's service all the more laudable.
"I have shifted more than 5,500 patients from the village to the hospital since I started this service in 1997," says Karimul, a tea garden worker from Dhalabari village and a recipient of Padma Shri, the country's fourth highest civilian honour, for his humanitarian work.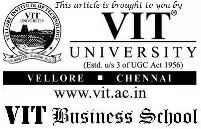 "In 1995, my mother fell ill and needed urgent medical treatment. I went from door to door seeking help but couldn't find an ambulance or vehicle to take her to a hospital," he recalls the tragic incident in his life, which has made him empathetic to the families seeking emergency medical help.
"Consequently, my mother passed away at home due to a cardiac arrest. The incident left me shattered and I took a vow not to let anyone suffer the same fate."
Karimul lives a spartan life, staying in a tiny tin-shed house with his wife Anjuya Begum, sons Rajesh and Raju and their wives, and grandchildren.
Two years after his mother's demise, Azizul, a co-worker in the garden he was working at, collapsed while working.
"He fell down in front of my eyes. I took him on my bike to the nearest hospital that was around 50 km away. He recovered from his illness," says Karimul.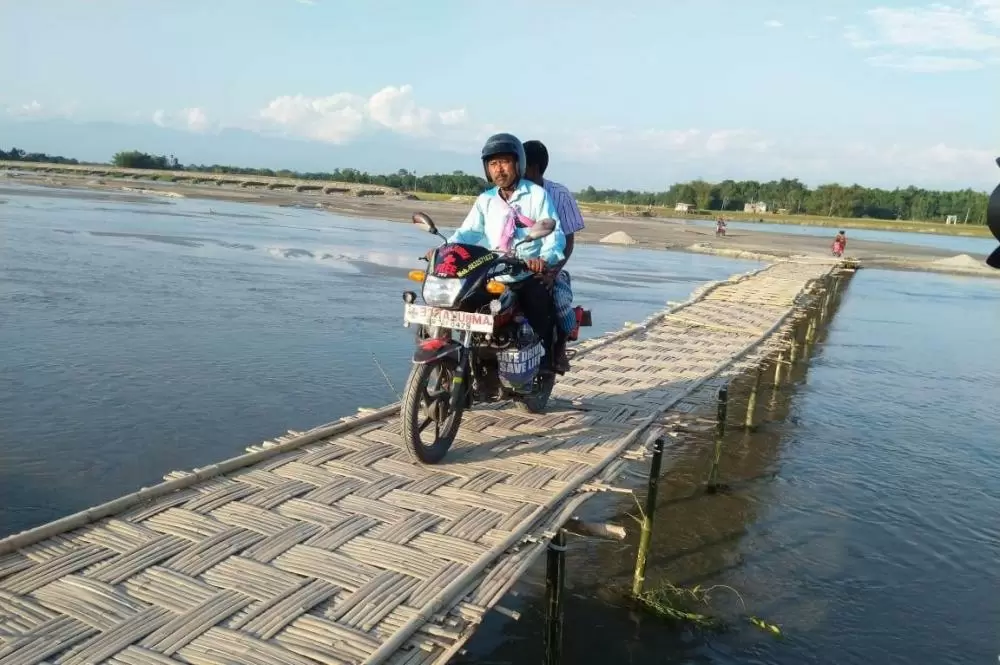 The temporary bamboo bridge over the local river becomes unusable during heavy rains

"His recovery gave me an idea to start the bike ambulance service. I realised his life was saved because of timely treatment. The four-wheeler ambulance is not a good option in this region because of the poor roads and the surrounding forest area."
The answer was his motorbike ambulance service. If he had any doubt in his mind about the utility of his service it was settled during one of his trips to the hospital.
"I was shifting a patient bitten by a snake to a hospital. I was crossing a bridge when I saw a (four-wheeler) ambulance, which was also carrying a snake-bite patient, stuck in a traffic jam," he recalls.
"It couldn't move for the next three hours and the patient died. But I managed to take my patient on time to the hospital and saved his life."
However, the locals were initially sceptical about his service. "Even neighbours laughed at my initiative. Some thought I had gone insane and others attributed ulterior motives. But I was determined to continue my work and save the lives of people without any incentive or money," says Karimul.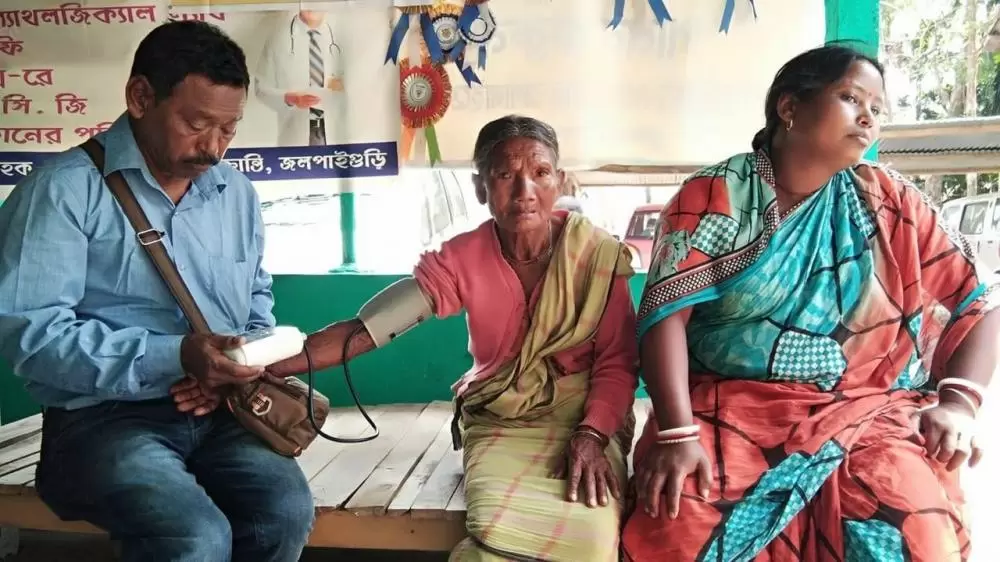 Karimul has been trained to conduct basic health check-ups
Soon, though, the situation changed and Karimul started receiving distress calls from people, even during the night, seeking his help. He did not care about the odd hours and cheerfully rendered his service winning the love and respect of the people.
On many occasions, his life was in danger when he encountered wild animals as he rode his bike in the forest area.
"We are surrounded by dense forest, inhabited by elephants and other wild animals. We have to cross the forest to reach the hospital," he says.
"The wild animals are not the only problem. It becomes very difficult crossing the local bridge when the river gets flooded during the rains. We then have to take a longer detour to reach the hospital and the delay endangers the life of the patient."
Karimul has been trained in offering first-aid to the patients by doctors and he now conducts regular health check-ups in the tribal areas.
A few years ago, Bajaj, a leading automobile company, upgraded his bike and fitted it with a waterproof stretcher and provision to carry oxygen cylinder as part of their corporate social responsibility initiative.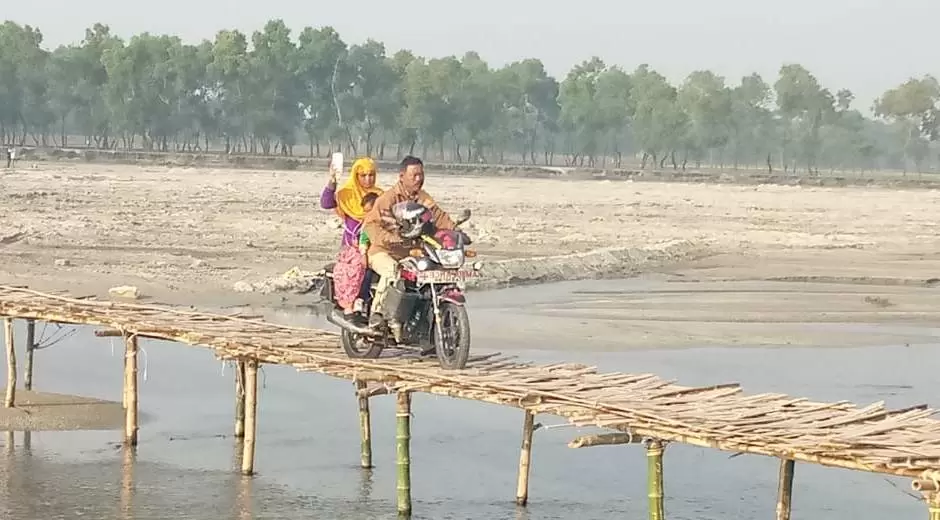 Karimul rushing a child to hospital
Karimul works as a supervisor in a tea garden and earns a salary of around Rs 5,000 per month. He says he does not charge anything for shifting patients to the hospitals while the other charity works he does are being funded by well-wishers from across the country.
During the recent Covid lockdown period, he distributed dry ration kits to over 1,200 people including those in home-quarantine.
He continues to shift patients with Covid symptoms to health facilities on his bike ambulance after taking due precautions.
"I am in touch with doctors at the district hospital and inform them whenever I come across patients with Covid symptoms. I conduct check-up on the advice of doctors and shift the person to the hospital if the case is serious," he says.
Karimul is now building a small clinic near his house. "There is no nearby hospital for any medical emergency. Our clinic will offer primary medical aid to patients before shifting them to a bigger hospital. The service will be free of charge," he says.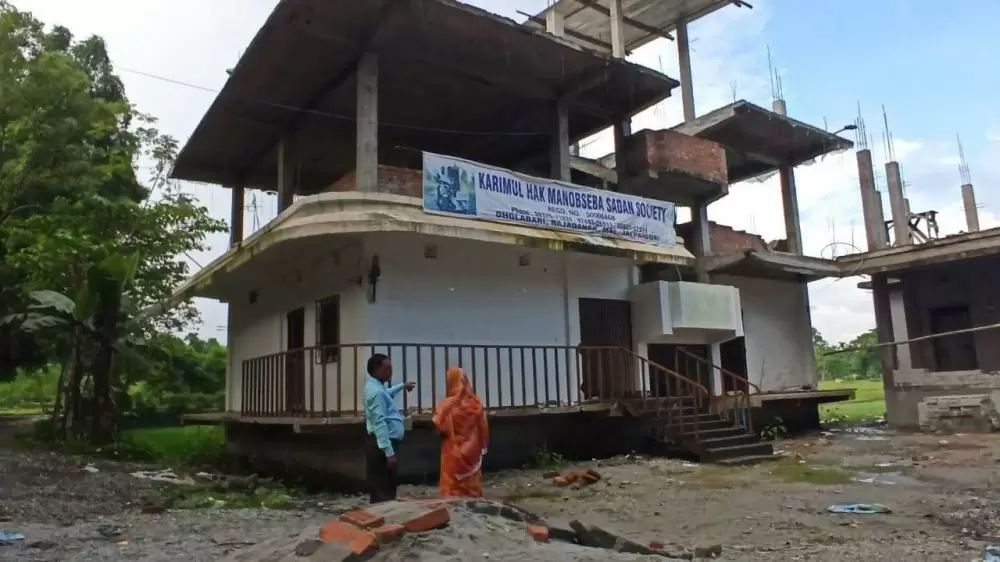 The clinic that Karimul is constructing for the locals
The Good Samaritan wants the government to build a permanent bridge over the river close to his village which now has a bamboo bridge.
"During heavy showers the bamboo bridge becomes too risky to travel on and I have to take a longer route to reach the hospital. Building a permanent bridge will reduce the distance to just 15 km," he tells us, with high expectations that his demand will be fulfilled soon.
Wish to share your story?
Trending Now: