Meet the man who spent Rs 50 lakh from his earnings to set up the Rice ATM during lockdown

Usha Prasad
&nbsp | &nbsp
03-November-2020
Vol 11&nbsp|&nbspIssue 45
When a man spends his hard-earned money on charity, it is difficult to find family members supporting his cause. But Hyderabad-based Ramu Dosapati, 42, is lucky to have the support of his wife Shilpa and sons Arjun and Aryan, who have sacrificed their personal needs so that he can continue his philanthropic work.

The family's contribution to feeding the poor, especially the migrant workers, who were left to fend for themselves at the peak of COVID lockdown, with no jobs or transport facilities to return to their hometowns, has gained nationwide attention.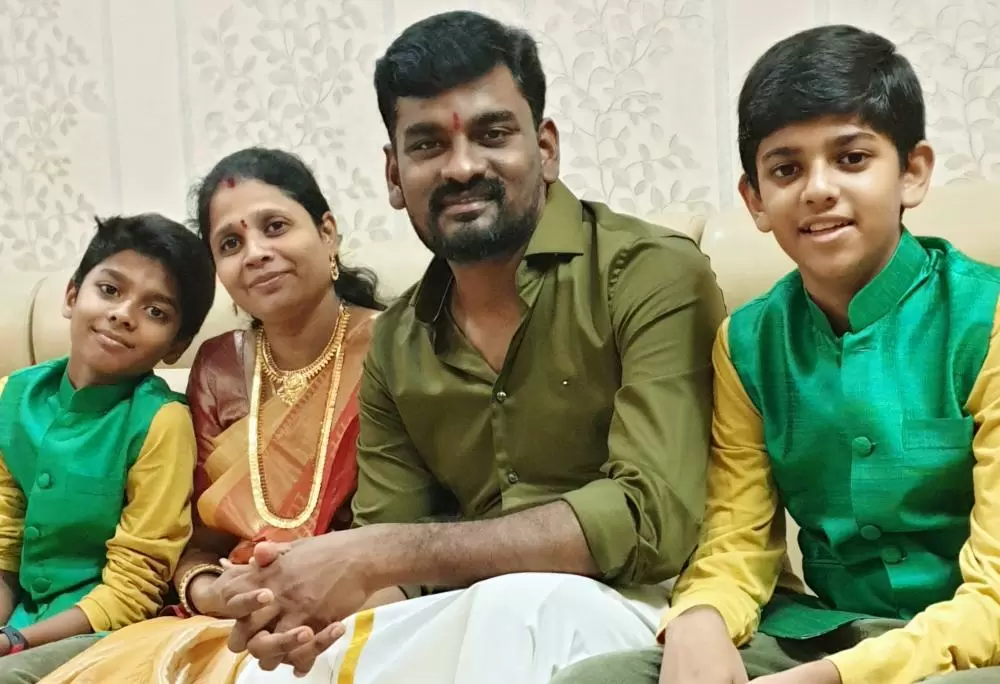 Ramu Dosapati with his wife Shilpa and sons, Arjun and Aryan
Ramu, who is the COO of Events Now, a division of software company ETG Global, has spent a whopping Rs 50 lakh distributing grocery kits to jobless migrant labourers and other needy people in Hyderabad.
An MBA in Human Resource Management from Osmania University, he has been spending his earning of close to Rs 2 lakh per month and additionally even utilised a sum of Rs 25 lakh he had kept aside to buy a three-bedroom apartment for his family.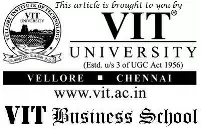 Ramu had taken a vow to help people in need following a recovery from a road accident in 2006. But, it was a watchwoman, Lakshmamma, who inspired Ramu to set up a Rice ATM (Any Time Meal) opposite his apartment during the lockdown in April.
Ramu, who hails from a family of landlords from Nakrekal Mandal in Nalgonda district in Telangana, is unassuming and lives in a modest 2BHK flat in Lalbahadur Nagar.
One day in the month of April, he met Lakshmamma at a chicken stall, where he had seen her buying 10 kg of chicken paying Rs. 2000. He came to know that she bought the chicken for some migrant labourers in the area.
Surprised by Lakshmamma's gesture, Ramu picked up a conversation with her and what she told him opened his eyes to the sufferings of the workers.
"They have lost jobs due to lockdown and are starving for the last two days. They are unable to go back to their hometowns. Hence, I am doing my bit," she said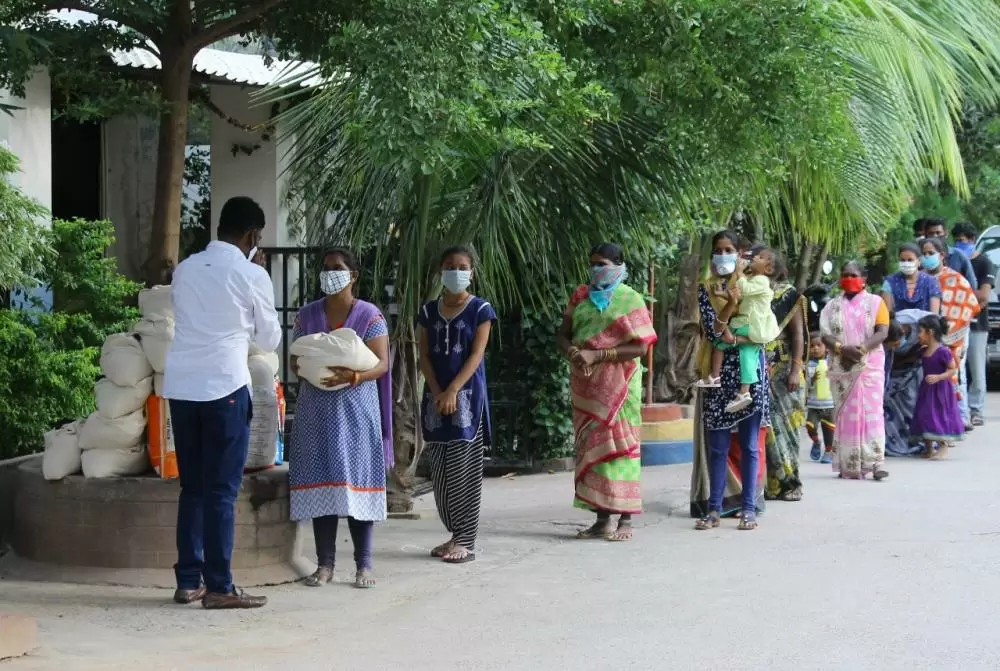 People queuing up to receive the grocery items that Ramu supplies to the needy
When asked how she would be able to manage her family if she spent her meagre earnings in this manner, Lakshmamma had replied, "I am from this city. I know the local language. I can seek help from anyone here. But nobody will trust these migrant labourers or help them."
For Ramu, who had already committed to social service, her words were sufficient to spur him into action. "When a watchwoman can do her bit, I thought what am I doing by sitting inside the four walls? She motivated me to do my bit," he says.
Initially, Ramu started serving cooked food to migrant workers who stayed near his house. Soon he realised that if someone in the group tested positive for Corona, it might pose a risk to everyone else.
That's when he switched to dry ration and started distributing grocery kits that consisted of rice, daal, oil, Atta, tea powder, sugar, salt, turmeric and a few other items.
Ramu also managed to stop around 200 migrant labourers from going to their hometowns on foot. "I assured that I will take care of them till the train services resumed, and housed them in under-construction buildings and provided them food every day," he says.
As word spread, local labourers, auto and cab drivers, and house maids from different parts of Hyderabad started approaching him for help. "People used to sit in front of my apartment right from 6 a.m.," says Ramu, who is thankful for the help and co-operation extended by his neighbours.
Ramu operates his Rice ATM under a tree, in front of his apartment, where a board hangs with this message in Telugu: "Don't go to bed with an empty stomach. Come here and pick food grains 24/7."
The Rice ATM has received support from friends, corporates, and also from a woman by the name of Madhavi Latha from the US, who sponsored grocery bags on the days Ramu ran out of money to organise the kits.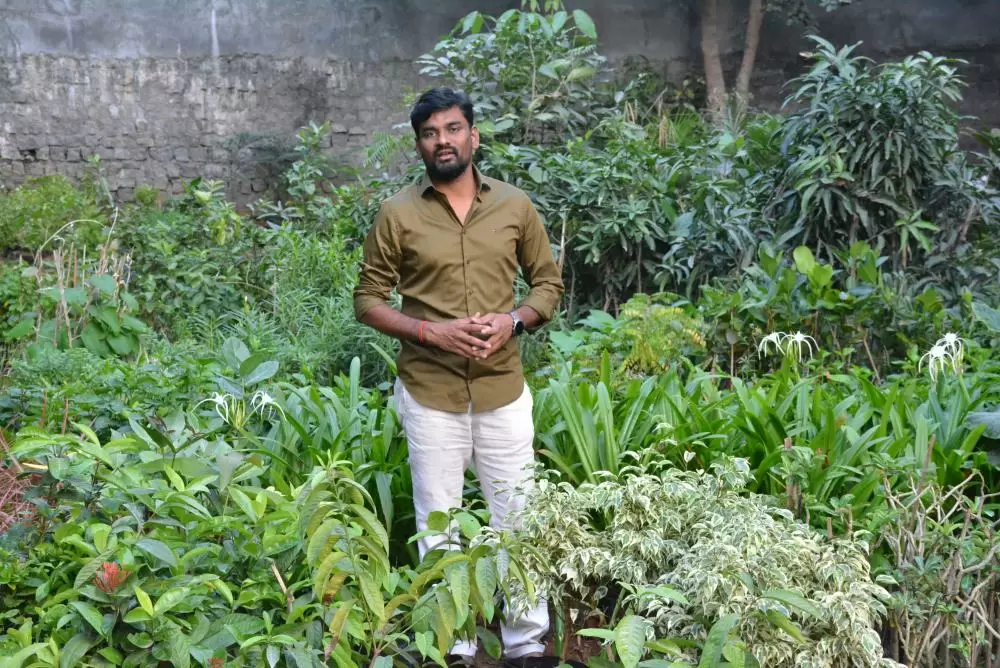 Ramu vowed to serve the poor following his miraculous recovery from a road accident
Until May 2006 Ramu was like any normal person, minding his own business. But a road accident transformed him into a good Samaritan. He fell off his scooter while trying to avoid hitting a man.
As Ramu was not wearing a helmet, his face got injured, and he was bleeding from the nose and ears. He was rushed to the hospital where the doctors were awaiting the X-ray result to see how bad the injury was.
"During that time, my wife was pregnant with our first child. I was worried about what will happen to her and our kid if I am not there," recalls Ramu.
"Lying on the hospital bed I sincerely prayed to God to give me another life. I made a vow that if I am allowed a second chance, I will spend all my earnings on the poor and needy, and serve the society."
After the X-ray report came, doctors said there were no major injuries, and he recuperated in a few weeks.
As soon as Ramu resumed work, the first thing he did was to start a campaign 'I am not an idiot, I will follow traffic rules' exhorting two-wheeler riders to use the helmet even for short distance rides.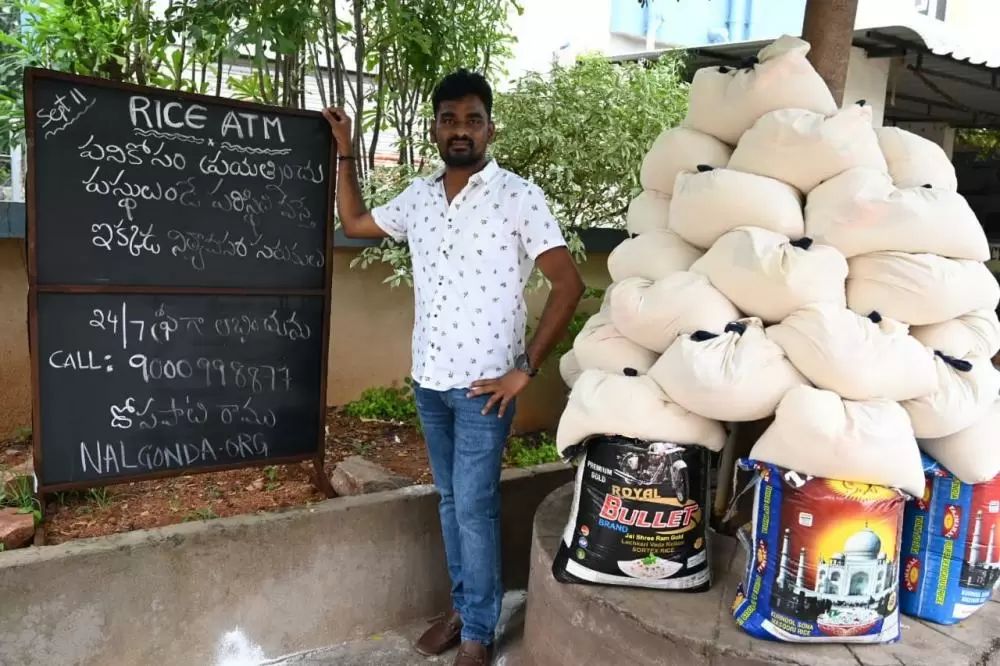 Ramu hails from an agricultural family in Nalgonda district
Born into an agricultural family, Ramu's grandparents as well as his parents have always been do-gooders, helping the poor and needy in the village. His father, Sathyam Dosapati, had parted with five acres of land to a brick kiln owner so that he could provide jobs to unemployed youths in the village at the kiln.
Ramu's wife Sri Shilpa works as a Maths teacher in a private school. He is grateful to the support he gets from his wife and two sons.
"Shilpa too has contributed to the Rice ATM parted with her salary and savings. My sons Arjun and Aryan, who are in high school, wanted to have a separate room for themselves and we had decided to buy a three-bedroom flat.
"Since I have used the money (for charity) that we got by selling my wife's two-acre land in Nakrekal to buy the flat, they have agreed to stay in the same two-bed flat. My sons even told me that they will not ask for pocket money for a year. What more can I ask for," says Ramu, with fatherly pride.
Ramu has been hailed a hero many times earlier. During the twin blasts in Dilsukhnagar in Hyderabad in 2013, Ramu, who was present close to the bomb blast site, helped in shifting the injured to nearby hospitals and organised around 150 litres of blood for them.
He led a campaign to get CCTV cameras installed across Hyderabad and created awareness against single-use plastic by distributing around one lakh cloth and jute bags.
Ramu also educated people to not cut the ends of the milk packet as the small pieces posed danger to the environment.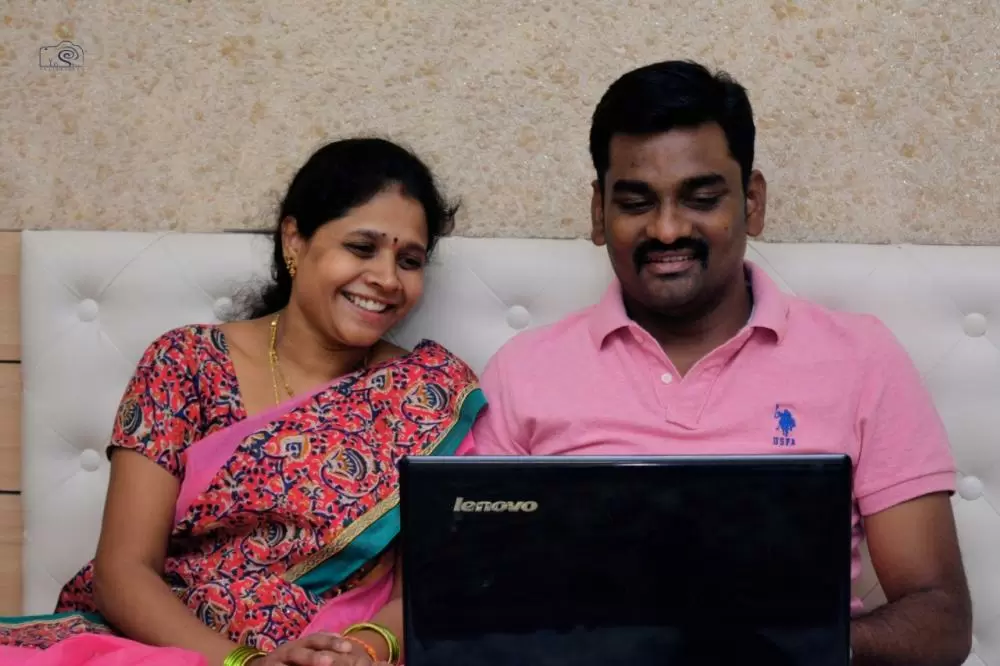 Shilpa, who is a school teacher, fully supports Ramu's philanthropic works
He even contested the assembly elections in 2014 from Lal Bahadur Nagar on a ticket from Lok Satta Party. Though he failed to win, he polled a respectable 9,000 votes. "I thought if I was in politics, my voice can reach more people," he says
During the recent heavy rains that lashed Hyderabad, Ramu waded through flooded streets distributing drinking water, food, milk, and groceries to people in need.
With Ramu all set to get back to work, his Rice ATM will continue to feed the hungry with the help of volunteers. "This pandemic gave me a life-time opportunity to serve thousands of people," he signs off.
May his tribe increase!
Wish to share your story?
Trending Now: