The civilian cops do their bit to send criminals to jail

Kavita Kanan Chandra
&nbsp | &nbsp Mumbai
22-October-2010
Vol 1&nbsp|&nbspIssue 8
More crimes could be cracked if people take a cue from Sailesh Bhatt and Mahendra Mane, recipients of Godfrey Phillips Bravery Award. The daring duo turn night riders and patrol the streets of Palghar and the adjoining dense forests and also keep vigil during daytime. Their alertness has helped police solve some 50 cases around Palghar in Maharastra's Thane district.

Once a victim to robbers, Sailesh Bhatt vowed to not let others fall prey to criminals. "The Palghar-Manor stretch has 20 Km of dense forest and is notorious for night robbery, especially in the dangerous stretch near Waghoba Ghat." says Bhatt, a labour contractor in a textile mill at Boisar. Mahendra Mane, Bhatt's likeminded friend from college, joined him and they were encouraged by Virendra Mishra, a DSP at Palghar Police station three years back.

Mane, a businessman, recalls a bizarre case. "We were able to bust a racket of fake currency notes when a group of 'burqa' clad women purchased some footwear from my shop and gave me fake thousand rupee notes," he says. He engaged the women in small talk while alerting the police. A big racket was busted.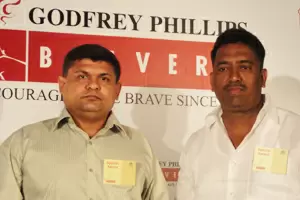 Crime busters:Sailesh Bhatt and Mahendra Mane take turns to patrol Palghar – Waghoba stretch in the night to check crime
"They help us on their own. If they get any information they pass it on to us and thus help solve crimes," says Samarthna Patil, Deputy Superintendent of Police, Palghar. She says that the two men are generally helpful by nature and would extend help to anyone in need. Now, they have been conferred with the status of 'police mitra' (civilian cops).

Whether they had helped police nab a cattle robbing gang that sent cattle to Bhiwandi abattoir or mobile phone thieves masquerading as sellers in Friday Palghar flea market, they feel a sense of satisfaction as the thieves cool their heels in Thane Central jail.

The duo takes turns at night to patrol the entire region from Palghar town to Waghoba ghat. They adjust their sleeping hours so that they are wide awake and alert while patrolling the lonely streets as the town sleeps. Mane is out on his bike from midnight to 2:30 am after which Bhatt takes over till dawn. Their only weapons are powerful searchlights, mobiles, and their fearlessness.

Thanks to their familiarity with the crime pattern, the two now know all crime prone spots and also the crime seasons in their area - which they say are during Ganpati puja, Diwali and the grass cutting season in summer when traders from neighboring places arrive to purchase cattle fodder and fall prey to criminals.

"This is an industrial belt and many outsiders come here to work as labourers, construction workers, and cleaners and so on. We don't know about their antecedents. Some are criminals in the guise of daily wage earners. So, many untoward incidents keep happening here," says Bhatt. They also have their own network of informers.

Last year the duo had caught a gang of one girl and two boys red-handed distributing 'prasad' laced with some drug that made people fall unconscious. This gang moving in a Maruti 800 had robbed 25 girls of their valuables in regions of Palghar, Vasai and Dahanu. Their modus-operandi involved sweet-talks with young vulnerable girls and then offering them 'prasad'. "It took us some twenty days to nab the gang. We informed the police and the three are now in Arthur Road jail," says Bhatt with pride.


Trending Now: