Woman e-rickshaw driver turns COVID frontline warrior ferrying corona patients for free
Gurvinder Singh
&nbsp | &nbsp Kolkata
26-August-2020
Vol 11&nbsp|&nbspIssue 35
Munmun Sarkar, who hails from the picturesque town of Siliguri, is no longer just the first woman e-rickshaw driver from North Bengal - she has now earned a greater glory for herself.

The 48-year-old is winning hearts by shifting Covid 19 suspects to hospitals free of charge and then taking the cured ones to their houses.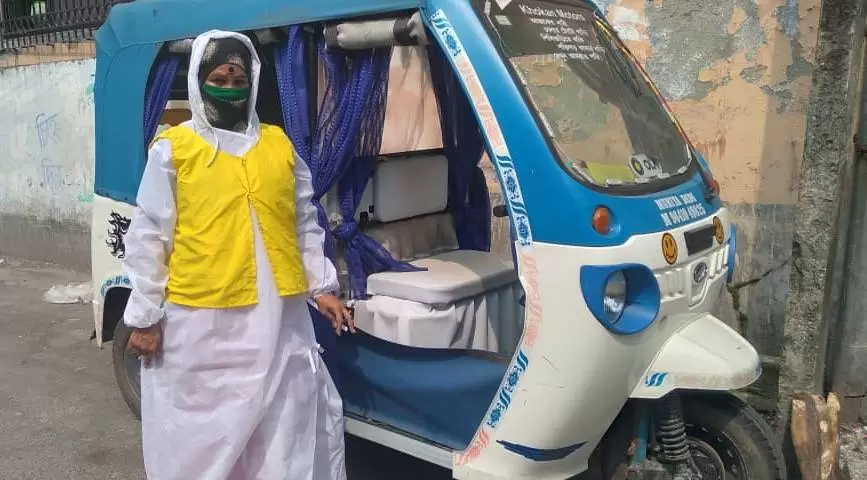 Munmun Sarkar transports COVID patients free of charge in her e-rickshaw in Siliguri (Photos: Special Arrangement)

The gutsy lady who lives in Shaktigarh area of Siliguri says that she was perturbed by the inhumane treatment meted out to COVID patients by public transport vehicles and decided to do her bit to change the situation.
"The e-rickshaws and other vehicle drivers refuse to shift Corona patients to hospitals, and even if they agree they demand exorbitant fare to render their services," says Munmun, explaining the circumstances that turned her into a Good Samaritan.
"It hit me hard and I decided to offer my e-rickshaw to Corona patients without charging any fare from them."
Munmun says that she encountered opposition from her family and neighbours for helping COVID patients, but she has brushed them aside and continues her service. In the last five months, she has shifted more than 200 patients to various health care facilities in Siliguri.
"I offer my services voluntarily and do not charge anything from the patient. The doctors in hospitals and the patients are now praising my initiative," she says.
Besides, Munmun also delivers essentials — grocery, medicines, among others — to those infected and quarantined.
But her noble cause has affected her income as people refuse to board her e-rickshaw fearing infection. "Earlier, I used to make around Rs. 8,000 per month but now my income has dropped to Rs. 5,000-6,000. But I am determined to continue my work for corona patients."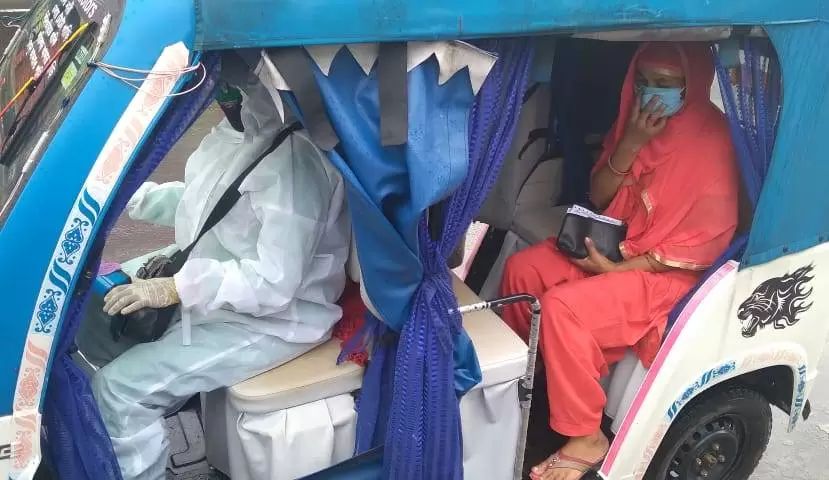 Munmun follows all the safety protocols while ferrying COVID patients in her vehicle
Munmun also works with a non-profit, where is involved in shifting destitute people to hospitals. "Munmun is a compassionate person and often comes to the rescue of people in distress. She is involved in various social work activities of our organization," said Sakti Paul, founder of Unique Foundation, a non-profit based in Siliguri.
When Munmun decided to ferry COVID patients her neighbours and family members – including her two children – tried to stop her, but she went ahead encouraged by the support of her husband.
"My husband stood by me," she says. "I also take proper safety measures. The vehicle is sanitized after serving every COVID patient and I always wear my PPE kit, besides following all other safety protocols."
But why in the first place did she decide to become an e-rickshaw driver? Munmun says that she wanted to create a separate identity for herself and prove that women were in no way inferior to men.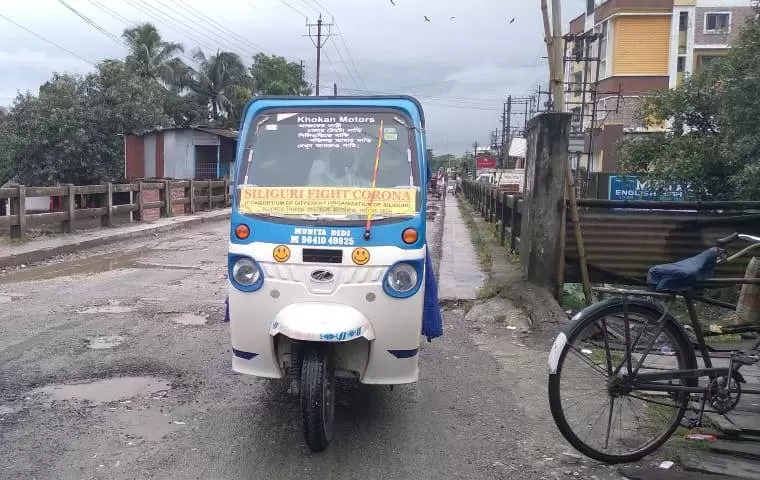 Munmun was the first woman e-rickshaw driver in Siliguri
"I had to face lot of condemnation for my decision. People teased me and passed vulgar comments but my family that opposed the decision initially began to support me slowly. At present, over 130 women are driving e-rickshaws in Siliguri. Somebody had to make a first move and luckily it was me," she signs off before rushing to attend a distress call.
Wish to share your story?
Trending Now: