Street plays that help people get justice

Abhishek Pandey
&nbsp | &nbsp Kanpur
22-October-2010
Vol 1&nbsp|&nbspIssue 8
His next major assignment will be training tribal people in Madhya Pradesh as well-known social activist, Medha Patkar, wants him to do it. But what prompted Patkar to call up the 43-year-old man living in Farkhaabad district in Uttar Pradesh is his track record. For 18 long years, Sajeeba has been staging street plays that don't just leave a 'message-bomb' in the viewers' mind but also propel authorities to take action.

It all started, well, on a tragic note. "A youth in my building committed suicide after getting frustrated over his unemployment and faulty economic policies of the country. His suicide disturbed my conscience. The very same day, I decided to spread awareness among the people and fight against the odds."

His street plays, scripted with a smattering of poetry in the dialogues, are aimed at sensitising people and making them aware of their social responsibilities. He has staged hundreds of street plays in different localities of Kanpur, Lucknow, Farukhaabad, Delhi, and other nearby districts for not only creating awareness on social issues but also for mobilizing citizens to get justice to victims of the flawed system.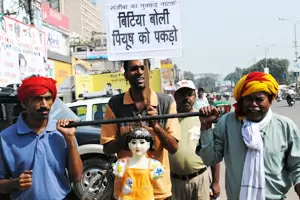 For his heroic struggle against injustice Sanjeeba had been detained by police several times, but he is undeterred
"Street play or nukkad natak was always meant to have a role in social awakening and reformation. It is also important because such plays go beyond dialogues. It is the best medium to interact directly with the target audience for sensitising them on a problem," says Sanjeeba, who himself writes the script and uses his own money for props and fee for co-artistes.

His issue based street plays have stirred up people's movements to ensure that justice was done to the victims. The victim of an acid attack in Kanpur, Aarti Shrivastava, had become the talk of the town after he staged a street play near Bada Chauraha in Kanpur demanding the arrest of the main accused, Abhinav Mishra, son of a senior administrative official. Later, Abhinav and his friends were arrested and sent to jail for ten years.

His efforts have borne fruit in many other cases too. Recently, a 11-year-old girl Divya, who was sodomised in a school premises, died of profuse bleeding. Sanjeeba staged a street play demanding the arrest of the prime suspect. Consequently, people came on roads, staged demonstrations, took out candle marches, sat on hunger strikes and approached administrative officials to demand justice for Divya. At last, the intense movement pressurized police officials to arrest the influential school manager and his two sons.

However, his journey had never been smooth. "I have been detained countless times by police officials in the last eighteen years for staging satirical street plays against police, state government, administration, politicians and whosoever indulge in wrong practices," he says. But these efforts of police never dampened his spirit of social service, as he firmly believes in utilising his constitutional right of freedom of expression.

He also appreciates the contribution of his co-artistes. His core team includes Prem Pahalvan –a vegetable vendor, Durgesh – a wristwatch mechanic, Ashfaq – a tailor and Ratnesh – a rickshaw puller.

Sanjeeba, who is unmarried, runs a painting and picture frame shop in Nawabgunj locality and also sells 'kavitha chitra' - painting with poetic lines. He lives in the room where the unemployed youth committed suicide. The room is still a source of inspiration for Sanjeeba.

Trending Now: