Who is this social activist whom the police do not want to see in town?
G Babu Jayakumar
&nbsp | &nbsp Chennai
17-June-2019
Vol 10&nbsp|&nbspIssue 24
On the eve of Narendra Modi government's swearing in, twitter was abuzz with a few hash tags on a till then obscure 'Contractor Nesamani' trending over and above the tweets relating to the new regime taking over the nation, much to the consternation of many.
Though it was seen as Tamil Nadu's way of reacting to the national event, on which the southern state had little say, another feeble voice was heard on Twitter and elsewhere, too, amidst the kerfuffle over Contractor Nesamani, a comic character from a nearly decade old Tamil film. That was: 'Where is Mugilan?' (#WhereIsMugilan).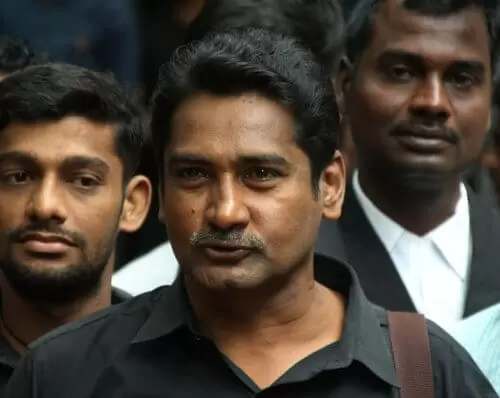 Mugilan reportedly disappeared after boarding a Chennai to Madurai train on the night of February 15 (File Photos: Babu)

That question continues to resonate all over the state even now, besides echoing in the musty corridors of the courts as even the police could not trace activist S Mugilan more than 100 days after he went missing mysteriously from aboard a Chennai to Madurai train on the night of February 15.
Since Mugilan had, hours before boarding the train in Egmore, exposed the surreptitious role played by some police officers during the massive public protest against the Sterlite plant in Thoothukudi, which ended with the merciless gunning down of 12 innocent people, in May 2017, the mystery deepened, bestowing on him a cult status.
But who is this Mugilan? Though he is a not a popular face - there aren't that many pictures of him in the public domain even in these days of digital photography and social media - he had been fighting actively to protect the environment at various venues in Tamil Nadu for more than the past one decade. He is said to have stayed put in Idinthakarai village, along with anti-nuclear activist S P Udhayakumar, during the long drawn agitation against the Koodunkulam Nuclear Power project in 2011.
Though he never missed any public protest, meeting or public hearings connected to environmental issues in Tamil Nadu, he was not there at Thoothukudi when the people went on a 100-day protest demanding the closing down of the Sterlite Copper smelter plant and bore the brunt of police firing in 2018. Well, it was not because he did not subscribe to the cause but because he was in Palayamkottai jail after his arrest in connection with another earlier case.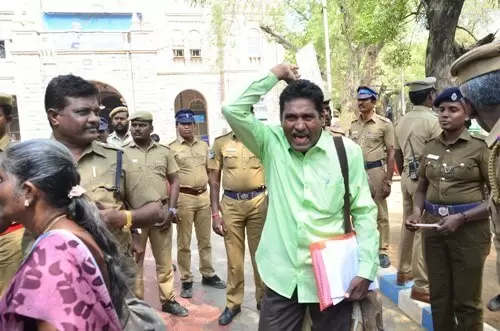 Mugilan was in the forefront of various agitations relating to environmental issues in the state

Perhaps to make up for his absence when the police massacred innocent people at Thoothukudi that he worked hard, on his release from jail, to collect evidence on the hanky panky activities of the police that led to the shooting down of unarmed protestors. And his presenting of the evidence to the media at Chennai was the last time he was seen in action.
Prior to his plunging into the Idinthakarai agitation, Mugilan had been personally agitated by the ravaging of rivers like Bhavani and Noyyal in the Kongu region, from which he hailed. A engineering diploma holder, Mugilan, worked in the state PWD for some time but gave up the job and became an environmental activist, mainly taking on the sand mafia that was degrading the river eco-system in the 1990s itself.
He had also written a book on the beach sand mining for minerals in the southern districts of Tamil Nadu. In fact, he was a born writer with an uncanny knack to note down speeches and other developments to quickly write an article about it, says social activist Arul Doss, who found Mugilan evincing interest in all environment related agitations.
"He had even taken part in protests on the Narmada river project," says Doss, adding that he was omnipresent in all people's protests against environmental degradation across Tamil Nadu, be it in opposition to the Neutrino project or the Hydrocarbon extraction. He was also part of the Cauvery River Protection Organisation.
Politically, he was left leaning and was a member of the Tamil Nadu Marxist Leninist party. He had introduced himself as a 'full-timer' of the party to social activist and media person, T S S Mani, when they first met in Idinthakarai in 2011.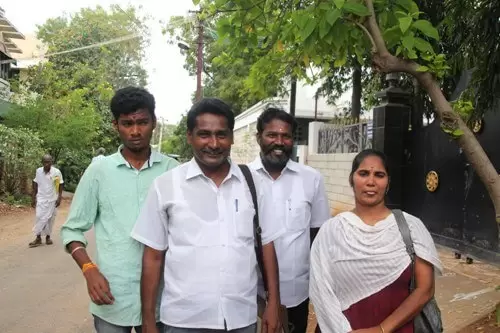 Mugilan (second from left) is said to have been a member of the Tamil Nadu Marxist Leninist party

Also associated with the Tamizhar Desiya Kootammaipu, an organisation run by veteran leader P Nedumaran, at some point of time, Mugilan had displayed Tamil activism, too. Indeed, he was also part of the massive Marina protest of January 2017 that brought back Jallikattu to Tamil Nadu. Well, he had been fully into social and political activism all through his life – he should be now in his late forties - say some activists.
Hailing from Chennimalai village in Erode district, Mugilan ran a printing press to sustain his family after leaving his job with PWD. The press is now being managed by his wife Poongodi. The couple has a son Karmugil, who is doing his post-graduation.
Soon after he went missing, there was a campaign that he had gone underground to escape the wrath of a woman, with whom he had a personal issue to sort out. Even the police was trying to popularise that theory. But the question that was being raised by people close to him was 'how can the man who has been constantly under surveillance escape the police eye.'
No doubt Mugilan was a thorn in the police flesh for a long time. Even his telephone was reportedly tapped regularly and at one time a conversation that he had with another woman activist was reproduced verbatim in a Tamil magazine – the buzz was that the police leaked it – with a view to embarrassing him. So the perception of social activists who had worked with him is that he could not have gone anywhere without police knowledge.
Wish to share your story?
Trending Now: