Far from the Limelight, Hundreds of Unsung Youth Toil for the Future of Children in Remote Villages of India
P C Vinoj Kumar
&nbsp | &nbsp Jhunjhunu
29-September-2018
Vol 9&nbsp|&nbspIssue 40
It takes almost an hour's drive to cover the distance of about 30 km from the small town of Jhunjhunu to Gowala, a typical village in Rajasthan.
Riding over bumpy roads, watching the ubiquitous camel carts, the journey gives a quick peek into life in rural Rajasthan. The traditional havelis (mansions) with their majestic façade that we spot on the stretch are reminiscent of the splendid Rajput era architecture.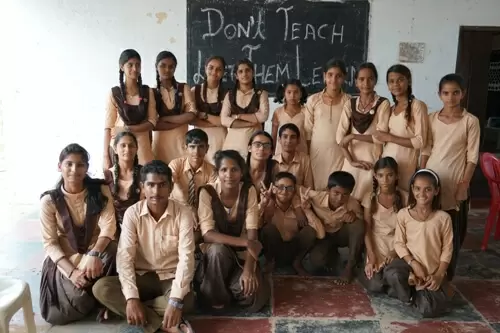 Children studying at government schools in Jhunjhunu have benefited from a Piramal Foundation initiative involving hundreds of youth (Photos: Special Arrangement)

But something more exciting is in store for us at Gowala, where a government school has transformed into a model school in the region by implementing new ideas and programmes.
Headmaster Rajesh Somara receives us at the school and excitedly starts talking about the progress his school is making in various spheres. He takes us to the classrooms and proudly shares that a child scored centum in Mathematics and secured 92.67 per cent marks in the Class 10 board exam this year.
"It is the first time a student scored above 90 per cent in Class 10 exam in the history of the school," says 39-year-old Rajesh. "We give special coaching to the children before the exams and we also have a good library to improve their reading skills."
At the library, little children rise to their feet and greet us 'Good Morning Sir' and go back to reading the books, mostly illustrated children's literature. I ask Rajesh about his job as we step out of the library and he quips, "Teaching is a noble profession."
He plans to do much more for the school with the help of youngsters like Patitapaban Choudhury, 22, a BBA graduate from Odisha, who is currently working among government schools in Jhunjhunu district to find ways of improving the education system.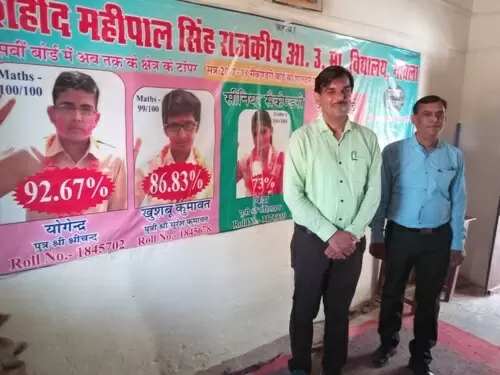 Rajesh Somara (left) at the Gowala government school works closely with Piramal Foundation's Gandhi Fellows

Patitapaban is a Gandhi Fellow of Piramal Foundation for Education Leadership (PFEL), which is spearheading the initiative for the holistic development of children, and for the increased enrolment and reduced dropout rate in several government schools across the country.
At the core of the initiative is the belief that the headmasters can improve the government education system and act as change makers in the community they serve if they are given adequate training and motivation. Gandhi Fellows of PFEL, who are recruited directly from colleges around the country, assist the headmasters in bringing about this change.
Headmasters are responding well. A few months ago, Patitapaban noticed that the children were being taught a lot, but they understood very little. "I thought it would be nice to have a day when children can come to school without their books and learn in an informal and fun atmosphere," says Patitapaban.
'No Bag Day' was introduced on a trial basis in a few schools on the second and fourth Saturdays of the month in Jhunjhunu district in July this year, after approval from the district education authorities. "On these days teachers impart knowledge through experiential and creative learning in a fun environment," says Patitapaban.
The programme was tried out in nearly 46 schools by end of August. Encouraged by the good response from the children, the state government decided to extend the scheme to all government schools in the state from September.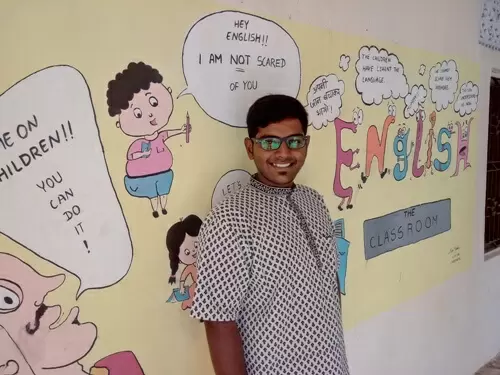 Patitapaban Choudhury proposed 'No Bag Day' which is now being implemented in schools across the state

"I am happy that the concept is now being implemented across the state (in about 77833 schools)," says Patitapaban. Like him, 650 young Gandhi Fellows are currently in the field driving change in hundreds of government schools located across 15 states.
Harsen Pani, who holds a master's degree in Development Management from Centurion University of Technology and Management, Odisha, has created a kitchen garden in a small patch of land at Dhigal government school. Vegetables grown in the garden are used in the mid-day meals made for children in the school. Harsen plans to introduce the concept in other schools as well. "I am working with some self-help groups and helping them to start small businesses," he adds.
Another fellow Ganita involved the youth from the local community and other professional artists to paint the walls of the Gowala school with colourful images based on inspiring themes to motivate the children.
For Susmita Bose, a Gandhi Fellow hailing from Kolkata, the focus is on spreading awareness regarding adolescence age issues. She has conducted workshops on menstrual health to create awareness among the children on the issue.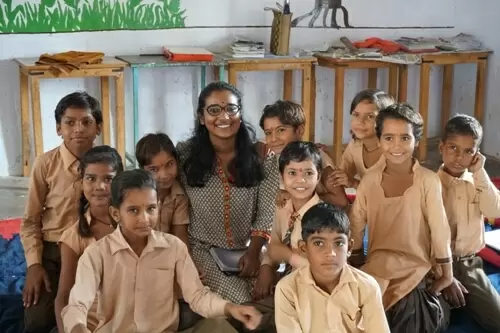 PFEL's initiatives have improved enrollment of students in schools they are working at

PFEL's Gandhi Fellowship has impacted the lives of thousands of children since its inception in 2008 and created a strong youth force of 742 alumni, who are spread all over the country and working with NGOs, CSRs, or government initiatives. Some have also become social entrepreneurs.
This huge movement was actually born as a thought in the mind of Aditya Natraj, founder, PFEL. Aditya returned to India in 2002 from London, where he was practicing as a chartered accountant, and started volunteering with Pratham, an NGO working in the field of education.
In the aftermath of the 2001 earthquake in Gujarat, while working in the Kutch region where they were trying to kickstart the education system, he met an inspiring man, Saurabh Patel, a headmaster who had got a transfer to Kutch and restarted a school.
"Most teachers got transfers out of Kutch after the earthquake that destroyed many schools. But Patel sought a posting in Kutch, that too in the most remote and worst affected village," says Aditya. "When I asked him about it, he said as a government servant it was his duty to serve in places where his services were needed. I was humbled by his response. "
That was when Aditya could relate to Canadian educationist Michel Fullan's theory of 'individual change can cause ecosystem change' and realised that "activities can be designed to cause individual change by helping people find meaning, learning joy and pride in their work." If he could make every government school headmaster like Patel, not just the education system, but a whole lot of communities where the schools are located would change for the better.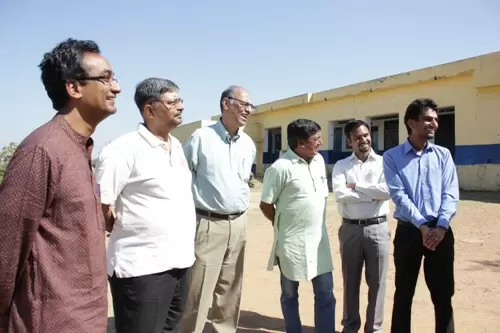 Aditya Natraj (extreme left) founded PFEL in 2008 with a batch of 11 Gandhi Fellows

In 2008, he started PFEL with the support of Ajay Piramal, the chairman of Piramal Group, and recruited 11 young people – the first batch of Gandhi Fellows – to work with 100 headmasters in Jhunjhunu. PFEL held workshops to develop personal, social, instructional, and organisational skills in the headmasters.
"We treated the headmasters with respect," recalls Manmohan Singh, director, PFEL, who was involved in the workshops. "We listened to them to understand, not to respond or react." The team managed to develop a good rapport with the headmasters and got the desired result.
"They became more empathetic and compassionate. A headmaster's wife came to us and asked what we had done to her husband. He had found a child picking garbage and started talking to him. He had never done such things earlier. She told us that earlier he was only concerned about making money and nothing else," says Manmohan.
Many headmasters are shining as leaders today. One of them, Maniram Mandiwal, who is principal of JP Janu School, one of the oldest schools in Jhunjhunu district – established in 1935 – increased the student strength in the school from 385 to 1724 in just four years through several initiatives, including door-to-door campaigns.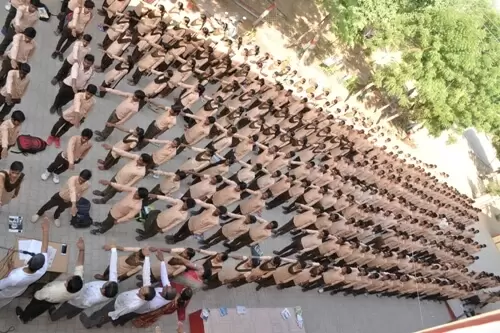 School Assembly at JP Janu School, where 1724 students are studying currently

Today, apart from the Gandhi Fellows to assist the headmasters on the ground, PFEL has set up a virtual field support (or a call centre) with a pan-India toll free number for teachers and headmasters to seek advice on any topic relating to education. Around 55 women work at the centre handling an average of 100 calls daily.
PFEL's mission that began in 2008 has continued to grow ever since, with the number of Gandhi Fellows increasing every year, and the geographical territory of its project areas expanding relentlessly, sowing the seeds of change everywhere.
This Article is Part of a Series in partnership with Piramal Foundation
Wish to share your story?
Trending Now: