'These are things that no amount of money can buy you, and we need to realise that'

Meera Gandhi
&nbsp | &nbsp
05-May-2018
Vol 9&nbsp|&nbspIssue 19
Many people have undertaken the never ending quest for happiness. They run after material pleasure, and monetary gratification, not realising that true happiness is so much more complex, at the same time far more simple than materialistic gains.
It is believed that human beings require four chemicals to make up the state of being 'happy' – Endorphins, Dopamine, Serotonin, Oxytocin.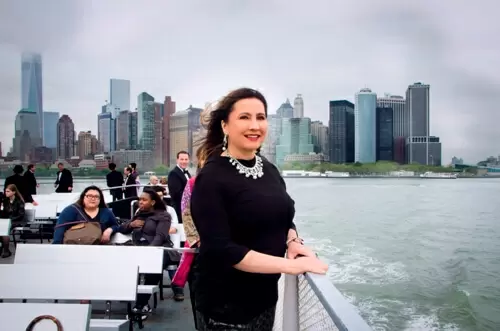 Meera Gandhi's The Giving Back Foundation was founded with the vision to alleviate illness, poverty and suffering of those in need (Photos: By Special Arrangement)

Endorphins may be released by exercise, and dopamine by temporary gratification, like attaining goals, buying items that you think will make you happy.
The secret to complete happiness then lies in the other two chemicals. Serotonin is the chemical released when we do good for others, when we make a deep connection with another soul, and oxytocin is released when we become close to someone; a simple handshake or a hug with someone close to you.
These are things that no amount of money can buy you, and we need to realise that. I embarked on my journey to spread this message worldwide, of true happiness and peace.
I was born in India, in the city of Mumbai. My mother being of Irish descent, and my father an Indian, my cross-cultural family enabled me to conjure compassion and empathy, and understand different perspectives. My parents were always intent on providing me with the very best education, they were the ones that drilled the idea in my head; that education is the crux and the foundation of a comfortable and successful life.
At just 16 years of age I went to Asha Dan and worked alongside the inspirational Mother Teresa. I worked on a two-week project, but continued to visit each Saturday morning. I used to take the bus to Byculla, and feed and play with the children.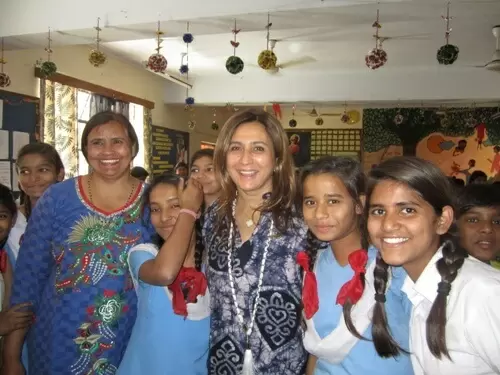 Meera Gandhi supports charities around the world

The sheer innocence of the children, their pure joy on receiving the smallest things, and their gratefulness for just the company of others taught me of the fundamental joy of giving. I also understood that working for the betterment of others is not just about giving, but more than that, it is about receiving.
Working with Mother Teresa and those children gave to me more than I could ever give, a truly enriching experience. This is also when I realised that education is not just what is in books and on paper, but also about experience, going out into the world and growing and learning from real life circumstances and problems.
I attended The Cathedral and John Connon Schools in Mumbai, India. With my parents support, I was intent to collect as much knowledge as possible in my early years. So next, I went on to attend UWC, the Lester B. Pearson United World College of the Pacific in Canada.
Later, I returned to India and received a bachelor's degree in Economics from the University of Delhi, where I was fortunate enough to be elected the President of the College.
Still not satisfied, I travelled to the US again and obtained an M.B.A. from Boston University School of Management. In 2007, I completed my education in the perfect place, opting for the Executive Education Program at Harvard Business School.
Later, I went on to join the Harvard University South Asia board, recently renamed The Laxmi Mittal South Asia Institute at Harvard University.
My years in education just solidified what my parents had always believed, that education is truly the key to higher understanding. It helps to create a base, and exposes us to different walks of life, different people, and their understanding of things that are so different from your own.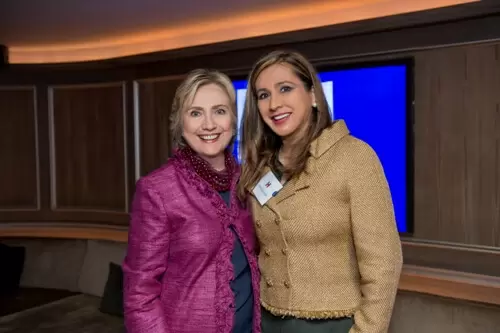 Meera with her role model Hillary Clinton

And so, as a result of my experiences and a realisation that I must utilise my knowledge and resources to help those that cannot help themselves. It is when we are strong that we must ask ourselves, what good is our strength, our fortune, our power of knowledge, if we do not share it amongst those who can only dream of it? This thought moved me to start The Giving Back Foundation in 2010. My vision for the foundation was to alleviate illness, poverty and suffering of those in need; abused and hungry children, widows, the sick, the deaf and blind, and using education as the tool to empower them to lead better lives.
One of the biggest achievements and projects of the Giving Back Foundation is the adoption of New Delhi's St. Michael's School in India. As a result of the program, the children of St. Michael's School are provided with meals on a daily basis.
The entire school and its grounds have also been completely refurbished with a new hostel, a playground, and a new school block filled with classrooms. This project is a ten year commitment taken up, to bring to light the importance of good infrastructure and the facilities a child uses to learn productively. An unhappy child cannot learn, a hungry child cannot learn.
As I travelled around the world, I realised it was important to expand the idea of wellness and welfare wherever you go, not just concentrating in one place alone. It was also important for us to expand our practice beyond India, and so we expanded to London, Honk Kong and New York as well, where our head office is.
As a result, in 2012, the Foundation funded a high-powered, state-of-the-art telescope, which was installed on the roof of the Harrow School in London.
The foundation has also supported charities with strong female leadership programs and workshops, moved by my own role models; Hilary Clinton, Cherie Blair, and most importantly my own mother, an Irish woman bravely living in India. Among those were the Cherie Blair Foundation for Women and the Eleanor Roosevelt Leadership Centre, for which the foundation provides, on an annual basis, awards and honorariums to teenage students.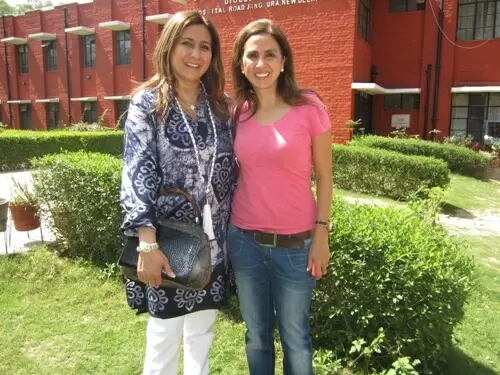 The Giving Back Foundation adopted St. Michael's School in New Delhi. Meera at the school

We also provide annual grants to South Asia college students for their studies at Baruch College in New York City. The foundation is actively involved in presenting appreciation tokens, like grants and awards, as we believe that it is important for people to receive validation and positive reinforcement as a pat on the back, and also to do well in the future as well.
Building on the idea of positive reinforcement, the foundation made a five-year commitment to the Woodstock Film Festival which includes providing annual honorariums and awards to people involved in filmmaking whose work serves to causes social change. We realised that films and movies have a great impact on society today. It isn't just about commercialism and glamour. It can be used as a tool to appeal to the humanity of the community, and affect real social change
In 2011, the first annual Meera Gandhi Giving Back award was given to Mark Ruffalo. The award is given each year at the Woodstock Film Festival to the director, producer or actor who best delivers a message of social change and has a strong compassion for philanthropy. Subsequent winners of the award were actor, directo
Other charities the foundation is involved with nationally and internationally include the Happy Home and School for the blind in Mumbai, the Robert F. Kennedy Centre for Justice & Human Rights, the Cambodian Landmine Relief Fund, Centerpoint, Give to Colombia and The American Friends of Prince William and Prince Harry.
The foundation has also produced an inspiring documentary, musical CD and coffee table book, all entitled Giving Back. "Giving Back: The Film," includes touching r and screenwriter Tim Blake Nelson in 2012, and acclaimed filmmaker and activist Mira Nair in 2013.vignettes of my friends, some of them known social influencers and illustrates how their philanthropic endeavours are indeed changing the world.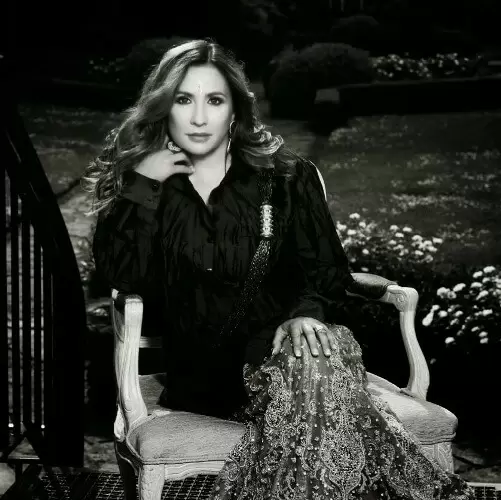 In 'Giving Back: The Film', a documentary that Meera made, she has featured the works of a number of well-known personalities such as Cherie Blair

Included are Cherie Blair, Kerry Kennedy, Patricia Velasquez, Kristi Yamaguchi, Steven Rockefeller, Francine Le Frak, Clodagh, Ronan Tynan, Deborah Norville, Narcisso Rodriguez and red carpet interviews with Bono and others.
We have also launched the Giving Candle and the Giving Fragrance. The Candle is a symbol for hope, and demonstrates the simplicity, and also the sheer power, of a spark of hope lighting up a dark place. The Giving Fragrance is a perfume I curated with notes of jasmine and lavender. Hundred per cent of all proceeds for these products, as well as the film, coffee table book and the music CD will go back into charity.
We have also started a new venture, The Meera Gandhi Show, where each episode focuses on a positive topic and an important personality with their views on it. The show is only focussed on how to reach a higher state of peace, calm and satisfaction.
And so, my years of education and growth led me here, onto a path of happiness, peace, onto a path of giving, but most of all, onto a path of receiving.
About the Author: Meera T. Gandhi is the CEO and Founder of the New York-based Giving Back Foundation
Wish to share your story?
Trending Now: