Documentary Maker Dons New Role in Dharavi and is Turning Children into App Makers
Deven Lad
&nbsp | &nbsp Mumbai
16-August-2017
Vol 8&nbsp|&nbspIssue 22
He had nothing to go on but the conviction that he could make a difference. Against all advice, Nawneet Ranjan decided to trust his instinct and put all his savings into teaching coding to the children of Dharavi.
Today, his non-profit, Dharavi Diary, has raised almost Rs. 1 crore in funds to help him achieve what he set out to do.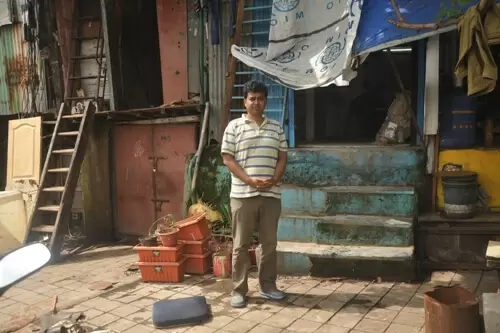 Following the success of his documentary film Dharavi Dairy, Nawneet Ranjan decided to return to Dharavi in 2013 and change the lives of children here (Photos: Deven Lad)

In 2014, Nawneet decided to take a break from his career in film-making in the US and come to Dharavi, the slum area in Mumbai, to work with underprivileged children for a period of six months. Three and a half years later, he's still here, and there's no going back anytime soon.
The name of his organisation won't be a surprise to people in the film festival circuit, who have seen the success of his documentary Dharavi Diary in international film festivals such as Raindance or Nat Geo All Roads Film Festival.
The year was 2010, and Nawneet was 34, when he visited Dharavi for the first time to shoot this documentary on the lives of the people in the Dharavi slums.
His motivation to make the documentary came from the success of the movie Slumdog Millionaire, which, he felt, didn't show the real, or full, story of Dharavi's people. As Dharavi Diary got appreciation abroad, the feeling that he needs to do more for these people, especially the children in whom he saw a lot of potential, kept growing.
"When I arrived to shoot the documentary, I witnessed large-scale apathy for the underprivileged, and what they go through," says Nawneet. "They were the reason for my recognition abroad, so I decided to give back with the skills I have."
He broke the news to his family and friends over Christmas 2013; he was convinced that he could make a difference to the lives of these children if he moved to Dharavi and spent some time there.
"But they thought I was crazy and it was hard to convince them," remembers Nawneet.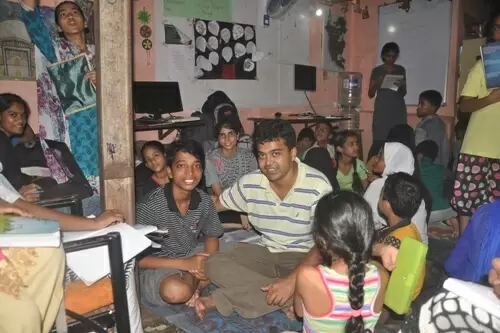 More than 200 boys and girls learn coding at their centre in Naya Nagar, which is open from 9 a.m. to 11 p.m

Born into an academic family of Muzaffapur in Bihar, both Nawneet's parents were teachers. He did his schooling from Ram Krishna Mission School in Devgarh, Jharkhand, and then went to Delhi University where he took an active part in dramatics.
He went on to receive a scholarship for his master's degree from the Academy of Art University in San Francisco.
"While in school, I used to do theatre and was always passionate about art, theatre, performing on stage…" recalls Nawneet. "Basically, I was a story-teller all my life." His parents weren't so keen on his chosen path.
"However, I was firm on my decision to pursue art," he says. "In Delhi, I worked for Green Peace and saved some money, and with that and the scholarship I was able to pursue my dream."
Being a student of drama helped him connect with strangers in an unknown land, which helped in the making of his documentary. Once he started thinking of moving to Dharavi, over 2012-2014, Nawneet made six trips to India to understand how he can develop the idea of the larger Dharavi Diary project.
Back in college, Nawneet had taken part in street skits spreading awareness against chemical waste dumping. "Theatre is way to give voice to the oppressed, those who can't speak against injustice," says Nawneet.
"To enrol people for the Dharavi Diary project, I used to narrate my experiences to them and then hear their stories; their expectations. I used drama and technology to instil confidence in them and taught them how to use it in daily life."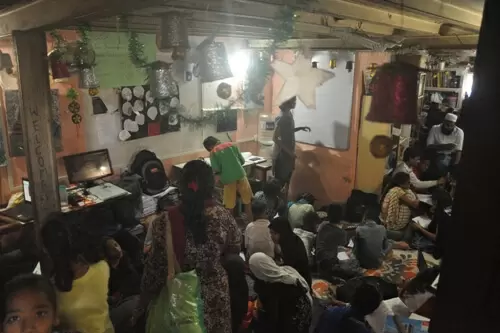 Seeing the success of Dharavi Diary project, Nawneet's family and friends started helping him

Today, in Naya Nagar, the building where Dharavi Diary operates from is bustling with scores of children busy learning coding and developing apps. The journey started, however, with only 15 girls, who were part of the documentary.
"In my interaction I had seen their potential, I knew all they needed was a good mentor," explains Nawneet. Their parents were hesitant, at first, at a strange man coming and talking to their girls, but Nawneet's people skills came in handy.
He started teaching the girls the basics using innovation and technology, instead of by rote. He taught them the basics of coding, such as 'how to find a problem', 'how to solve a problem', and 'how to build an enterprise', which he had learnt himself from experts back in the US.
"I saw that most of the children in Dharavi use a mobile phone," says Nawneet, "and that's how I thought of teaching them how to code."
He figured that coding will also help them in logical and critical thinking. "I taught them how to break down a problem and find a solution, which can be useful in any situation in life," he explains.
He came to Dharavi with US$ 30,000 of his own, and used it up to find a place, purchasing laptops, internet, and learning kits, organising field trips beyond the neighbourhood, sports events, film screenings, and even urban gardening tools for slum children. As his project grew, his friends and family chipped in.
In 2015, four girls from the first batch of Dharavi Diary invented four different apps. Ansuja Madival, Zaberi Ansari, Roshani Shaikh and Fouziya Ansari made the apps Women Fight Back (distress alarms), Clean and Green (garbage pile-up alerts to the Brihanmumbai Municipal Corporation), Padhai (basic language training), and Paani (alert to collect water from the public tap) respectively, and each of these apps got hundreds of downloads.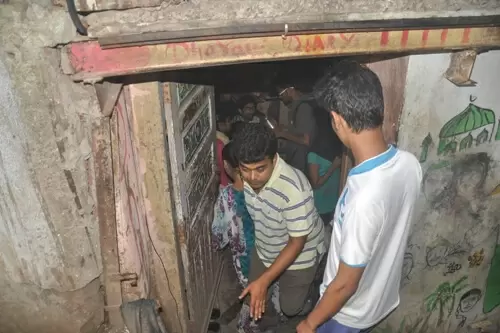 Dharavi Diary won the Google Rise Award last year

The news spread and the media caught on: these girls from Dharavi were applauded by people the world over. They even gave a TEDx talk on their project.
"These apps showed that these girls can solve the problems they face in daily life with the help of coding," explained Nawneet. The idea became popular and many children started enrolling to the Dharavi Diary project.
Now, in the three-storey house in Naya Nagar, over 200 boys and girls learn coding. The centre is open from 9 a.m. to 11 p.m. and many children come after school.
Boys and girls from ages eight to 21 train at Dharavi Diary, where volunteers teach them basic computing, Microsoft Word, Excel and coding.
"There is a special focus on science and technology, so that they are ready for the digital world," says Nawneet. "These kids have been neglected by the society and the job market, but hopefully recruiters will look at their potential now."
Many students from various institutes have joined Dharavi Diary as volunteers. In 2016, seeing the success of the girls, GO campaign gave a grant of US$ 11,000 to Dharavi Diary's Girl Coding Project.
This was the beginning of several companies coming forward with donations to Nawneet's fund-raising efforts, including California-based Nvidia who provided funds for technical equipment. Dharavi Diary is now looking at opening centres in other cities like Pune and Hyderabad.
For teaching children to become self-reliant by making apps and websites, Dharavi Diary won the Google Rise Award last year, and the non-profit has already met nearly three-quarters of its current Rs 1.5 crore fund-raising goal from corporate houses and individuals.
"I am now looking to get a 3D printer for the children," says Nawneet, happy with how Dharavi Diary is expanding day by day.
Wish to share your story?
Trending Now: