Udaipur's all-women patrol squad instills a sense of security among the women
Renu Rakesh
&nbsp | &nbsp Udaipur
17-December-2016
Vol 7&nbsp|&nbspIssue 51
It's a quiet morning for Anita Kumari, 30, and her partner, Sushila Jiloya, 24, till Anita's mobile device crackles to life informing her of a distress call from a teenage girl.
As soon as they receive the complaint – a Class 12 girl is being harassed by a boy who wants to get 'friendly' – the duo take down her contact particulars, hop on to their bike and jet off to meet her in person.
Members of Rajasthan's first all-women police patrol squad is maintaining a vigil at places
frequented by women in Udaipur to provide them with a sense of safety and confidence (Photos: Renu Rakesh\ WFS)
A frank talk with the youngster reveals that she has been receiving calls at all odd hours and obscene pictures on WhatsApp. Anita takes matters into her own hands, calls up the boy masquerading as the girl and tells him that she's ready to meet him at a nearby park.
When he arrives at the park, Anita confronts him. Then, calling her colleagues from the nearby police station, she reprimands the boy, who by then is down on his knees begging for forgiveness. Eventually, he is let off with a harsh warning. In minutes, the whole problem is efficiently resolved.
Anita and Sushila are members of India's first all-women patrol squad in Udaipur, Rajasthan that is conscientiously maintaining a vigil at places frequented by women and girls – schools, colleges, malls and other public spaces – to provide them with a sense of safety and confidence. A month into service and these smart cops are already making heads turn with their smart uniforms and even smarter police moves.
Sushila, who rides pillion with Anita, identifies with the sense of fear and anxiety that women and girls go through when they have to not just bear violence but also muster the courage to report it, not the easiest of things to do.
She clearly remembers how she had felt helpless when she had to face harassment day-in and day-out as she made her way to her college in Sikar. Approaching the local constable didn't even seem like a viable option at the time, something that she and her colleagues in the women's squad are hoping will change.
"Women don't feel comfortable about approaching the police until things really go out of hand. There is a lot of inherent mistrust that has set in – and that is the widespread perception that people have nowadays.
"We, however, are trying to change that. Gradually, we are establishing the fact that the women's patrol squad is different. We stop by elderly people's homes when we are patrolling localities and catch up with them just like their daughters, we talk to girls standing alone on streets to find out if everything's okay. We try to empathise with people; it's crucial to make them trust us," she elaborates. In the first 30 days that they were in action, the patrolwomen received maximum complaints about sexual harassment and drunken hooligans.
The idea to raise an all-women patrol team came to Udaipur's Additional Superintendent of Police (ASP) Thakur Chandrasheel in April this year. Having been part of two UN Peacekeeping Missions in the past and having closely observed the policing system in several European countries he was convinced that change in the way things were being done on the ground was the need of the hour – and that women would, in fact, be perfect to spearhead it.
"Patrolling in India is a male domain but in the West women are also part of community policing. After taking permission from my senior, the Superintendent of Police, I got down to planning an all-woman patrol team because women tend to be more sensitive to community members' needs. We wanted to take policing to people's doorstep," he explains.
As the team was to be picked from within the force, the first step was to identify 24 young and physically fit women constables. The chosen candidates were then told about the concept and explained how they would do more meaningful things than just being there on raids and anti-encroachment drives or escorting women prisoners to courts.
After the selection process was completed the policewomen began a gruelling four-month training. This included aerobics and weight training at the local gym, martial arts, riding and weapons training on the grounds of city police lines, and classroom sessions for polishing their soft skills.
At the same time, they also received training to do first aid for road accident survivors and then rush them to the nearest hospital. For around six hours daily, the chosen women were on the job.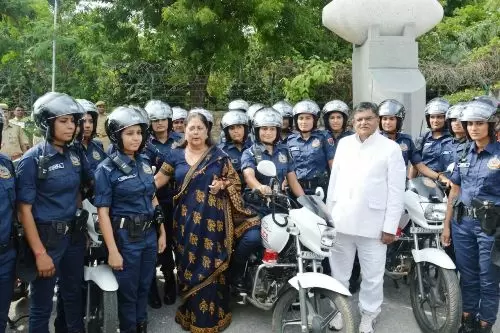 Rajasthan chief minister Vasundhara Raje with the patrolwomen on their first day at work
"We wanted them to be ready for any kind of emergency situation," says Rajendra Prasad Goyal, Udaipur's Superintendent of Police (SP). In the meantime, the process for getting an approval for a new uniform for them from the state police headquarters was underway. Their khaki-clad colleagues wanted them to look different and distinct.
By August, the female-only patrol team was ready – down to all the last details which included their motorcycles being fitted with red-and-blue beacon lights in the front and back, a public address system, a car battery and first-aid box. The women in blue have their very own wireless set that is to be strapped to the shoulder, an Austrian Glock pistol, fibre canes and black golf caps.
Rajasthan chief minister Vasundhara Raje flagged the well turned out patrol squad off on October 6, 2016. Over the nearly two months that they have been in action, the women have established a rapport with their target group – women, children and the elderly – and a reign of terror among the trouble-makers. "Crowds disperse when we ride by their areas – they are scared of us," says Laxmi Choudhary, 26, who joined Rajasthan Police in 2013.
The squad works in two shifts of eight hours each. The city is divided into five zones for patrolling. One motorcycle with two officers handles each zone from 7am to 11pm. There are five helpline numbers on which people can reach out to them either by calling in or text messaging.
The numbers are also connected to the WhatsApp messaging app so that anyone can freely share pictures and videos as evidence of problems that they are facing.
For the time being, local FM stations are informing people about these numbers during their broadcast and soon the police department will circulate postcards containing these numbers and information about women rights in schools and colleges.
So far, the team's work has impressed people and shown positive results – hooligans are largely keeping off roads and other busy public spaces; alcohol shops are closing by their 8 pm deadline and unauthorised guides, who were earlier openly fleecing tourists, run for cover when they see flashing beacons of the patrol team. Besides working on controlling crime, the patrol team resolves traffic snarls, rushes to road accident sites and is the first response against hooliganism.
The women are stars in the city and in their families as well. A smiling Anita shares how her 11-year-old daughter, Muskaan, salutes her when she meets her and is always eager to know about her activities of the day. Adds Laxmi that her mother-in-law is only too happy to chip in and look after her six-year-old son while she's on duty.
The world over, policing is all about protection and community management that is essentially dependent on free-wheeling interactions. There's little room for intimidation, fear, suspicion… attributes that have become synonymous with our homegrown force.
The patrolwomen of Udaipur are working towards transforming public opinion and they are doing it rather well. - Women's Feature Service
Wish to share your story?
Trending Now: