For one dream that died, a thousand others are blooming
G Singh
&nbsp | &nbsp Kolkata
08-November-2016
Vol 7&nbsp|&nbspIssue 45
Deprived of studying in English because he was too poor, Mamoon Akhtar has now made it possible for two schoolful of children to receive their education in the English medium, giving them a big hoist up in social and career mobility.
A labyrinth of dusty, congested, bustling lanes leads to an old building, recently restored and painted in white, on Belilious Road off Tikiapara in Kolkata's twin city Howrah in West Bengal.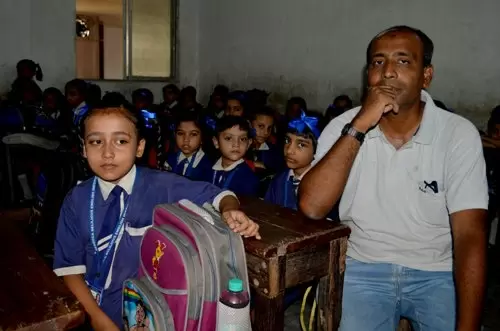 Mamoon Akhtar has two English medium schools where around 2,500 students, mostly from poor families are studying

The clock has sounded 9 am and students in droves are entering the sprawling premises that house their school campus with its swimming pool and open games field.
The Rebecca Belilious English Institution, the brainchild of Mamoon Akhtar, 45, serves education with a mission.
It offers English-medium education to more than 1,500 students who come from impoverished families for whom arranging two square meals a day is a challenge.
"Since childhood," says Mamoon, "I loved the English language and wanted to gain mastery over it, but my father was a small-time labour contractor and his paltry income wasn't enough to fund my education in a private school."
The youngest of six siblings - four brothers and two sisters - Mamoon was taken out of an English medium school when he was in Class seven.
"My dream to learn English was shattered," shares Mamoon. "I was then sent to an Urdu- medium school where I completed my education till Class 12."
Unable to attend college due to lack of money, Mamoon continued to consider English a tool of success in life.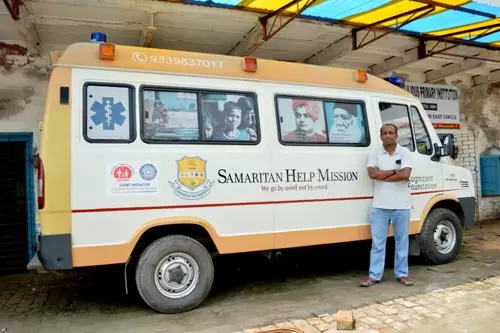 Mamoon's schools charge a nominal fee from students and also provide them free books

Meanwhile, he witnessed the children of his locality being lured by the drug mafia in their obnoxious work of selling drugs.
Sleep eluded him as he was haunted by the predictably dark future of the children. During those sleepless nights, he found a way to realise his dream.
Way back in his schooldays, Mamoon used to offer free tuition to children in a vacant room in his house. He decided to resume his teaching service in 1999 and set up the non-profit, Samaritan Help Mission, to run a learning centre.
"It was not a school in the truest sense but more a learning centre for children from poor households," explains Mamoon.
"I wanted the children to at least understand the value of education. I taught my students a smattering of English through the alphabet books."
Initially, six children from the Tikiapara slum attended the classes. In 2001, he got that room's leaking roof covered with polythene sheets. An open drain doubled up as the toilet for the students.
Classes were held in the morning and evening. Back then, Mamoon had a novel plan to raise funds for purchasing books for the children.
"Children were asked to bring old newspapers and other waste items from their houses," says Mamoon, "that were then sold to arrange money for the books.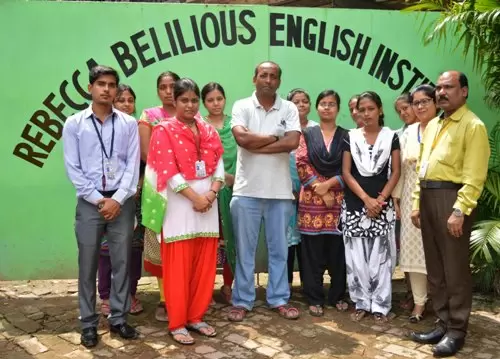 There are around 100 teachers working at Mamoon's two schools

"I took a very negligible amount from students, around Rs five as tuition fee as I felt people don't value things that come for free."
Slowly, the number of children began to swell as parents were attracted by the English-medium learning being imparted to their wards.
Fortunately, around five college students from the area had also begun to support Mamoon in his cause. Within a year, the room was crammed with around 120 students.
The school began to be run in three shifts. "I used to earn Rs 2,000 by giving private tuitions and that was spent in buying books and covering expenses for the learning centre," says Mamoon.
In 2003, this fledgling school received valuable help from the wife of the then US consular in Kolkata, Mrs Lee Alison Sibley, who donated Rs 10,000 to the organisation after being impressed by his relentless commitment.
"I used the money to construct toilets and waterproof the roof," says Mamoon.
In 2007, Mamoon decided to acquire some land as more and more children were joining his classes. He bought three kottahs (2,160 square feet) of land in Tikiapara near his house.
"Around Rs 20 lakh was spent in purchasing the land and then constructing the school building," says Mamoon. "The money came from individual donors and non-profit organisations that were supporting our cause."
Within one year, the building was complete and the school started to function in 2008 with classes from pre-Nursery to Class three. They began to add one class each year.
The school now has around 800 students and 40 teaching staff. It was recognized by the West Bengal Board in August 2016.
Mamoon felt that it was also necessary to do something specifically for girls as child marriages were common in the community and no thought was spared on educating a girl child or providing her vocational training to help her stand on her feet.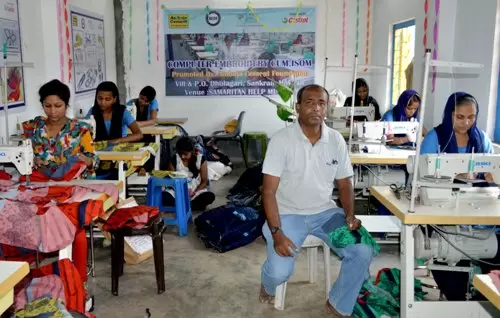 Mamoon at the vocational training centre where women are taught tailoring

"Our area was part of a crime belt where women also succumbed to crime because of poverty and lack of proper livelihood," says Mamoon.
As the school had shifted to the new building, the room in his house was vacant. A thought struck him.
"I bought around 20 stitching machines and invited the women for vocational training. We charged Rs 20 from around 250 women who came for the training," he says.

The women later began to earn their livelihood.
In 2014, Mamoon took another giant step by giving a fresh lease of life to a moribund government school in his locality, the century-old but nearly defunct school, IR Belilious Institute, whose land ownership was with the Belilious Trust Estate.
"We talked to the local authorities and tried to revive the school built on a large two acres with grounds that could have been utilized for several social activities," says Mamoon.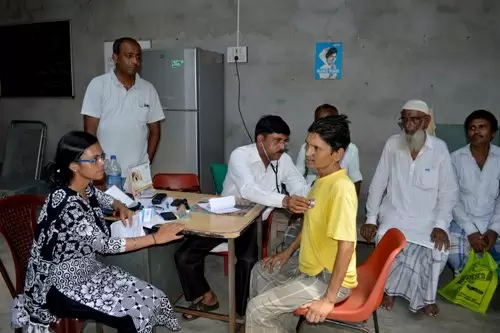 People from nearby slums are provided free health check-ups and medical treatment periodically

His efforts paid off and the school was finally opened on 14 November 2014 with the collaboration of Howrah Police, Samaritan Help Mission and the Belilious Trust Estate. The school was named Rebecca Belilious English Institution.
The English medium school from pre-nursery to Class three that began with 300 students now has 1,600 children from the slums. The school awaits recognition from the government education board.
Both his schools together have around 2,500 students with around a hundred teaching staff.
"We provide the best facilities to students and also bear the expenses of their clothes, books and other needs while charging just Rs 50 a month as school fees," he says.
Mamoon's Samaritan Help Mission also runs a public health centre and a vocational training centre that instructs women in stitching on the new campus.
"We also have a mobile clinic that treats over a hundred people in the nearby slums every week," says Mamoon. They also run a sports academy on the school campus where children receive training in volleyball and cricket.
All this requires funds of about Rs 70 lakh a month, and Mamoon musters it up from individual donors and the fees collected from the school and the vocational training centre.
He has already won several accolades for his social work.
This doer still dreams on – of a day when education will reach every child and make them fully aware about their rights.
Wish to share your story?
Trending Now: