Chennai's most hi-tech auto owner wants to introduce an air-conditioned auto
27-October-2016
Vol 7&nbsp|&nbspIssue 43
Generously interspersing his speech with marketing jargon like 'referrals,' 'word of mouth' and 'customer satisfaction,' G Annadurai, arguably Chennai's most popular auto driver, demonstrated why he is a much sought after speaker these days at corporate forums across the country.
Anna's auto is wi-fi enabled and it has a laptop, tablet and Ipad that customers can use to browse during their travel. There is also a TV set that plays recorded programmes and a collection of magazines and newspapers in the auto.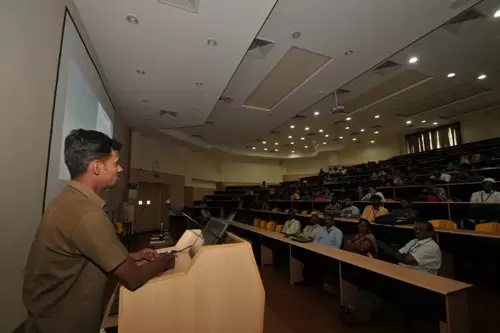 G Annadurai addressing students of VIT University after receiving The Weekend Leader - VIT Unsung Hero of Tamil Nadu Award (Photos: H K Rajashekar)

His story was featured in The Weekend Leader recently under the 'Unsung Heroes of Tamil Nadu' series.
Speaking after receiving The Weekend Leader – VIT Unsung Hero of Tamil Nadu Award on Wednesday at VIT University, Vellore, Annadurai aka Auto Anna, revealed that he is currently exploring the possibility of air-conditioning his auto for the comfort of passengers.
"One has to constantly keep pace with the changes happening around you," said Anna, adding that when you give the best service to your customers they would always stay with you.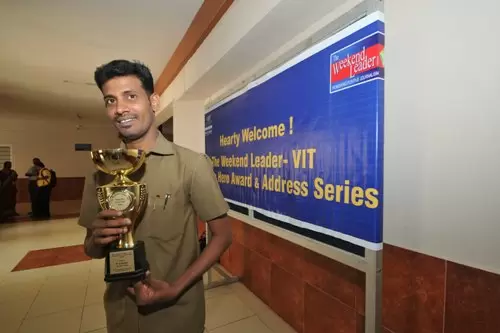 The Weekend Leader - VIT Unsung Hero of Tamil Nadu Award is given to persons who have made significant contributions to the welfare of society and whose work has been featured in The Weekend Leader

"There was a time when I used to wait for customers. Now customers wait to take a ride in my auto. On OMR road in Chennai where I operate there are so many AC buses, but many customers still prefer my auto," he said.
At times customers do not readily accept the changes or promotional efforts he introduces, and he would convince them.
"When I introduced the swiping machine to make payments, some customers were reluctant to use their card for Rs 10 or 20.
"I used to tell the advantages of making their payments through card everywhere, and explain that it would help in eliminating black money," he said.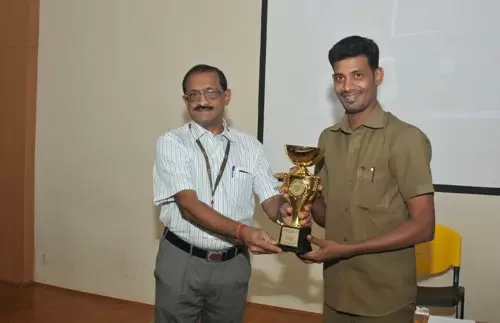 Dr D Ashok, Dean, VIT Business School, presenting the trophy to Anna

He said that auto drivers are usually known for fleecing passengers, but he had a scheme through which he distributes tokens to passengers on every ride, which could be redeemed for a cash prize of Rs 250 to Rs 1,000 when it reaches a certain number.
"When I presented the cash prize to a person, he refused to accept it. I urged him to learn to accept recognition and rewards in life," said Anna.
Throughout his address he engaged the audience in a conversation with him by asking them questions.
Anna engaging with the audience during a lively interactive session anchored by P C Vinoj Kumar (extreme right), Editor, The Weekend Leader

Constantly looking for ways to add value to his customers, he said he had plans to tie up with restaurants on OMR to enable customers order food from his auto and take delivery of the same at the point where they got down.
Anna stole the hearts of the predominantly VIT Business School students and faculty members in the audience, who applauded him for his excellent customer relation skills.
Earlier, Dr D Ashok, Dean, VIT Business School, presented The Weekend Leader – VIT Unsung Hero trophy to Anna and felicitated him. P C Vinoj Kumar, Editor, The Weekend Leader anchored an interactive session between the awardee and the audience. – TWL Bureau
Wish to share your story?
Trending Now: