Woman truck driver from MP inspires the public to take selfies with her
27-October-2016
Vol 7&nbsp|&nbspIssue 43
Driving trucks is generally not seen as a woman's forte. But 25-year old Tabassum Ali from Mandla district of Madhya Pradesh dared to become one, not fearing the dangers on the highways and the lonely stretches after nightfall.
As the youngest and first woman in Madhya Pradesh to get a driving license for heavy goods vehicle, steering the wheels of her 10-wheeled truck is no big deal for this Arts graduate.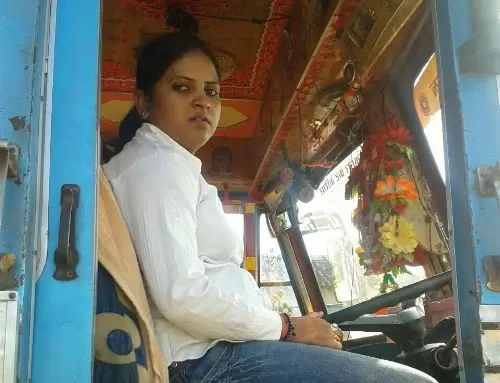 Tabassum Ali, an Arts graduate, took to driving a truck to support her ailing mother and the educational needs of her five sisters (Photos: By special arrangement)

She mostly drives between Madhya Pradesh and neighboring Chhattisgarh, on an average covering 200-225 km daily, with just one loadman accompanying her.
For Tabassum, driving trucks has been pretty much a way of life for the last three years when she decided to financially support her family of nine.
Though she gets enough stares from people when she hits the road, she is also the most admired woman in her town for being the first woman to break into the traditional male domain.
Trucks are not new to Tabassum as both her father Shabbir Ali (55) and brother Shamsher Ali (30) are also truck drivers.
It was by chance that she got an opportunity to drive a truck in 2013 when she was just 22 - an experience that would literally take her on a different course.
"My father had to urgently deliver food items to a market in Manpur, 80 km away, in two trucks. The driver of the other truck had not turned up.
"Since I knew car driving, my father asked me to drive the truck by following his instructions," says Tabassum.
Tabassum, second of the seven siblings, decided to turn professional driver as she realised her earnings would supplement the paltry income from her father and brother and help in meeting the medical expenses of her ailing mother and the educational needs of her five sisters.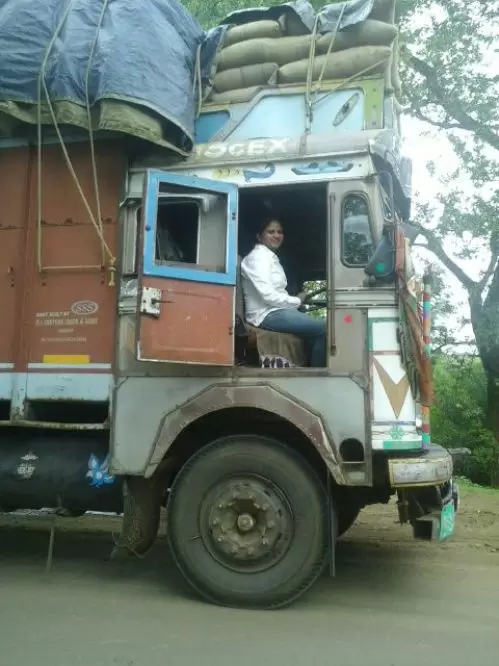 Having the knowledge to do small repairs on the vehicle gives Tabassum the extra confidence to drive on lonely stretches even in the night

"My mother developed kidney ailment five years ago.I had no other alternative but to shoulder the responsibility of my family along with my father and brother," she says.
Tabassum always loved driving cars. She learnt driving in her relative's car and obtained a driving license when she was 18.
"My father was very proud of me when I managed to safely drive the truck to the market that day. It gave a boost to my confidence and I realised that even I could become a truck driver," she recalls.
When Tabassum expressed her desire to become a truck driver, her family welcomed it and encouraged her to go ahead.
"My father and brother never underestimated my capability and felt I was one among them. As a piece of advice, they just told me to be careful on the road while driving and not to stop the truck on desolate stretches."
Tabassum goes on to add: "I also drive during nights, passing through remote and lonely stretches. Luckily, I have never faced any assault or misbehavior by other male truck drivers. They treat me with respect and care. However, I always carry a stick and a knife for my safety.
"People often stop me while I am driving and like to take a snap with me. Women, especially, feel very happy to see me drive a truck and click selfies with me," says Tabassum.
Her passion for trucks is not just limited to driving them, but repairing them as well.
"The truck needs urgent repairs often in desolate stretches, where there are no mechanics. It can happen at night too. I handle minor repairs such as changing of tyres and checking the engine," she says.
Tabassum earns around Rs. 30,000 per month, which she mostly spends on her sisters' education.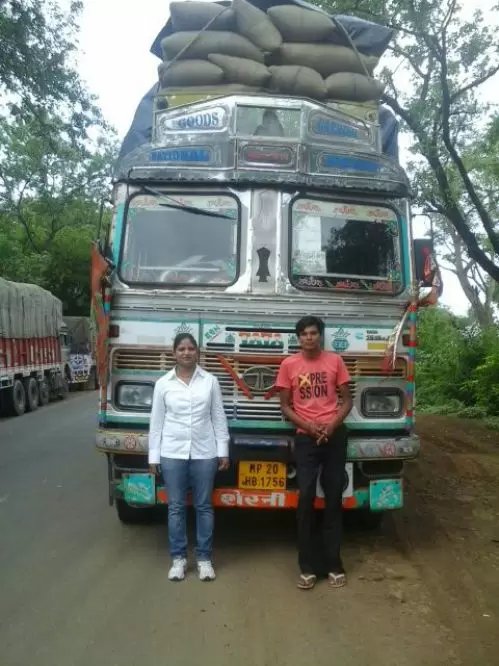 While driving long distances Tabassum is on the road for three to four days at a stretch

"I want them to have good education and a bright future. I have decided to dedicate my life for them and want to see them achieve big success in life," she adds.
She says the transport and police officials have treated her with respect and have been very supportive.
At 25, Tabasssum has won recognition and laurels across the state from various organisations. In 2015, she was honoured with a gold medal by Madhya Pradesh Chief Minister Shivraj Singh Chouhan for being the first woman truck driver in the state.
"It's a matter of pride for us to have a woman truck driver.She is very hard working and dedicated to the job," says Ashok Mishra, a transport contractor.
Here's wishing Tabassum a long and safe journey.
Wish to share your story?
Trending Now: