Jhansi women on a mission to protect trees

27-September-2016
Vol 7&nbsp|&nbspIssue 39
If you happen to walk down the Allahabad Bank Cross Road in Jhansi, Uttar Pradesh, you would find the trees are talking to you! The trees, standing tall on both sides of the road, say something about their existence and scream out their struggle for survival.
Catchy slogans such as "Trees Are Life"; "Love Trees"; "Don't Hate Us"; "Don't Cut Us, We Are Your Life" and "Na KaatoMujhe,BadaDhukta Hai" (It's Very Painful, Don't Cut Us), written in Hindi and English will make your thoughts run deep about the plight of these trees.

The Goonj team believes that the messages hanging on the trees would make people think twice before cutting down any tree
A group of six women in Jhansi have come together for a common cause – saving trees from being felled. Their motto is simple: "protect and preserve trees instead of planting them".
Members of a group called 'Goonj', formed under the umbrella of a NGO 'Junior Chamber International (JCI) Jhansi' - RekhaRathore, Yogita Agarwal, Pooja Agarwal, Deepali Agarwal, Divya Agarwal and Mamta Dassani - are spreading a strong message to save trees and protect the environement.
"Planting trees is passé. It's easy to plant trees than protecting and preserving them. People take care of their indoor plants, but they ignore trees outdoor," says Mamta Dassani, an assistant professor of Mathematics at the Chandrashekar Azad Institute of Science and Technology, Jhansi.
After joining JCI in 2014, Mamta came across some likeminded women and inspired them to join hands with her. Thus Goonj was formed under the umbrella of JCI in February 2016.
It was around that time the selection of Jhansi Municipal Corporation for the SMART City Mission initiative of Government of India hit the headlines. The dailies reported that trees would be felled for infrastructural development.
On hearing this, the ladies brainstormed and came up with an innovative thought to save the trees.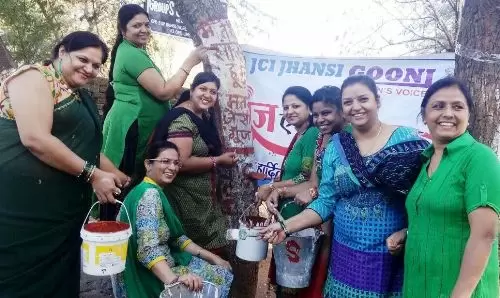 Spreading the message
While teaching her sons a chapter on "Plants Are Living Things", Mamta hit upon an idea.
"Giving trees voice to spread their own message," was Mamta's mantra. Her comrades cheered her concept. In order to put out their message loud and clear, the ladies embarked on their mission to identify the area to mark the trees.
Allahabad Bank Cross Road, with around 40 trees, was their first choice as it was a prime location in Jhansi and connected with the National Highway 27.
Not minding the summer heat in May 2016, the Goonj team painted the tree trunks with white lime as the background and wrote the slogans and messages with Geru (an earthy-red colour).
Though they received an overwhelming response for their initiative, these messages did not last long as they got washed away during the monsoon.
With suggestions from friends, they decided to tie flex banners on the trees with the same messages.
"We are hopeful that these messages would make anybody think twice before cutting down any tree," says Goonj president Rekha Rathore.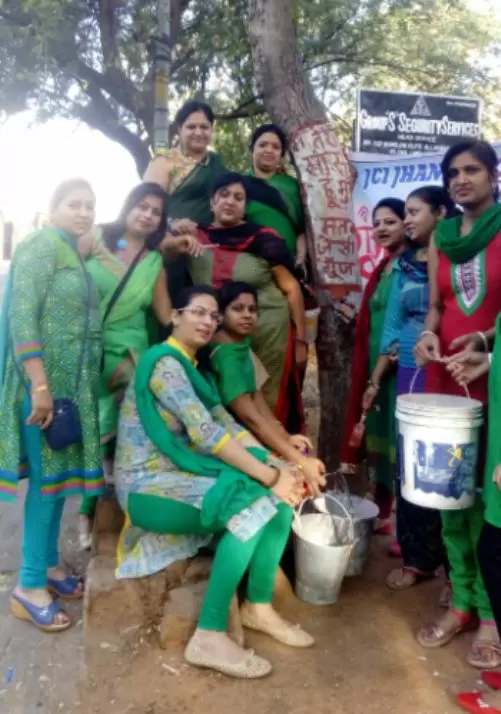 Goonj team members hope the government would joins hands with them in spreading the message at more locations
On World Environment Day this year, the all-women team put up at least 20 flexes on some old trees such as Banyan, Ashoka, Margosa, etc., in and around Elite, an area situated in the heart of Jhansi. JCI provided funds for the flex banners, each costing Rs. 50.
Continuing their mission, the team is gearing up to put up similar banners across Bundelkhand Institute of Engineering and Technology area, which is covered with plenty of big trees.
"We want to spread the message of 'importance of trees and its protection' among the student community so that they will pass it on to their future generation," informs Mamta.
The Goonj team is looking forward to support from the local civic authorities and the government in carrying forward their mission to protect the trees.
Wish to share your story?
Trending Now: