Humanity raises its beautiful head in Cauvery row

Usha Prasad
&nbsp | &nbsp Bengaluru
19-September-2016
Vol 7&nbsp|&nbspIssue 38
Amidst the dark clouds of violence that raged in Karnataka recently over the release of Cauvery waters to Tamil Nadu, a series of developments that unfolded away from the prying eyes of the media will reinforce your faith in humanity.
When protestors in Karnataka were attacking vehicles from Tamil Nadu last week and the situation was highly volatile, two Bengaluru residents, a Tamilian and a Kannadiga embarked on a mission to ensure the safe passage of around 150 Tamil Nadu registered tankers stranded at a Bharat Petroleum Corporation Limited (BPCL) bottling plant in Solur, located on the Mangaluru-Bengaluru Highway.
Bengaluru residents Manivannan (right) and Subashchandra came together to help around 150 Tamil speaking truckers holed up at a BPCL bottling plant near Bengaluru reach their destinations safely (Photos: Shinoj Pillapally)
Holed up in the plant along with other Tamil-speaking drivers was Manivel, an LPG tanker driver, who was attacked by protesters and forced to say "Cauvery is for Karnataka."
The video clip of the attack on him had gone viral on Whatsapp and other social media.
It was in this scenario that Dr Paul Newman, a professor of human rights at University of Bangalore, got a call from his friend and Tamil Nadu politician, Naam Thamizhar Katchi leader Senthamizhan Seeman, who conveyed to him the plight of the stranded Tamil drivers in Solur and requested him to help them.
Paul spoke to his friends, a human rights activist IMS Manivannan, a Tamilian, and social activist MT Subashchandra, a Kannadiga.
The duo, who didn't know each other, however got down to work quickly, bound by the common purpose of helping the poor truck drivers who had borne the brunt of the violence over the Cauvery issue.
For the next couple of days, they worked the phones, spoke to their contacts and ensured that the tankers moved out of BPCL with full police protection and reached their destinations safely.
"Timely and careful planning with co-operation from local jurisdictional police helped in moving out around 10 lorries towards Cochin and 17 trucks to Mangaluru on September 16. A police van with around 20 policemen escorted the trucks.
"Again around 40 trucks each were escorted in both the directions on the night of September 17.

Manivannan with driver Manivel, who was attacked and stripped by protesters, at the BPCL plant in Solur
"We were in constant touch with the lorry owners' association in Tamil Nadu and informed them about the safety of their drivers here. We are very thankful for the cooperation and timely help offered by the Karnataka police," said Manivannan.
After the Supreme Court modified its order on the release of Cauvery water to Tamil Nadu on September 12, and the ensuing state-wide bandh on September 13, violence erupted in and around Bengaluru with protestors attacking vehicles bearing Tamil Nadu registration numbers.
Hundreds of drivers driving fully loaded tankers with LPG feared for their lives following the attack on Manivel.
Many drivers sought refuge at the BPCL plant at Solur.
"As a human rights activist, I plunge into action in situations like this, and extend all support and help in whatever way I can.
"Providing protection to the lorries with TN registration and the drivers was the immediate need. If even one lorry filled with LPG had been set on fire, it would have killed many people," Manivannan said.
Initially, Manivannan and Subhashchandra, through their respective sources, tried reaching out to the DGP, chief minister, home minister, and everyone possible.
Subashchandra finally managed to contact Karnataka Labour Minister Santosh S. Lad and explained the situation to him.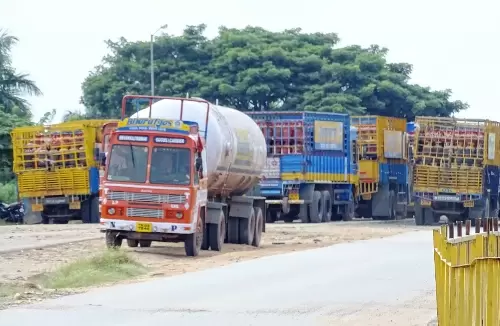 A section of the tankers that were stranded at BPCL, Solur plant
"The minister immediately contacted Central IG Seemanth Kumar Singh and apprised him of the situation and requested immediate help. We also met the police officers and briefed them about the situation.
"Mr. Singh, after having talks with the home minister, immediately alerted the jurisdictional police to escort the trucks to Mangaluru via Sakleshpur and towards Cochin via Hosur," Subhaschandra added.
BPCL's bottling plant at Solur gets bulk LPG from its loading base at Mangaluru and Cochin by road through oil tankers, and after bottling the same, the packed cylinders are supplied to Bengaluru market.
The plant supplies LPG to 12 lakh consumers covering eight districts in and around Bengaluru.
With vehicles being stranded at its plant for almost five days, LPG supply would have been hit big time in these eight districts if the trucks had not moved out on time, thanks mainly to Manivannan and Subashchandra.
Lauding the efforts of Karnataka police in providing escort to movement of TN registration tankers, Santosh Lad said: "People should stay strong during such situations instead of panicking and creating unrest.

A Tamil Nadu registered vehicle damaged during the Cauvery violence in Karnataka
"Such things are temporary and it is like a passing cloud. I urge the people of both states to help one another and ensure safety of life and property."
"Are we really living in the world's largest democracy," questions Paul.
"We can't be quarrelling over petty issues like water, which in turn leads to violence and unsafe situations. People should realise that humanity is very important during incidents like these," he added.
Wish to share your story?
Trending Now: