A saga of a man's love for the tigers, and the birth of a reserve
T P Venu
&nbsp | &nbsp Hyderabad
03-September-2016
Vol 7&nbsp|&nbspIssue 36
He is not a celebrated environmental activist, but Imran Siddiqui is a zealous guardian of forests who singlehandedly worked to protect large tracts of mangroves in Krishna Wildlife Sanctuary in Andhra Pradesh, and played a key role in getting the state's Kawal Wildlife Sanctuary the status of a tiger reserve in 2013.
The construction of a 2.5 km road that began earlier this year cutting through the Krishna Wildlife Sanctuary was stopped following the directions of the state's High Court, thanks to the PIL filed by Imran.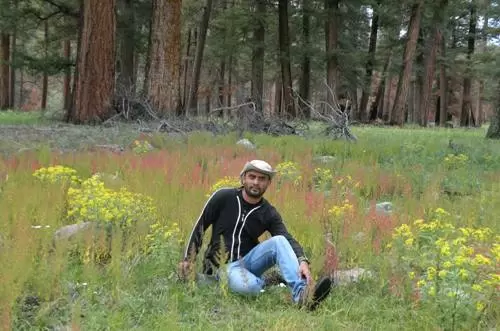 Imran Siddiqui has relentlessly worked in the field of wildlife conservation and played a major role in the recognition of Kawal as a tiger reserve

His effort has now ensured the preservation of the area's precious primary mangroves. The road construction would have allowed seawater into the mangroves, increasing the salinity of the water and destroying the unique ecosystem and the plant and animal diversity it supports.

This is just one of the many green initiatives of 36-year-old Imran, who is best known for his commitment to the Kawal Tiger Reserve, about 300 km from Hyderabad and for long a protected sanctuary for a variety of wildlife including leopard, gaur, cheetal, sambar, nilgai, barking deer, chowsingha, sloth bear, and several bird and reptile species.
Now as befits its name, courtesy Imran's efforts, it is also the home of two adult tigers – a male and a female – and four cubs on the periphery of the reserve located in the Jannaram mandal of Adilabad district in Telangana.
Imran's passion for conservation goes right back to his childhood, when even as a class eight student in All Saints High School in Hyderabad, he would go to the forest department office in Saifabad and read books on wildlife.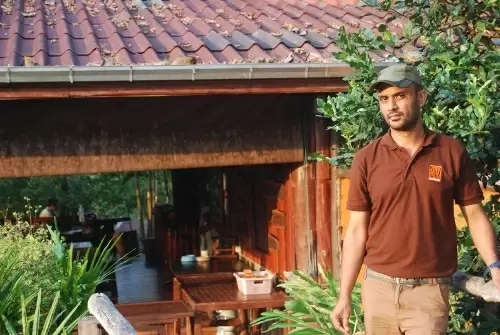 As a class eight student, Imran visited the forest department's office to read books on wildlife

"In class 9, my brother and I had suggested to the authorities at Mrugavani National Park in Chilkur on the outskirts of Hyderabad, to conduct a nature camp but they didn't agree," recalls Imran.
But today, the very same Forest Department invites him to deliver lectures on conservation and wildlife.

The call of the wild drew him to the forest in 2001, when P Raghuveer, Forest Officer in-charge of Warangal, was looking for volunteers to be part of tiger census under the programme 'Bravehearts to Count Tigers' at the Etunagaram Wildlife Sanctuary.
Discovering the complexities involved in wildlife and nature conservation was an eye-opener for Imran and his brother Asif. "I was 21 and that trip made me realize that I would be involved with wildlife conservation for life," Imran recalls.
Right after, in October 2001, the brothers founded the Hyderabad Tiger Conservation Society (HyTiCoS), a voluntary organisation that works for tiger conservation in Telangana and Andhra Pradesh.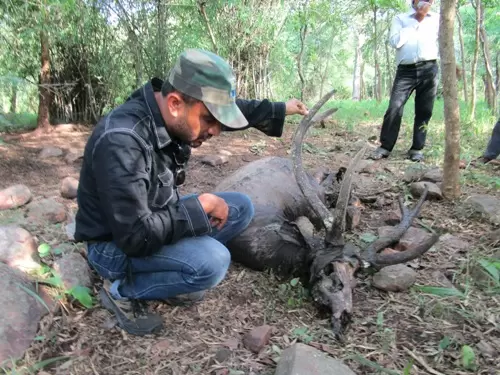 At Amrabad Tiger Reserve, Imran examining a carcass

"The two of us decided that one of us would take up a regular job and the other would work full time for wildlife conservation," says Imran
So now while Asif works for an IT company, and often joins Imran on field trips, the latter focuses on conservation.
Hyticos coordinated the Kids for Tigers programme with Bittu Sahgal, environmental activist and founding editor of the wildlife and ecology magazine Sanctuary Asia, and covered 55 schools in Hyderabad as well as more in the rest of India to spread awareness about tiger conservation.
It was a struggle to live a life dedicated to conservation. Between 2001 and 2005, Imran reared country chicken in his backyard and hawked them on a street in Erragadda in the city, and later dabbled in selling software to chartered accountants to support himself.
However, Imran realized that to completely immerse himself in wildlife conservation he needed money.
So in 2005 he went off to Dubai and worked there till 2008, making navigation systems and maps for cities such as Singapore, Paris, Qatar, among others.
Even then, every six months, he would be back in India and head straight to Kawal, before going on to his parents' home in Hyderabad.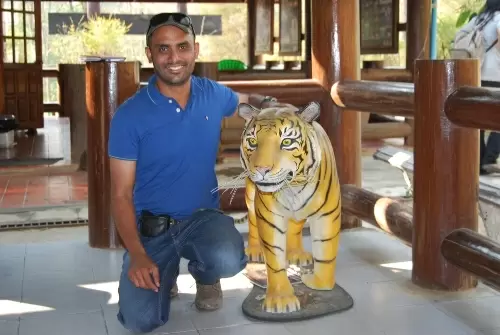 Imran had established the presence of tigers in Kawal using fecal DNA

Later, he began to conduct training workshops for more than 1,000 staff of Kawal's Forest Department on field monitoring of the tiger and its prey – all without charging a paisa.
"Once I take a fee, I feel obligated," says this green warrior who doesn't want to lose his freedom of opinion.
Imran used to have a love-hate relationship with the Forest Department, but in the last 15 years it has evolved into a mutually beneficial and symbiotic partnership.
Replacing confrontation with persuasion, coupled with petitions, have brought small and big triumphs, such as the setting up of a toll-free number manned by the Forest Department at Kawal, which gets 50-60 calls every month reporting illegal activities.
One of Imran's most gratifying achievements includes a night ban on vehicular traffic on the 70 km road inside Kawal, which saw as many as 2,000-3,000 vehicles a month thundering along it.
With the help of the Legislative Assembly Committee for Environment & Wildlife and the then deputy speaker of United Andhra Pradesh, Nadendla Manohar, the use of this forest road at night was stopped in 2007 and traffic diverted to the highway.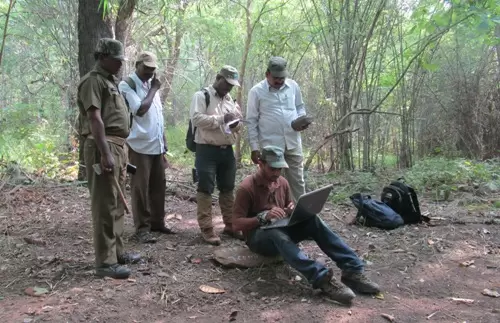 Imran works closely with officials of the forest department

The road on which Imran journeys is not an easy one. "When I got married in 2008, my wife just could not comprehend what I was doing," Imran says, "Today, she understands my passion."
In the 2000s, Imran and his brother were mobbed by villagers, threatened by Naxalites to stay away from the forests, disliked by tribal groups who believed that Imran and his team were against their interests, and regarded unfavourably by local politicians with vested interests in the forest.
Imran persevered and applied for an M.Sc. in wildlife conservation at the National Centre for Biological Society - Wildlife Conservation Society (NCBS-WCS), which usually looks for people with a science and forestry background. In contrast, Imran had B.Com and M.C.A degrees, but his track record in conservation got him in.
In the course of his Masters' research project Imran was able to prove that Kawal Wildlife Sanctuary had 13 prey animals per sq km and could support 20 tigers. This data was not only revelatory for the Forest Department, but also helped Kawal get the status of a Tiger Reserve, with the support of DFO Ramakrishna.
Imran had established the presence of tigers in Kawal using fecal DNA in 2001 and he helped researchers at the Centre for Cellular and Molecular Biology (CCMB) in Hyderabad in the design and implementation of studies on tiger sign surveys at Kawal and Tadoba Tiger Reserves.

After 2011, post his M.Sc. and valuable mentoring by leading conservation zoologist and tiger expert K. Ullas Karanth, Imran started getting projects, including for mapping corridors between Kanha National Park and Pench National Park from the Wildlife Conservation Trust, Mumbai, and a Wildlife Trust of India grant for its Rapid Action Project initiative.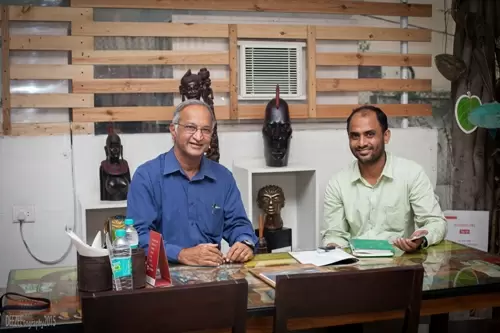 Imran with Ullas Karanth

Now, the Wildlife Conservation Society (WCS) in Bengaluru offers steady work opportunities to Imran.

According to Imran, every day it is a challenge to protect animals and the forest from encroachment by people, poachers and hunters of wild animals, smugglers of teak, man-animal conflict and unnecessary human intervention.
"Nature can cure itself only if we humans do not interfere with it," he says.
And it has Imran, the crusading protector of forests, to facilitate the process.
Wish to share your story?
Trending Now: