Guru with a social mission is a nature lover and a man of action

01-August-2016
Vol 7&nbsp|&nbspIssue 31
Around 17 years ago, a relatively lesser known spiritual guru donning a saffron robe, along with a handful of his volunteers, took on a daunting mission to clean up a polluted river and succeeded in transforming it beyond imagination after a couple of years of sweat and toil.
Today, Sant Balbir Singh Seechewal is known as the man who restored a dead river and has earned many sobriquets for his social missions.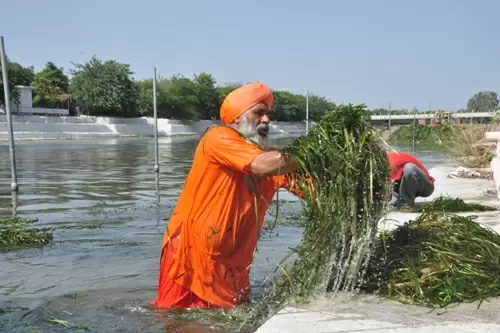 Sant Balbir Singh Seechewal cleaned the highly polluted Kali Bein along with his followers

He is hailed as Rastewale baba (one who makes paths), Sadakanwale baba (one who lays roads), Beinwale baba (one who cleaned Kali Bein River), eco baba (one who works for environment) and railwaywale baba (one who cleaned the railway station)
A resident of Seechewal, a village located about 40 km from Jalandhar and around 400 km from Delhi, the baba sees God in nature and has done all that he could do to keep it clean and pristine.
Baba Seechawal put on saffron robes in 1981 after dropping out of college. He began his mission during the 1990s, a couple of years after he was anointed head of Nirmal Kuteya - a sect which propagates the oneness of Nirankar (formless) God - following the death of his guru Avtar Singh.
The first thing he did was to flatten the mounds in and around his village to create passages for people. This brought him the moniker Rastewale baba. Next he laid some roads in the area that got him the appellation sadakanwale baba.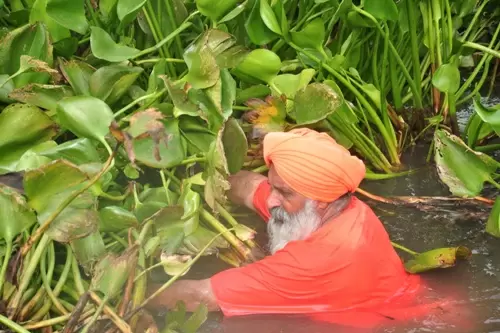 Baba Seechewal led the cleaning operations, pulling out the weeds and clearing the garbage from the river

Years later he would take up the mother of all projects after attending a meeting in Jalandhar called by an NGO to deliberate on restoring the highly polluted Kali Bein, a rivulet which originates in Hoshiarpur district and merges in Beas after traversing a distance of 160 km. Six towns and many villages emptied their waste into the rivulet.
When the baba learned that Guru Nanak Dev, the founder of Sikhism, had bathed in the rivulet during his over 14-year long stay in Sultanpur Lodhi, a town in Kapurthala district about 13 km from Seechewal, he was determined to restore the pristine glory of the river.
.
In 2000 Seechewal got into the river with a handful of his sewadars (volunteers) to start the cleaning operations.
Undeterred by the mammoth task ahead, with his bare hands he started pulling out the weeds and clearing the garbage from the slushy river bed. His followers joined him in right earnest.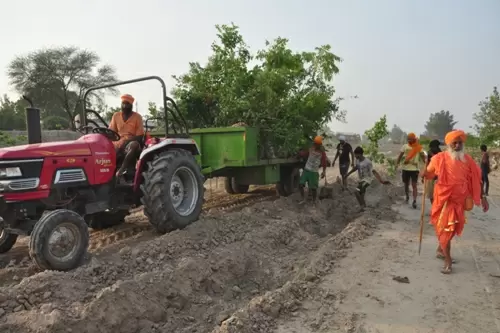 Baba Seechewal and his followers built bunds and also planted trees on both sides of the river

As word spread, many children from the villages joined his efforts. The locals who were indifferent initially began supporting the efforts soon.
They gave their labour and offered their tractors to level the ground. Seechewal himself was on the field either driving the tractor, supervising or getting down on the dirty waters pulling out the weeds.
In a couple of years' time they not only cleaned the river but had even built bunds and planted fruit and decorative trees on its banks.
But the challenge emerged later, as sewage from villages located on the banks of the river continued to enter the watercourse. Repeated pleas to the government to plug the sewage inlets fell on deaf ears.
Baba Seechewal rose to the occasion once again, mobilizing his followers to design an indigenously developed sewerage system that included the laying of underground sewer pipes in the villages, and putting in place a natural treatment system through a layer of trenches.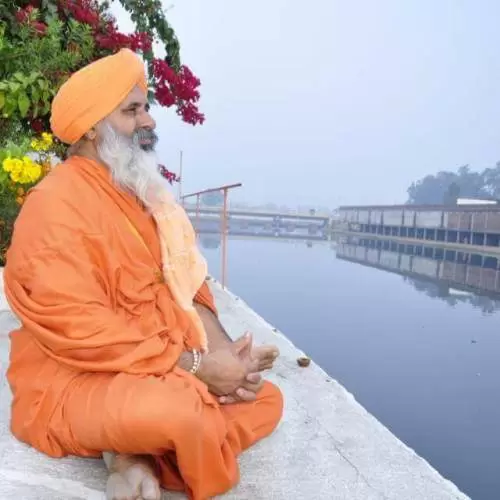 Taking in the sight of the lovely Kali Bein, where children are taking a dip

The treated sewage water was used to irrigate the agriculture fields. The system came to be known as Seechewal model of sewage treatment.
So what drives this spiritual guru to take interest in environmental issues?
Seechewal responds by reciting a couplet from Gurbani: 'Balihari kudrat vaseya, Tera Ant Na Jai Lakhia (which loosely translates into 'the almighty pervades everywhere in his creation').
In 2008, Time magazine wrote, "Today, the Kali Bein is thriving. Families head there for picnics and the devout bathe during religious festivals".
Former Indian President late A P J Abdul Kalam was a big votary of the Seechewal model of sewage treatment and visited the village in 2006 and 2008. In August last year, Union Minister for Water Resources Uma Bharati also visited the place to see whether she could replicate the model on Ganga.
A large number of residents from villages located along the Ganga have been trickling into Seechewal to learn about the sewage treatment facility. Harwinder Singh Sandhu, an associate of baba Seechewal, puts the average of such arrivals at two busloads in a week.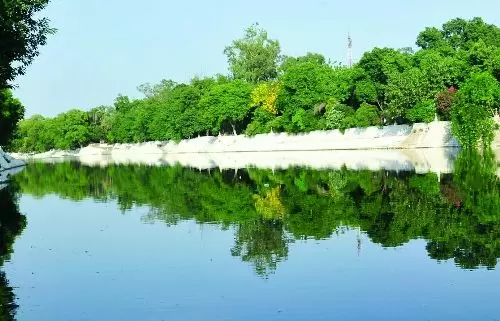 A view of the lush greenery that has come up on a stretch of Kali Bein river bank

"This is an inexpensive and effective model. Nature has been cleaning sewage for ages. Why are we using ground water for irrigation?" Seechewal asks, offering his help for cleaning of Ganga.
Seechewal, who has remained a bachelor, terms it criminal to pollute the rivers and wishes to expand his work to other rivers.
"Water can be a boon. Why make it a curse by dirtying the holy rivers? Is it not our fundamental right to get clean water?" he asks.
Besides cleaning and beautifying Kali Bein and setting up sewage treatment facilities in around five dozen villages, Seechewal has swept Sultanpur Lodhi Railway Station clean.
He has also planted trees in the station, built toilets there and repaired the sheds meant to protect passengers from sun and rain. The station was extremely untidy three years back with illegal settlements around it discharging sewage in and around its premises.
Son of a landed couple Chanan Singh and Chanan Kaur in Seechewal, the baba's trust also runs a couple of schools and a college for technical education. One of the schools provides education to slum children.
Baba Seechewal is concerned about pollution of rivers in Pakistan and Bangladesh and wants them to study his treatment model. He also wishes to clean the other rivers in Punjab, Beas and Sutlej.
"I am not going to stop now", he signs off with a steely resolve.
Wish to share your story?
Trending Now: