On NH24, every weekday a woman regulates traffic in memory of her dead daughter

Partho Burman
&nbsp | &nbsp Ghaziabad
09-July-2016
Vol 7&nbsp|&nbspIssue 28
Following the death of her young daughter in an accident six years ago, Dorris Francis, an ordinary mother from Ghaziabad, Uttar Pradesh, transformed this tragedy into public service and became an extraordinary catalyst for change towards better traffic management.
Instead of blaming poor traffic management, the bereaved mother bravely stepped forward to do it herself.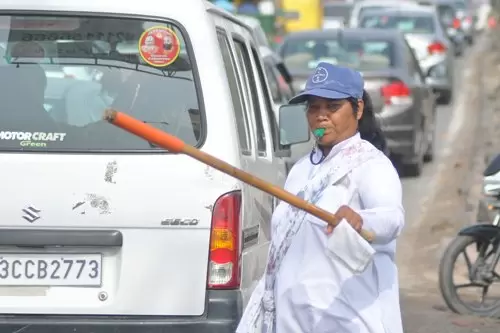 Rain or shine, Dorris Francis turns up at the intersection on NH 24 where she lost her daughter six years ago in an accident to regulate traffic every weekday from 7 am to 11 am (Photos: Navnita)

"If I can save even one person's life, it would mean I have saved 10 members of a family from grief, and worse," she says.
That's why every weekday at 7am, rain or shine, you are likely to find Dorris controlling traffic at the accident spot in a touching homage to her deceased daughter.
At any time, National Highway 24 is the busiest connecting route between Delhi and Ghaziabad. Come morning and the traffic begins to escalate with more than 50,000 vehicles from either side zooming through the Khoda crossroads every day from 7am till 11 am.
At the first right cut after moving past the Hindon canal towards Ghaziabad from Delhi, Dorris routinely spends four hours stationed in the middle with a long staff in her hand, directing traffic efficiently.
Despite being untrained, she has done this since July 2010, a few months after the road accident on November 9, 2009, killed her youngest daughter Nikki, just 20, and tore apart her family. Young Nikki had lost her husband recently and left behind an eight-day old baby, Alisa.
The mishap could have been averted, had there been a traffic constable deputed at the junction.
Around noon on that fateful day, Dorris's husband Victor, Dorris and Nikki were on their way home from Lal Bahadur Shastri Hospital in Kalyanpuri in east Delhi, where they had taken Nikki who had been complaining of chest pain.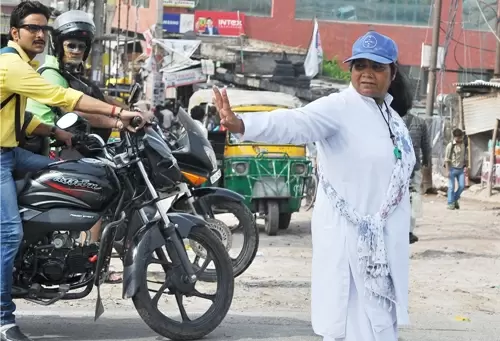 No accident has been reported at the spot where Dorris regulates traffic while she has been on duty

As their auto-rickshaw moved to cross the road, a speeding Wagon-R came from the opposite direction and banged into its rear.
The forceful impact threw out all three passengers sitting inside. Victor and Dorris suffered serious injuries, it was Nikki whose kidneys were damaged irreparably by the sudden collision and fall. She later succumbed to her injuries on July 1, 2010.
The loss would be unbearable for any parent, but the Francis couple catalysed it into an unusual strength. They vowed to never let an accident happen at this spot if they could help it. Dorris started regulating vehicles there, and made the spot accident-free with her presence.
Fitting then, that Dorris, now 59, became one of the only three winners of the Outlook Inspirations award to mark the 50th anniversary of BBC World Service's show Outlook, along with Colombian acid-attack survivor and campaigner Natalia Ponce de Leon and former Dutch ambulance driver Kees Veldboer who set up an organisation to make the last wishes of the terminally ill come true.
Dorris had always shown courage in the face of misfortune. When she was only 10, her mother left the three children with their alcoholic and neglectful faher. Little Dorris carried out all the household chores and raised her two siblings - a brother less than two years and a one-year-old sister.
Dorris could not go to school, but instead washed dishes and swept floors in the neighborhood to help her siblings carry on with their studies. The father remarried and time ticked on.
At the age of 22, Dorris began to work as a domestic help in Delhi. It was during this period that she met Victor in 1978 and agreed to marry him only if he would take in her siblings also.
Happiness and poverty dwelled together. Victor quit his job with Hotel Siddhartha in Delhi and began to ply a rented autorickshaw. Dorris joined an export house as a helper.
They were blessed with six children – five daughters and a son – and in the year 2000, they moved to their own house at Khoda colony in Ghaziabad.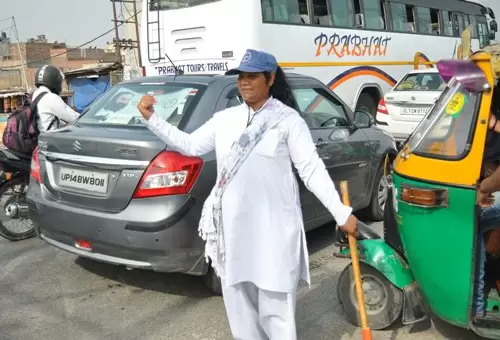 An estimated 50,000 vehicles pass through the Khoda crossroads every dayfrom 7amtill 11 am

Life seemed to have settled down. Four of the daughters got married and son Bunti became an auto driver, while Victor and Dorris retired.
The accident changed every equation.
"Tears would roll down our cheeks unbidden when we were close to the spot," says Victor. "We used to sit and watch vehicles speed past for hours after hours."
People remarked that they had gone mad. "I can never forget that horrific incident and Nikki's battle for her life," says Dorris.
Now, ignoring her thirst and hunger for hours, Dorris manages traffic without any expectation, and attributes all her skills to the Lord.
"Tell me, who will have the kind of energy that I have at this age?" she asks, reffirming her devotion as a Roman Catholic. "It is only due to the blessings of the Lord that I am able to serve this cause."
According to her, traffic has been tamed to a large extent at the spot now. Motorists tend to reduce their speed when they cross this point.
Her priority is to provide free passage to ambulances. Still challenges include wrong-side drivers who create a jam.
When she hasn't been there, accidents between 2010 and 2016 have claimed 11 lives. Occasionally, even the deputed traffic constables call her up to man the spot in the evening between 6pm and 8pm, when traffic goes berserk.
Dorris was one of the three winners of BBC's Outlook Inspirations award

While Dorris devotes her time and energy to her mission, she gets nothing in return except her own peace of mind. "I have even earned a bad name for this from some," she says.
However, she feels satisfied when some people thank her, including those such as Mr Rudravanshi, an Inspector General with the BSF, who issued a letter of thanks to her. She has also received many citations for her public service.
Still, the most important consolation is the one inside. "The soul of my daughter must have received peace," Dorris says softly.

Trending Now: