She has reclaimed many water bodies, now she has launched Noyyal River Restoration Federation

P C Vinoj Kumar
&nbsp | &nbsp Coimbatore
04-June-2016
Vol 7&nbsp|&nbspIssue 23
I love being with nature. I love plants and trees. I love to involve children in eco-conservation," says eco-crusader Vanitha Mohan, sitting in the office of Siruthuli, an NGO that focuses on restoring tanks, installing rainwater harvesting systems, and planting trees across Coimbatore.
Siruthuli literally means 'tiny drop', but Vanitha's plans are anything but tiny!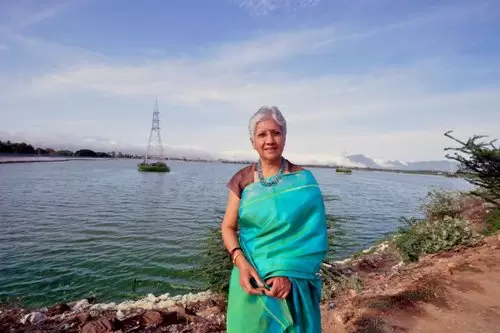 Vanitha Mohan, who began by cleaning ponds in the mid-1990s, focused on the tanks later, and now has set her eyes on cleaning River Noyyal. In the photo, she is seen in front of Periyakulam, one of the tanks restored by Siruthuli (Photos: H K Rajashekar)

Meet the doughty woman, who is spearheading a people's movement to revive a dead river, the Noyyal, which was once the lifeline of the Kongu region.
"I want the Noyyal that my grandfather handed over to me for my children," says the 63-year-old Vanitha whose past record of restoring several waterbodies in Coimbatore has generated a lot of expectations on her latest plans.
Noyyal originates in the Western Ghats near Coimbatore and meanders along a 160 km stretch through the districts of Coimbatore, Tiruppur, Erode, and Karur before joining the Cauvery.
It is fed by 34 small streams flowing down from the Western Ghats in Coimbatore district. A well-planned network of tanks is found alongside the river, said to be constructed by the later Chola kings for flood control and water harvesting.
The once perennial river is dry most part of the year now and has been polluted by the sewage and industrial effluents flowing into it at many places.
Will the river regain its lost glory? That's the million dollar question as Vanitha and her team at Siruthuli areplanning an ambitious restoration programme.
All her past work though would seem like child's play compared to the task at hand. But Vanitha, managing trustee of Siruthuli, is undaunted by the enormity of the mission.
"It's very difficult, but we will do it," she declares.
It was this very spirit that led to the formation of Siruthuli back in 2003, at a time when Coimbatore was reeling under severe drought and the water table in the city and its vicinity had plummeted to alarming levels.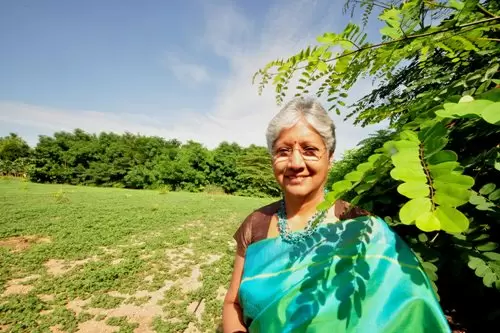 Siruthuli has planted thousands of saplings as part of its green efforts

"The situation was very bad then. The monsoon had failed for three years in a row and water was not available even at 1,000 feet," recalls Vanitha.
Having joined the family business in the mid 1990s, she had already desilted a few ponds near their factory at Perianaickenpalayam and seen how groundwater in the area had got recharged and dry wells came to be filled with water.
"There were few people in our company who were extremely passionate about water conservation. They helped me in these initiatives," she reminisces.
When drought hit the city in 2003, she could relate it to the shrinking tanks and lakes in the city, which were being encroached upon, polluted and abused to the extent that their storage capacity had decreased rapidly over the years.
"There are nine major nine major tanks in Coimbatore. Until the 1970's they were brimming with water, but the rot set in later with urbanisation. Garbage, building debris, and sewage found their way into the tanks," says Vanitha.
Not just the tanks, but the 34 streams feeding River Noyyal had also been choked and the result was the fall in groundwater table in the city.
To replicate the success she had achieved at a few small ponds and check dams near their factory across the bigger waterbodies in Coimbatore she needed more resources and here her family background helped her.
Vanitha's father LG Varadarajulu was a second generation businessman, who had got into manufacturing of automobile garage equipment and built from scratch the ELGI group of companies along with his brothers.
Her husband Vijay Mohan's family owned Premier Mills. But Mohan exited from the textiles industry, got into manufacturing of automotive parts and built PRICOL (Premier Instruments and Controls Limited), whose current turnover is close to Rs 1,100 crore.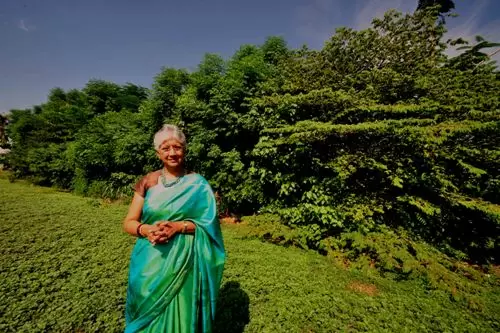 At Pricol, it's a visual treat for the eyes with trees all around the campus

Vanitha is the Vice Chairman of PRICOL. She takes care of internal audit and the HR department, apart from the CSR activities of the company.
So in 2003, PRICOL along with "a few conscientious corporate business houses of Coimbatore" – Bannari Amman Group of Companies, LMW Group of Companies, ELGI Group of Companies and Sri Sankara Eye Society –came together to form Siruthuli with a mandate to solve the water and environmental problems in the region.
The six founder-trustees include Vanitha and SV Balasubramaniam, chairman of Bannari Amman Sugars.
Vanitha's previous experience in restoring ponds came to her aid and Siruthuli hit the ground running, cleaning one tank after another.
"We restored Krishnampathy tank first. It used to be spread over 125 acres, but it had shrunk to 75 acres due to encroachments. We removed silt from the tank bed up to 17 feet and created a bund around it.
"It rained for just two days and the entire tank got filled up. It gave us confidence and after that there was no looking back. We cleaned five more tanks in a matter of fifteen months," she says.
The organisation has spent about Rs 20 crore on various environmental projects till date.
In 2013, they started cleaning Periyakulam, a 325 acre tank located right in the middle of the city. "We were carrying on the work for two months, day and night, using six JCB machines," says Vanitha.
But the highlight of the project was the involvement of the people of Coimbatore in the cleaning work.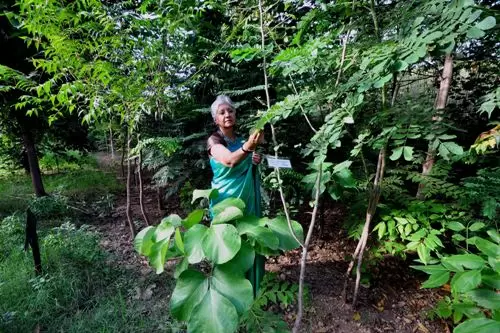 The green lung space maintained by Siruthuli in front of their office

"For four consecutive Sundays, people turned up in large numbers to join hands with us. On the last Sunday we had around 10,000 people," says Vanitha, whose organisation has cleaned an estimated 1,000 acre tank area and strengthened a stretch of 18,246 metres of bunds in Coimbatore.
Out of all the tanks they had cleaned up, Vanitha picks Kuruchi, the largest one with an area of 345 acres, located on the way to Pollachi, as the project that had the most significant impact.
"Coconut trees around a radius of 25 km from the tank were drying up. The area turned fertile after we cleaned the tank and it filled up with water," she reveals.
Siruthuli kicked off Noyyal restoration project in March on World Water Day by launching Noyyal River Restoration Federation (NORFED) in the presence of social activist Anna Hazare and actor Suriya.
NORFED has partner NGOs from three other districts through which Noyyal flows - Jeeva Nadhi Noyyal from Tiruppur, Olirum Erode from Erode and Noyyal Kaapom from Karur.
Vanitha is conscious of the challenges lying ahead. "Lot of things are involved in river restoration. We are now doing a survey of the streams that bring water to Noyyal, which are in Coimbatore. These have to be mapped and the streams need to be cleaned first," she says.
There is a plan to divide the entire stretch of the river into 500 m sections, with each section proposed to be handed over to institutions or individuals who can take up the cleaning work and later maintain it as well.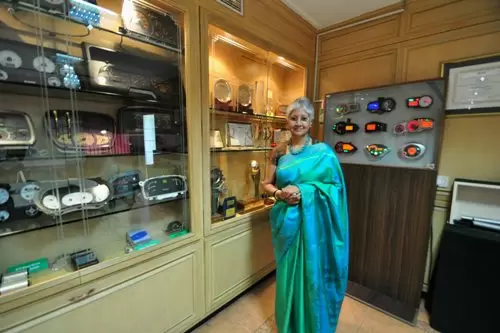 Vanitha plays the corporate role at Pricol with aplomb

But the biggest problem would be plugging the inflow of sewage and industrial effluents into the river, an issue they face even in the tanks they have cleaned in the city.
"Due to sewage content the tanks are covered with water hyacinths, which are water guzzlers. We plan to set up low-cost decentralised sewage treatment plants at few places along the river to tackle this issue," she says.
On the positive side, she is excited about the support she has received from the local panchayats, who are key stakeholders in the project.
"They are very keen in saving the river," says Vanitha, who holds a PG diploma in business management from University of Strathclyde in Glasgow.
Besides PRICOL, Vanitha's family also has companies with interests in hospitality, real estate and few other sectors.
Her first son Vikram is into business and is the MD of PRICOL. Her second son Viren is a nature lover and a wildlife photographer, much like his mother who remains a naturalist at heart even though she is active in the family business.
"I would like to be known as a crusader for Mother Nature rather than as a businesswoman," signs off Vanitha.
Wish to share your story?
Trending Now: