"We work hard to be able to help more and more elderly people"
Somma Banerjjee
&nbsp | &nbsp Mumbai
15-February-2016
Vol 7&nbsp|&nbspIssue 7
Since Diwali day in 2012, a group of senior citizens in Borivali, Mumbai have been getting their meals home-delivered without fail by Mark D'Souza, 57, in a unique meal service initiative.

"We work hard to be able to help more and more elderly people in need of such service," says Mark. "Now when thirty such people pray for you from the bottom of their hearts every day, what other motivation do you need?"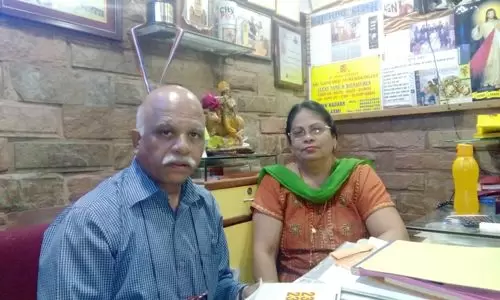 Mark and Yvonne have refused to accept donations for their service to elderly residents of Mumbai (Photo: Somma Banerjjee)

It is just another busy day for the bald, moustachioed, medium-built Mark. His small, tight cubicle office at IC (Immaculate Conception) Colony in Borivali West has been buzzing with calls and visitors since eight in the morning.

Mark, a real-estate consultant, is juggling phone calls, giving instructions and signing papers.

"Yvonne, how long to 12?" he asks his wife.

"Half an hour," she replies. "Time to go, Mark."

Sounds like he has an important appointment at noon. But actually this is when Mark goes home for a lunch break. Nothing unusual there except that this involves lunch not just for himself, but for thirty beneficiaries in and around his locality.

He goes home, picks up thirty four stainless-steel tiffins, each packed with a steaming-hot meal freshly prepared by the lady cook and caretaker employed at his home.

He keeps the tiffins in the boot of his Ritz and sets off to distribute them to senior citizens past their seventies and eighties – some single, others couples, and some of them living with their families. He charges them – nothing. Yes, there is something as a free lunch!

In the expensive, 'market' driven lives of today, you might wonder what makes this man selflessly provide food to senior citizens in the neighbourhood, many of whom are not even financially in need.

One might assume Mark must be a rich man doing this as a fanciful pastime. The reality, however, is that this Mangalore-born man, brought up in Mumbai, is just another middle-class person, struggling and working.

His jovial, energetic mien belies his difficult childhood and growing-up years. Born to a Catholic family, Mark lost his mother at the age of six, and experienced a lonely childhood.

"I believe mothers are the pillars of a family," he says. "When the mother is gone, the whole family set-up comes crashing down."

That's what happened with his family, and his elder brother, who was a priest for while, and sister, now a nun and a nurse, had no option but to put him up in missionary boarding schools in the city.

Adversity strengthened Mark and he developed survival skills very early in his life.

"I learnt, for instance, how to gulp down the only evening snack of an enamel mug full of bland porridge with worms swarming in it provided by one of the free boarding houses in Mumbai on Sundays.

"I have not forgotten the pain of those days. Maybe that helps me to understand the suffering of others," he says.

After school, Mark completed an ITI diploma and in 1980, he went to Libya to work as a chef in a company till 1986.

From 1987 onwards, back in Mumbai, he took whatever job opportunity came his way - as making bricks, selling vada pav, working at a bakery in IC Colony for a meagre salary.

In 1985, he married Yvonne, a self-made woman herself, who had been taking tuitions for children since she was twelve and now runs an agency for domestic caregivers besides doing social work.

It was in 2007 that Mark started his real-estate business.
One wonders, in 2012, on the day of Diwali, when Mark started providing free meals to five elderly people in his area, what was exactly on his mind?

No sudden heavenly flash of inspiration, Mark affirms, but it was a culmination of Mark's and Yvonne's personal experience and difficulties in looking after their own elderly parents due to the lack of time and manpower.

Mark's wife Yvonne is the secretary of the IC Women's Association and comes across senior citizens in the locality who need such help, and they started with five such elders.

News of their work spread by word of mouth, and more needy seniors were added to the meal-service list.
"We saw how helpless and dependent they became when they were physically incapable of doing daily chores, even if they were not financially in need," says Yvonne.

"Sometimes, grown-up children, despite having the money and time, are not willing to look after their parents or help them.
"There is no social security system or government support system to help people in their old age. That's why we thought of helping some people - as many as we could - with free lunch."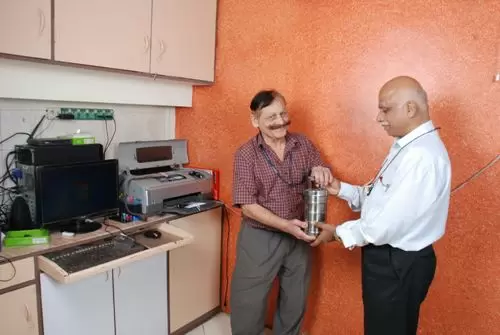 Mark handing over the lunch box to a senior citizen

Each generous and hygienically prepared dabba contains six large chapattis, rice, dal and a veggie. The vegetable preparation is never repeated in the week, and on weekends the dabba has a treat of egg or chicken curry.

The beneficiaries usually eat rice for lunch, and four chapattis for dinner, saving two for the next day's breakfast – wasting not a tasty morsel. The dal and veggie suffice for dinner as well.

So Mark's 'lunch' actually provides for the whole day! Home-cooked food delivered every day at their doorstep saves the elderly people from having to go to the market, buying groceries, cooking and washing utensils.

Each dabba costs 55 rupees to prepare, and Mark and Yvonne purchase groceries and vegetables from wholesale outlets to make it cost-effective.
Still, how do they find the money? Mark clarifies that adverse situations have taught him to make the most of limited resources.

"When you have the will, and you wish to do good work, God helps you by finding ways for you," says Mark.
"We live a simple life and do not spend on luxuries. We hardly get any personal time for ourselves. Both our children are grown up and settled in their lives. We have a lot of goodwill and a reasonably stable income. That is how we have been managing so far."

Many offers to help with funding have come Mark's way since his meal service came into the limelight. He has refused politely so far.

But if someone wishes to offer bouquets, confectioneries and savouries on the birthdays of the beneficiaries, or any other day, he accepts those and delivers them to the seniors.

That's not all. Mark and Yvonne have already been running an old-age home on a paid basis on a small scale. They house five old people in an apartment they have purchased with a loan.

"We take things as they come," says Mark. "We believe God chooses people to play certain roles. He plants ideas of help and service in our mind and all the experiences we receive in the course of life are a kind of preparation towards that.

"I believe if we are meant to do something for those in need, for society, God will see to it that arrangements are also in place to support our endeavour."
Wish to share your story?
Trending Now: