Journeys that awaken the dormant social activists in youth
Roohi Saluja Sehgal
&nbsp | &nbsp New Delhi
10-September-2010
Vol 1&nbsp|&nbspIssue 2
Physician Husian Poonawala, now pursuing higher studies in the US, is confident that he can challenge Pulitzer Prize winning writer, Thomas Friedman, that the world is not flat. He also aspires to revolutionise public health policies. But his empathy for the deprived did not come from his practise or his education but when he hit the road to Ranikhet. "We travelled to the Kumaon hills to create an interactive course structure sensitising the school kids about climate change," he recalls the eventful journey.

However, he would not have embarked on that journey but for 'Grassroutes', an organisation that offers an unique fellowship programme to fund youth to go on road trips across India, discover and work with local change makers and other social ventures, learn developmental issues, and live on less than Rs 100 a day. Like Poonawala, all the youth return with stories of social change, picking up on the way life's greatest lessons, which inspire their own lives and a much larger community beyond.

'Grassroutes', as an idea, was born in a sandy Rajasthani village in the outskirts of Pilani. When four friends in their early 20s, made a weekend getaway from the prestigious Birla Institute of Technology and Science (BITS) and camped overnight in the fields, chatting with the local people, they stumbled upon the brilliant idea of engaging passionate youth into social action through road trips, and inspire them and others into building up a network of social activists!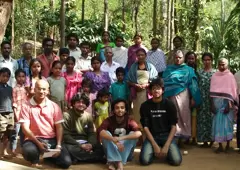 Grassroutes Fellows: they hit the road to change lives
Since its inception in December 2008, Grassroutes has worked with 10 non-profit organisations. It has inspired hundreds of people into doing mini-campaigns and has built up a community of about 900 young minds interested in travel and social change.

Grassroutes bagged the India Habitat Young Visionary Award (2009) for offering one of the best solutions to tap the Indian youth for development and the prestigious Manthan Award for best e-content in development category.

Keerthi Kiran, co-founder and director of Grassroutes, explaining the programme says: 'We organise one social initiative a year that spans over 30 days. So far, Grassroutes has completed 3 successful editions, starting from the year 2008.

Any Indian national below 25 years with a spirit of social consciousness can apply.'

'The young travellers are chosen through a rigorous screening process based on social consciousness and initiative to take action. The selected fellows undergo a month-long mentoring where they are delegated to the problem area, followed by a two-day induction at Bengaluru headquarters.'

Elaborating on what happens during the trip, Kiran says: 'On reaching ground zero, the team runs off track. Their job is to create sustainable and effective solutions, in league with local change makers, who are already battling against local obstacles.'

So even while the Grassroutes team heads back home, they leave behind a trail of smiling faces and some impressionable work, which is carried forward by the local organisations.

For some Grassroutes fellows, the journey has awakened their dormant interest in social activism. For some others, it has altered their deep-seated beliefs. When a young man from Mumbai took up a project on malnutrition, he was shocked to see young children whose weight was less than their age. Narrating the story, he spoke about the other India that he never knew beyond numbers!

'We don't let this fire die down in them. Post road-trip, the travellers document their experiences in the form of blogs, seminar talks, and press releases that are aired nationwide,' Kiran says. The Grassroutes team has been successful in their objective of engaging more people in this campaign, and supporting similar initiatives elsewhere.


Trending Now: