Driven by a passion to serve the poor and needy, a doctor conducts free camps with his money

Usha Prasad
&nbsp | &nbsp Bengaluru
08-February-2016
Vol 7&nbsp|&nbspIssue 6
It won't be an exaggeration if Dr. Sunilkumar Hebbi is called a Messiah of the poor and downtrodden. This 33-year old MBBS doctor from Vijayapura (formerly known as Bijapur) in North Karnataka has conducted more than 650 free medical camps in and around Bengaluru.
The camps held under the aegis of his NGO 'Matru Siri Grameena Abhivrudhi Yuva Samsthe', have benefitted an estimated30,000 people so far. The NGO has around 600 volunteers including medical practitioners, software engineers and lecturers.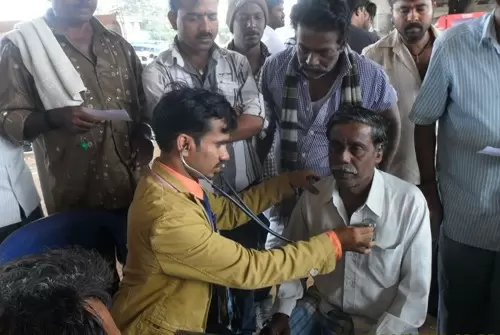 Dr. Sunilkumar Hebbi charges only Rs.30 for consultation and daily treats 10 to 15 patients free at his clinic in Sarjapur

As a general practitioner, Dr. Sunilkumar also runs Vatsalya Poly Clinic in Sarjapur on the outskirts of Bengaluru, where he treats around 60 to 70 patients every day.
Known as people's doctor, he charges a meagre Rs. 30 for consultation. With medicines, and basic diagnosis such as blood pressure and sugar check-up, he charges Rs. 100. He treats daily 10 to 15 poor patients for free.
Owning some cultivable land in his village, he uses some of his earnings from agriculture for his social service.
With a passion to serve the poor and needy since his childhood, Dr. Sunilkumar registered his NGO while he was doing his MBBS internship at BLDE College, Vijayapura.
After completing the course, Dr. Sunilkumar came to Bengaluru in 2008, where his NGO soon reached out to thousands of poor people for whom basic healthcare was a distant dream.
That year – he was working as a duty doctor in a private hospital - he witnessed an accident, which strengthened his resolve to serve the needy. A beggar, who was hit by a vehicle, was lying by the road side unattended.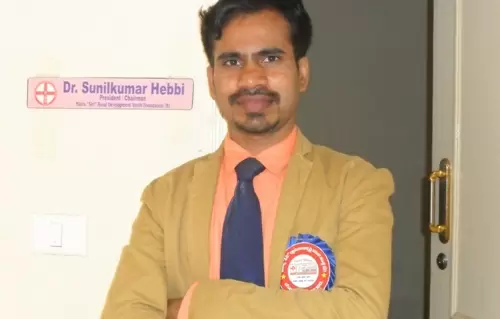 Dr Sunilkumar registered his NGO even while he was doing his MBBS internship

He stopped and procured the necessary first aid from a nearby pharmacy and took him to the hospital and cared for him.
"After this incident, I was deeply disturbed and realised that affordable healthcare was a big challenge for the poor and downtrodden," says Dr. Sunilkumar, who had initially worked as a volunteer with the Mobile Medicare Unit Project of Helpage India.
Later, he purchased a vehicle and launched the Mobile Life Line Express. This vehicle is equipped with medicines and apparatus to check blood pressure, sugar etc., along with an ECG machine.
"We started visiting different places identified by our volunteers and treated patients free of cost," he says.
Their first medical camp was held in an old age home.
"As word spread, a number of medical representatives also joined our group and helped us with free medicines. Many organisations collaborated with us and lent their support," he recalls.
Dr. Sunilkumar chose to set up his clinic at Sarjapur because it was closer to key IT cluster areas, and is a fast-developing part of Bengaluru, teeming with a lot of construction activity.
Here's where you find migrant construction labourers and garment factory workers in thousands, who cannot afford basic, primary healthcare.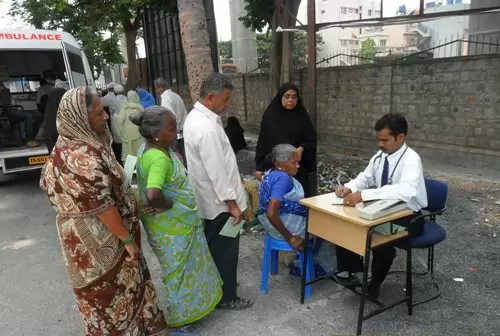 The good doctor at a camp for poor elderly patients

The NGO also runs a 'Gift of Service' programme, which offers an opportunity for people to sponsor a medical camp at any old age home or a slum to mark special days such as birthdays, or anniversaries.
Dr. Sunilkumar has been able to realise his dreams with strong support from his family. His wife, who holds a degree in Master of Social Work (MSW), has stood by him in helping him realise his dreams of serving the society.
"Now, it is my chance to give back to the society. With a lot of positive reaction and encouragement from the public and our volunteers, I want to achieve much more," he adds.

Inspired by the RVM Foundation Hospital, a free hospital for the poor and destitute situated on Bannerghatta Road in Bengaluru, Dr. Sunilkumar dreams of setting up a similar charitable hospital in Bengaluru. He also has plans to start a free clinic for the needy at his native Vijayapura.
Dr. Sunikumar is held in high esteem by those who are familiar with his work. Dr. Satish, who also runs an NGO 'Prema Foundation', has been associated with Dr. Sunilkumar's NGO for the last four years.
"Having come from a lower economic background, I know the importance of basic healthcare and education among the needy. I have been a part of more than 350 camps conducted by Dr. Sunilkumar," he says.
Anil Shetty, an entrepreneur, is all praise for Dr. Sunilkumar. "At his age, when most people in his profession think of making it big and becoming rich, he stands apart doing a yeoman service to the society.
"People like him re-establish the faith in doctors, what with the medical profession becoming so commercialised. We have nominated Dr. Sunilkumar for this year's Bangalore Youth Awards," he reveals.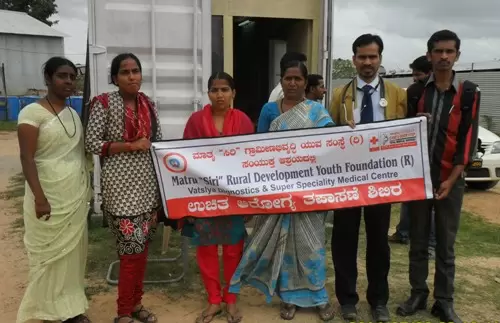 Dr. Sunilkumar with a team of volunteers

Dr. Dilip Kumar N, a dentist, is another volunteer associated with the NGO for five years now.
"Being a part of these medical camps lets me connect with people who are ignorant about basic oral health care. I carry dental models and teach people about oral hygiene and the right way to brush their teeth. This is an opportunity for me to give back to the society."
Dr. Sunilkumar recalls a recent incident when his team successfully treated more than 300 labourers.
"At the construction site of a huge apartment complex, construction workers had developed rashes on the skin. Insects feeding on the carcass of a rotting ox at the site must have spread the allergy.
"We treated the workers with tetanus injections and antibiotics by making frequent visits. This was one of the most heart touching incidents for all of us," he said.
Dr. Sunilkumar, may your tribe increase!

Trending Now: