Making farms shoot and watch videos to enhance agricultural production

Partho Burman
&nbsp | &nbsp New Delhi
23-January-2016
Vol 7&nbsp|&nbspIssue 4
It is morning in a small village in Dewas district, Madhya Pradesh. Farmers are gathered around, watching a video projected on a wall-screen. This 3:28-minute short film shows Sugan Bai, a woman farmer and community role model from Sitapuri village, who collects neem seeds to make organic pesticide, and then goes on to spray it on her crops.
In a happy ending, her fields, protected by this pesticide, yield 500 kilos more of her usual seasonal production of 2,000 kilos of wheat and 3,000 kilos of maize.
Rikin Gandhi has trained groups of farmers to produce videos that help other farmers increase their agricultural production

The sharp video appears to have been shot by a steady-handed professional cameraman, but it has, in fact, been recorded by farmers and for farmers, to help improve agricultural production and efficiency, using technology.

This wouldn't have been possible without 34-year-old Rikin Gandhi, who founded Digital Green to facilitate the farming community to produce such task-centred videos and capture feedback.
Digital Green is a Delhi based not-for-profit international development initiative that links an inventive digital platform to social organizations to better the lives of rural communities in India, South Asia and Sub-Saharan Africa.
"We produce locally relevant videos. The farmers believe in what they are seeing from themselves - a farmer, like themselves, speaking to a community of farmers," says Gandhi, Digital Green's founder and CEO, who gave up the opportunity to fly high to be close to the earth, working with farmers.
The videos have a back story that extends all the way to New Jersey, where Gandhi grew up as an NRI, with his parents, Bharat and Devyani, who moved to the US from Nadiad in Gujarat about 50 years ago.
After graduating in Computer Science in 2003 from Carnegie-Mellon University in Pennsylvania, Gandhi completed his Masters in Space engineering from the Massachusetts Institute of Technology in 2005.
A trained private pilot and aspiring astronaut, Gandhi was waiting after submitting his application for entry into the US Air Force, when a self-posed question puzzled him: What do astronauts do after they come back from space?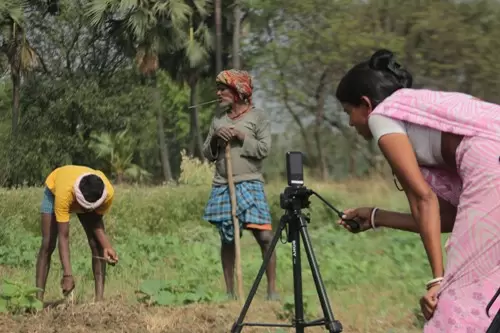 A woman farmer engaged in producing a video

Biographies of astronauts served up the answer: Astronauts see earth from a new perspective; they begin to wonder why there is so much poverty on earth, and most turn to teaching or farming.
Suddenly, the trajectory of Gandhi's life and ambitions altered drastically. His interests took a new turn and he began to explore what a group of his Carnegie-Mellon friends he was in touch with were doing in Beed district in Maharashtra: pursuing a project on bio-diesel with farmers cultivating oil-yielding crops.
Soon after, in February 2006, Gandhi enthusiastically joined this group in their work. However, by the end of May, the project wound up and Gandhi was back in the US.
But before long he was back in India as an employee of the Microsoft Research Team, where his job was knowledge-sharing with poor farmers to lead them towards prosperity through technology.
As part of the job, he worked in a few villages on the outskirts of Bangalore, with an NGO called Green Foundation.
After close to two years of knowledge-sharing and gathering knowledge at the grassroots, Gandhi quit his well-paying job at Microsoft and founded 'Digital Green' in December 2008.
His objective was to reproduce important messages for the farming community with the help of videos, MP3 players, posters and other appropriate media, through partnerships with existing social and other organizations.
"There are three components to Digital Green's initiative – production, screening and feedback. All videos are freely available to anyone via YouTube (youtube.com/digitalgreenorg) and the website (digitalgreen.org/discover)," says Gandhi.
"We only work through partners (e.g., the government's National Rural Livelihood Mission, and NGOs) who are already working in rural communities. We don't show the videos in farming communities ourselves. These partner organizations are the one that produce and screen the videos to support their existing farmer training programmes."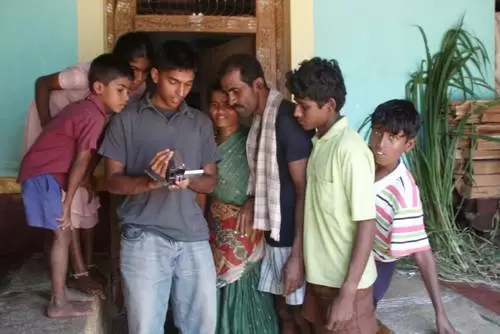 Gandhi wants to make agriculture a lucrative profession for people and not their last resort

Digital Green helps the local community to produce the video. "The farmers are our 'community video production team' with 4-5 people," says Gandhi, "who film the 8-10 minutes video footage, going around to farmers, using a simple camera, microphone and stand. The video editing is also done by the farmers themselves using programs such as Movie Maker on a computer."
The 8-10 minute video clippings are then screened using a battery-operated projector equipped with an HD card, and they can be rewound, forwarded or paused.
Depending on the farming cycle, videos are shown on ploughing, seed cultivation and so on, with short and practical messages, often with the intervention of a facilitator who helps to make the most of the interaction. During off-season, the videos focus on banking, livestock or nutrition.
While playing a video, quantitative and qualitative data is also recorded: how many farmers watched the video, what did they ask, and how many of them adopted the practices.
"We keep this information for further development and enhancement," explains Gandhi. "The feedback part helps us produce a new video."
Digital Green works within the framework of limited infrastructure and realistic costs. "We have a budget of about US$10m a year," says Gandhi.
"This includes financial support as well as human resources and equipment support that the Government of India's National Rural Livelihood Mission is investing in to scale our approach by procuring cameras and pico projectors," he adds.
Digital Green's partner organisations include the Ministry of Rural Development, India, Rajivika, ICRISAT, Myrada, the Kovel Foundation and MSSRF. Their research and technology partners are Cornell University, Microsoft Research, Berkeley University of California, IFPRI, Farm Radio International, Dimgi and IDEO.ORG.
Such collaborations result in a collective wisdom, born of age-old practices combined with scientific advances, and the creation of a living and continuously growing archive of best practices.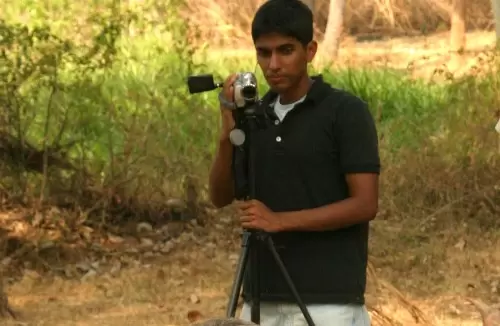 Gandhi's organisation makes available one new video every fortnight to its estimated 8,00,000 beneficiaries in the farming communities

Digital Green's facilitation footprint is massive. Till date the community farmers have produced 3,785 videos, reaching out to 7,905 villages in Andhra Pradesh, Telangana, Karnataka, Chhattisgarh, Maharashtra, Madhya Pradesh, Odisha, Jharkhand, Bihar, Uttar Pradesh and Rajasthan.
These videos have been screened around 4,34,496 times and 10, 82,132 farmers have adopted one or other practices that the videos focus on.
"Despite the diversity of location, soil, irrigation facilities and climate, the videos help farmers improve productivity and cut costs," says Gandhi. "It is an opportunity for us to increase the farmers' confidence in a confidence process of true development, which doesn't mean doling out subsidies."
With the help 97 staffers, and financial support from AGRA, Bill & Melinda Gates Foundation, DFID, Oracle, IFC, CISCO, Google, USAID and the World Bank, Digital Green not only serves the interests of Indian farmers, but also those in Afghanistan, Ethiopia, Ghana, Nigeria and Tanzania.
Besides reaching out geographically, Gandhi plans on expanding Digital Green's work on rural nutrition as well as in helping farmers take their produce to market, using technology.

Every fortnight as one of the 8,00,000 farmers watch a new video, aspirations change and Gandhi's aim is realised. "Agriculture shouldn't be vocation of the last choice," says Gandhi. "People can choose agriculture and be prosperous."
Wish to share your story?
Trending Now: