Bundeli Samaj founder does not want anyone to sleep in an empty stomach
11-January-2016
Vol 7&nbsp|&nbspIssue 2
His flowing salt-and-pepper beard, woollen yellow cap with the Om symbol imprinted on it may make you think that Tara Patkar, 46, is an ascetic who has renounced the world. In a way he has. In another way, he has never been more concerned for the world and its people.

He is, in fact, a real-life oxymoron - a monk wedded to public causes. This journalist-turned-fakir in Mahoba, about 230 km from Lucknow, in the Bundelkhand region of Uttar Pradesh, has been working to bring food assistance, medical facilities and social cohesiveness to the people of his hometown.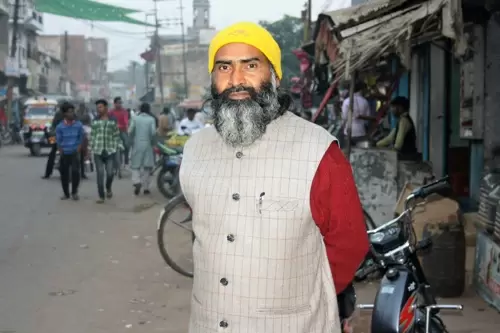 One might mistake him for an ascetic, but Tara Patkar is more concerned about the world and its people than anything else (Photos: Narendra Kaushik)

This is how it all began. One day in early 2015, Patkar and his friends fed five hungry people to dissuade them from begging for money. Within a fortnight, the number of beneficiaries rose to 60.

Bundelkhand region has been plagued with drought for several years. Last year the region witnessed 50 percent rain deficiency. It stunted the kharif crops and drastically reduced the sowing area for rabi last year.

In June, after the number of people needing food assistance increased multifold, Patkar decided to name their effort 'Roti Bank', and continued to feed the poor, the beggars and the destitute in Mahoba.

"When you meet your Master in Heaven," says Patkar, "he will ask you two questions: 'Did you see the beautiful world I created? and 'What did you do for it?'. The Roti Bank is our answer to the second question."

This was first-of-a-kind initiative of the Bundeli Samaj, a non-governmental organisation (NGO) that Patkar had founded with Haji Muttan, a like-minded do-gooder from Mahoba, back in 2010.

Roti Bank is a social collaboration with members from Hindu, Muslim, Christian and Sikh communities, in which every evening, Patkar, Muttan and two dozen or so volunteers go door to door, collecting donations of rotis and cooked vegetable from around 700 households, in large jute bags.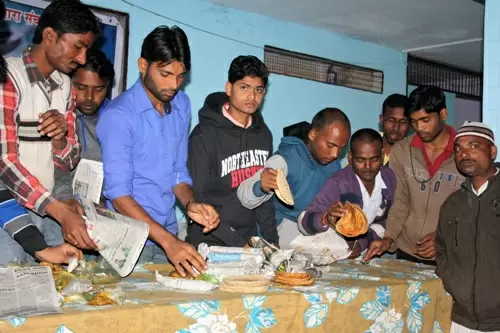 Volunteers sorting out the food collected from households for distribution

They feed, on the average, 450 people every day, distributing the food among homeless destitutes, abandoned seniors, and widows and children in four Kanshi Ram colonies housing people from weaker sections and minorities – all in four different corners of Mahoba.

Patkar recently extended the food programme to two villages –Chhikahara and Mullah Khoda – in the Kabrai sub-division of Mahoba district and is already discussing plans with his friends in Banda, Atarra, Lalitpur, Orai and other neighbouring towns to start Roti Banks there.

There are also plans to replace newspaper and poly-packs with steel tiffins for packing the food. "We are working on a system to ensure efficient cleaning and distribution of tiffins," says Patkar.

His motto is that nobody in Bundelkhand, a region comprising seven districts of Uttar Pradesh and six districts of Madhya Pradesh, should sleep on an empty stomach.

Even before the Roti Bank campaign was launched, Patkar had been active on the social platform in Mahoba.

In fact, he will soon be completing a year of his first important initiative in Mahoba: the call for a multi-speciality medical facility on the lines of the All-India Institute of Medical Sciences in New Delhi.

Last year, Bundeli Samaj volunteers and school students motivated by Patkar and his associates from the Bundeli Samaj wrote 1.5 lakh postcards in 18 languages to Prime Minister Narendra Modi in support of the cause– 15,000 of the postcards were written in Sanskrit and 5,000 Sanskrit letters were written by Muslims to show community solidarity for this request.

Girl students also sent 5,100 rakhis to Modi and 11 to each central minister as well as to Congress leaders, Uttar Pradesh Chief Minister Akhilesh Yadav, former state Chief Minister Mayawati and others on Raksha Bandhan.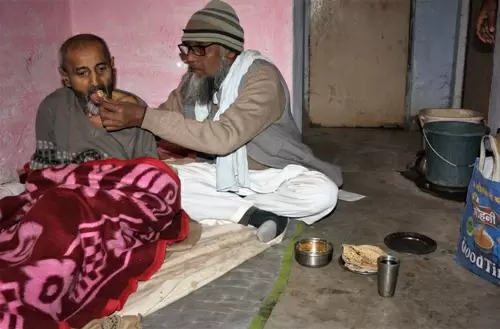 Haji Muttan, seen in the photo feeding a destitute, was a co-founder of Bundeli Samaj

In September 2015, Patkar vowed to walk barefoot till the government conceded to this need-based demand, and his road-scarred coarse soles are proof of this.

"The AIIMS in Mahoba can serve over a dozen districts of Uttar Pradesh and Madhya Pradesh," Patkar says. "After all, Bundelkhand lies at the centre of India and Mahoba is at the centre of Bundelkhand."

In an effort to keep Bundelkhand in good health, Patkar has also been offering free labour (shramdaan) since September 2015 at a lake near Gorakhgiri hill on the outskirts of Mahoba town, in an effort to increase its catchment area.

He has also enthused students to join him. Single-handedly, Patkar has done for the municipality more than what all political representatives of the city have done together in a year.

That's because in his own singular way, Patkar is infused with a zealous fire that burns bright for others. Right from the start, he displayed a spark – after his schooling in Mahoba, he went to Lucknow University for his graduation, followed by postgraduation in Mass Communications in 1995.

During the early 90s, he showed his preference for the itinerant lifestyle, exploring the entire Mahoba district on foot with Muttan.

After postgraduation, Patkar worked initially on the desk for publications such as Dainik Jagran, Jansatta, Jansatta Express and Tehelka (as a contributor). Later he covered Bundelkhand and wildlife for newspapers, winning an award for wildlife reporting from the UP Governor in 2003.

During his time as a journalist, the spark became a glowing flame, and he began to lean towards social activism slowly but surely. Starting with the founding of the Bundeli Samaj, he helmed a series of social initiatives.
Patkar has been walking barefoot in support of his demand for a multi-speciality facility like AIMS for benefit of people of the region

In early 2014, he led a cycling campaign to protest a tax on bicycles. Soon after followed a protest against 32 sewage drains spewing pollutants into the Gomti river – in fact, this became a major point in his manifesto when he stood for the Lok Sabha elections in 2014 for the old Swaraj Party.

Losing the elections did not bother him at all when other political parties also adopted this cause, and his objective was achieved. In November that year, he led a cycle samman yatra from Thiruvananthapuram to Kanyakumari to showcase the bicycle as the most environment-responsible vehicle.

Finally, after two decades in journalism, the call of home – now a hotbed of festering social issues – pulled him back to Mahoba in February 2015.

The town he had grown up in was beset with hunger, water scarcity, lack of medical facilities, government apathy and environmental hazards, and vulnerable to the communal tension afflicting many parts of Uttar Pradesh.

Once keen on his getting married and leading a 'settled life', now his extended family of 32 members, who all live on different floors of the same house, is happy to support him and his causes.

His father and two brothers run a grocery store, a book stall and a courier agency, while his other two brothers manufacture cardboard boxes for sweets.

Patkar's needs are small… he eats only one meal a day. "I love my fakiriyat and am married to it," says Patkar. "Where is the space for another marriage?"

There is always space for inspiration though. Last year, Patkar's elder brother's wife Prem Lata persuaded 21 Hindu women to fast during the holy month of Ramadan to express solidarity with the Muslim community (Patkar himself observes the fast).

It's no wonder that Mahoba has not seen communal riots in recent history. For this is where a Tara Patkar works in perfect harmony with a Haji Muttan, and a Father Lavan - a Catholic priest - to address the unfairly large and difficult issues of a small city.

For this is where hope is steered by a fakir-philanthropist whose moral compass always points it in one direction - towards humanity.
Wish to share your story?
Trending Now: