"After all, we must try to find ways to gift children the future they deserve"
Kirthi Jayakumar
&nbsp | &nbsp Chennai
04-January-2016
Vol 7&nbsp|&nbspIssue 1
On December 1, 2015, as the heavens opened up, in just a span of 12 hours Chennai had received a record breaking 272 mm of rainfall, submerging homes, snapping power lines and disrupting telephone and cellular services.
As the downpour continued for the next couple of days, people lost their cherished possessions, food supplies ran short and schools, hospitals and other civic institutions shut down.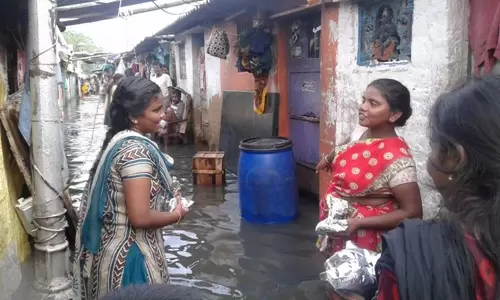 In the wake of the large-scale devastation caused by the flooding in Chennai, strugglung communities are being lent a helping hand by aid agencies and good Samaritans (Photo: Kirthi Jayakumar/WFS)

Today, the waters have receded but in the wake of the large-scale devastation they caused there is a whole lot of heartbreak and, of course, months of struggle - physical and emotional - to endure.
Shanthi, a domestic worker from Mandaveli area can't seem to shake that feeling of panic and fear out of her mind. That's because she had been forced to deliver her sister's first baby at home in the absence of any medical assistance or adequate medication.
She recalls, "My youngest sister, Mahalakshmi, was due in the first week of December. As a safeguard, she had already moved into my mother's house, which is on higher ground, and hence less prone to water logging.
"However, as the rains lashed mercilessly things got so out of hand outside that when she started having her labour pains there was no way we could ever get to a medical facility. We took the tough decision of doing her delivery at home, with my mother, myself, my other sister and my eight-year-old daughter helping out.
"There was no privacy due to space constraint and the men of the house, too, were right there. We had absolutely no way of managing her pain or giving her anything healthy to eat after she was through with the ordeal. Had things gone as per plan she would have had her daughter at the hospital nearby that does deliveries for a nominal fee. Thankfully, the mother and child are alright but I aware that things could have gone either way."
During a disaster, it's usually the women and children that are most vulnerable, often getting caught in awkward and even humiliating situations. Devayani, a 17-year-old from Kotturpuram, one of the worst affected areas, had a nightmarish few days because she got her period at the time.
She elaborates, "During periods most of us use cloth, usually cotton, cut out from an old shirt or vest. We wash and dry them in the privacy of our home and re-use them. However, the incessant rains created a huge problem because the cloth pads just wouldn't dry. I somehow managed by borrowing some from my neighbour. It was really dreadful."
Even as Devayani's concerns weighted down heavily on her, at the other end of the economic spectrum, too, things were not quite easy to handle despite no resource constraints.
Sharing the predicament she had found herself in, Divya Manikandan, an interior designer, says, "Using sanitary napkins and tampons turned out to be problematic because there was no place to dispose them. The garbage collection was not happening and even the main bin where the entire street's waste is gathered was overflowing into the water. I had to wait until the rains stopped completely before I could dispose of the waste."
Weeks later, getting back to some modicum of normalcy is still proving to be a huge challenge for the majority. In fact, in this season of strife, stepping up and rallying together to make things better is the best "gift" that communities have given themselves and their children.
From the start, help has poured in harder than the rains did, as those who could afford to, without delay, got down to packing and distributing food, blankets and basic medicines to those in need, apart from assisting people in relocating to higher ground. Doctors were out on the streets in a matter of hours giving relief to those in distress. Among the myriad support systems were the many, many volunteers who came out in large numbers to lend a hand wherever needed.
Bhargavi Santhanam, a young volunteer who collected over 2,500 sanitary pads from friends and family to hand out to women across suburban Chennai, says, "Initially, so many women I went to did not even know how to use the pads and so refused to take them saying they were used to cloth.
"My three friends and I did not give up though. We taught them how to use the napkins right there. It was raining like crazy, our clothes were sopping wet and our boots and shoes were full of water – but these women needed us and we were not about to leave them in the lurch."
Working of their own volition, without any organisational backing, young Samaritans like Bhargavi have been there for people, who are faced with the tough task of restarting 'normal' life with limited resources. Bhargavi says, "I decided to talk to women about maintaining hygiene and hand out sanitary napkins because it is crucial that they take care of their health.
"After the waters receded we went back to see how they were faring and though many are dealing with loss of household goods and the lack of food and potable water at least they are assured that they will be safe during menstruation. We have decided to reach out to as many women as we can for some time to come because things are far from normal."
Another effort to secure menstrual hygiene has been undertaken by the Red Elephant Foundation and Goli Soda, an organic living store in Chennai, in collaboration with Non-Resident Indians and others based in Singapore and the US, who have collected and shipped cotton saris and dupattas from which cloth pads and "wet bags" that are used to clean the pads have been made and supplied to women and girls in need by volunteers as well as the Ekam Foundation that has been organising post-flood relief activities.
Slowly, but steadily, Chennai and its citizens are trying to deal with the trauma and move forward. Radhika Rajeshwaran, a volunteer who helped out recently with a medical camp organised by a group of doctors, hopes that in time things will get better.
She emphasises, "Chennai was really resilient, and it is this resilience that is helping us continue our work. Rehabilitating families that lost their lives and livelihoods in the flood is what we are all focusing our energies on.
"For instance, I am working with an autorickshaw driver and his family these days. His vehicle got washed away and smashed into a wall damaging it beyond repair. Not only did he lose his auto but his license as well, both of which will require lots of money and time to recover.
"So the key is to find something he and his wife can do for the present to run their home. We've managed to find work for his wife as a domestic help, and we're looking to see if he can be appointed as an office assistant." - Women's Feature Service
Wish to share your story?
Trending Now: