Telangana's self-styled road doctor has service in his genes
S Sainath
&nbsp | &nbsp Hyderabad
30-November-2015
Vol 6&nbsp|&nbspIssue 48
In the Indian lexicon, P is definitely for potholes, pockmarking the length and breadth of roads across the country. Taking them on is Gangadhara Tilak, 68, of Hyderabad.

Tackling potholes with all his personal might and resources, he has spent Rs 16 lakh of his own savings and put in 10,000 man hours on this mission.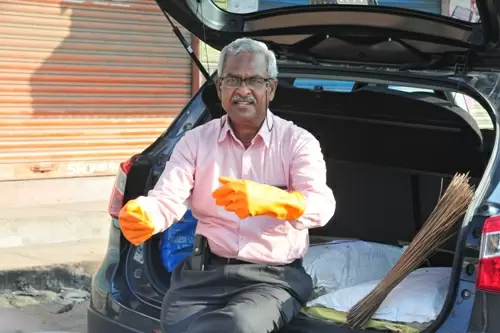 Gangadhara Tilak spends five hours daily filling up the potholes in Hyderabad

To meet Gangadhara Tilak, a one-man army against potholes, you need to take the much-trodden road, the one with the pits and pitfalls.

The road to Narsingi in Telangana, however, on the outskirts of Hyderabad, is as smooth as silk. After all, it leads to the house of pothole-enemy no. 1, and he has made sure there isn't a single bump on this road.

It's a nippy morning, but Tilak is up and sprightly, raring to go. "Today is an important day as we will be filling up pothole number 1201," he announces.

The plan is to tackle the potholes in Gachibowli, an IT suburb, about 15 km from Narsinghi. Armed with 8-10 bags of tar-mixed gravel, a crowbar to dig out the stones in potholes, and placards of 'Shramdaan' (voluntary labour) to divert the traffic, Tilak sets off.

Usually, one to five volunteers would be helping him but on this day, he has just Laxmi Narsimha Rao, who heads Corporate Social Responsibility (CSR) at the Computer Science Corporation, to accompany him in a volunteer's car. Tilak's own second-hand vehicle has gone for repairs. Tilak is not fussy; he is focused, has been for long.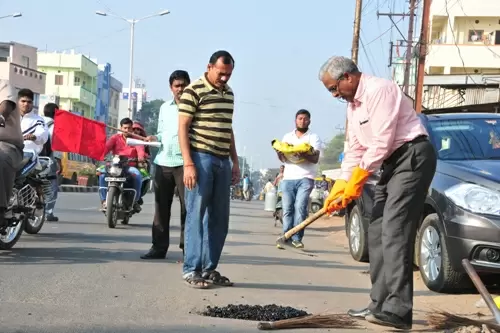 Tilak and his volunteers repairing a road in Hyderabad

A retired senior section engineer of Railways in the signals department, while in service he used to fill potholes during lunch hour and on his way back home.

Potholes became his full-time assignment of choice right after his retirement in August 2010 and has been at it for close to five years now.

Two incidents strengthened his resolve to wage a war on potholes. One day the same year that he retired, he saw a speeding car splashing up the dirty water from a pothole and smearing the uniforms of school-going children.

Another time he witnessed a young man losing his limbs because of an accident due to a pothole. These were the triggers for his pothole-filling drive, a deep-seated urge to give something back to society.

This desire was born many roads down during his childhood spent in the West Godavari district in Andhra Pradesh.

The bedtime stories, full of moral values, narrated by his father who was a simple farmer, and the example of his large-hearted grandfather who always went out of his way to help the needy, moulded Tilak's personality.

"My father told me stories in which people, irrespective of their status in society, helped the poor, went beyond the call of duty," Tilak recalls. "These stories made me who I am."

His family looked up to people who made a difference to society, especially the leaders of pre-Independent India.

He says, "Within our family there are many with names such as Kasturba, Gandhi, Rabindranath, Vallabhbhai, Rajendra Prasad and even a Churchill."

His own name was bestowed upon him by his grandfather: A dry borewell sprang to life on the day Tilak was born in Yernagudem village in West Godavari district – ergo, 'Ganga' symbolizing the River Ganga… and 'Tilak' was added because of his family's immense respect for freedom leader Bal Gangadhar Tilak.

That inspiration lives on and helps Tilak continue his work despite hardships.

All through his life Tilak did not save money for himself as he helped his relatives and those in need.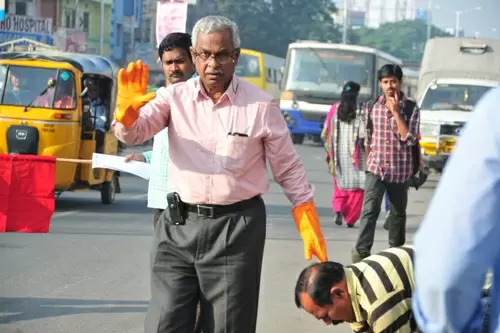 Volunteers find out Tilak's plan for the day and accompany him, whenever they could

Just after his retirement, his son, a software engineer in the US, presented him with two keys to an apartment and a car. Now Tilak was even freer to spend his wherewithal on potholes.

The family did resent him spending all his pension money chasing potholes, but Tilak was able to persuade them to his side.

One Mahashivaratri, after visiting a temple with his wife, he took a detour to fill a pothole. Out of nowhere two men, an autorickshaw driver called Basavaiah and a school assistant named Sivaiah came to help him.

It was then that Tilak's wife realized that her husband was indeed doing something beneficial and enduring. That's why no one in the family now, not his daughter, not his wife, nor his son, comment when he spends 70 per cent of his pension earnings to fill up potholes.

Tilak has garnered many supporters beyond the family too, receiving requests and information from the people, resident welfare associations, and friends through social media about roads that need repair.

"Even when we go out shopping," he says, "and I spy a pothole, it gets registered in my mind and I make sure that it is tended to."

While volunteers do get attracted to his work and sense of commitment, many leave after a few months. He does not accept money from volunteers but takes help to lug the bags of gravel and fill potholes.

Currently, there are about 100 of them who keep track through Facebook, helping on and off as and when they can – they call him in the morning to check his plan and accompany him.

His plan is always meticulously executed. Tilak maintains records of every pothole filled, with the date, time and location.

Maintaining a diary – with the area, pictures of the pothole and their unique name and number – and looking back at the day's work every night gives him contentment.

The Greater Hyderabad Municipal Corporation (GHMC), the civic body, uses 30 trucks of bitumen tar or BT mix material on a daily basis to fill up potholes, but keeps no records.

Tilak, on the other hand, can tell you the exact location of a pothole that was filled by him. "We also go back to monitor the wear and tear," he says.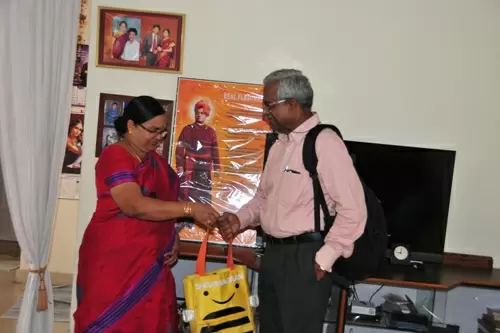 Tilak's wife sending off her husband for yet another day's service for community

All these years of rigorous physical work on potholes – nearly 5 hours a day – has taken its toll on Tilak's health. His wife now packs him two breakfasts of idli, dosa and rotis, but the lack of facilities on location has resulted in his needing to undergo a surgery for fistula and another is due.

However, Tilak is unfazed. He believes that the way forward is to work with Residential Welfare Associations (RWA) and making local people and residents accountable.

"If the RWAs and the municipal corporation work in coordination, there would be no pothole left," Tilak says.

For this follower of Swami Vivekananda and fan of Subhas Chandra Bose, "Manava seva" is "Madhava seva" (service to humanity is service to God).

No wonder that recently he shared screen space with Bollywood doyen Amitabh Bachchan on a leading channel where the latter complimented the road leveller beyond compare.

"Amitabhji said that he was a hero in films, but real heroes are people like me," recounts Tilak.

True enough. For people like Tilak, the road is the destination.
Wish to share your story?
Trending Now: