"A chance trip down the lanes of Kalighat changed my life"
G Singh
&nbsp | &nbsp Kolkata
12-October-2015
Vol 6&nbsp|&nbspIssue 41
Most people see deprivation only with their eyes, but Urmi Basu, 52, is one of those rare ones who see it with their heart.
Walking down the street of so-called shame and prejudice in south Kolkata, what she saw in the dark lanes of Kalighat gave birth to New Light, a registered public charitable trust that provides the children of sex workers safety, shelter and schooling.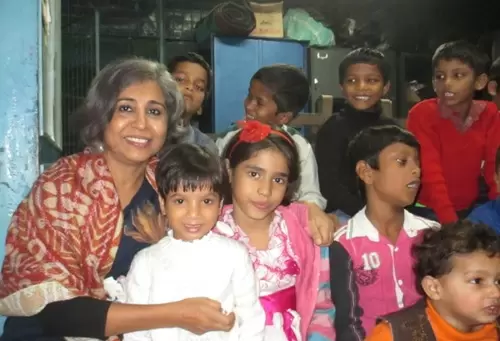 Urmi Basu's New Light is working with children of sex workers, taking care of their education and helping them find jobs

For the last fifteen years, Urmi Basu and her team have been working relentlessly in the red-light district of Kolkata in a mission to educate and provide better lives to the ignored, neglected and often humiliated children of sex workers.
In her work she combines her enduring concern for gender equality and the desire to help make things right for abused women, girl children and young people. It is an initiative that has deep roots.

Urmi Basu's father – a doctor – and mother – a health administrator – were active in the fields of urban and rural development, which initially set Urmi on the path of social work.
After completing her graduation in Sociology at the University of Kalyani, West Bengal, Urmi moved on to a Masters in Social Work at the Tata Institute of Social Sciences, Mumbai.
During her training she was part of the first cell set up for women in distress by the Mumbai Police Department.
She also worked as a relief worker during the Bhopal gas leak tragedy in December 1984, and it left an indelible imprint on her mind.
Through her career, she worked with issues related to urban and rural economic development, the empowerment and protection of vulnerable groups such as women engaged in sex work and subjected to violence, street children, trafficked child labourers and young people trapped by exploitation.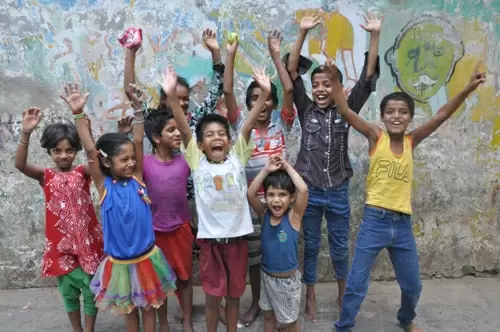 New Light creates the right environment for the children to pursue their dream, far from the brothels

She has also been part of targeted intervention programmes for transgender people and victims of HIV/AIDS.
However, it was finally Kalighat that gave her work its contours and impact.
"A chance trip down the lanes of Kalighat changed my life when I saw children staying in the filthiest conditions," Urmi recalls.
"They were looked down upon as obnoxious. We sometimes spare a thought for the lesser children of God, but how many of us actually come to stand by them?"
Well, she did. She decided to stand by their side in a long-lasting commitment. After fifteen years of professional work, in 2000 Urmi set up a small non-profit organization called 'New Light' in Kolkata.
The seed money was a tiny sum: Rs 10,000. Her comrades from Kalighat numbered two – Krishna Mondal and Shibnarayan Bhattacharya.
But their vision, like all great ones, was to be uncaring of the resources. It was to be a beacon of caring and hope for the children of Kalighat.
As the clock sounds 11 am, Kalighat bustles with devotees visiting the famous Kali temple in the core of the red-light district.
A few take a detour to the lane that usually doesn't get many visitors. This is where Urmi's office is, right among the people for whom her heart beats.
Past the line of women soliciting customers, the signboard shows up: New Light. A narrow passageway leads to a dingy staircase on to a terrace that has been the office of the organisation for the last decade and a half.
Dressed in white shirt and blue jeans, Urmi appears, silver-haired, energetic and smiling. From under the glass sheet on her table several well-known personalities who have visited her office look out of photographs.
Her cause has been acknowledged by various celebrities including American film director William Oliver Stone and former cricketer Ravi Shastri, among many others.
Her decision to work with the children of sex workers did not begin with accolades, though. In fact, it was quite the opposite.
"I had to face strong opposition from my family who were against my wishes to work in the infamous lanes of the city," says Urmi. "Finally, I parted with them to adopt my second family here."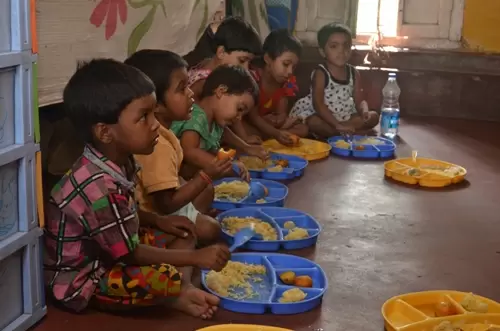 It's meal time for children at one of New Life's centres

At the start, she and her two co-workers, Mondal and Bhattacharya, now founding trustees of New Light courted hostility and suspicion.
Some thought them to be traffickers pretending to be do-gooders.
"Sometimes, we were also threatened to quit or be ready to face dire consequences," she says. It took a long period of sincere and persistent efforts to be one with the community, and gradually she started to win them over.
The offer to provide free education and shelter to their children, especially in the evenings when the mothers were working, helped New Light to gain the trust of the sex workers. They began sending their children to the shelter home which provides free room, food and education.
That's why New Light's pre-school programme "Jhinuk" has met with success, with the number of children enrolled rising every year.
Some of the children who come to New Light are infants.
"We take care of their upbringing and they learn basic things at Jhinuk before starting full-fledged school education," said Sucheta Mondal, an English teacher with New Light.
Most of the sex workers try to keep their children away from the environment in which they work and try to give a good life to them far from the brothels, but that's not true for all.
Some of these children have a risk of being trafficked by their own mothers, forced by circumstances to exploit their children.
Many of the sex workers suffer from serious addictions and remain in desperate need of money, especially when they start to age and lose customers.
In such a situation, New Light offers a safe haven for the children. "We have saved several children who might have otherwise been trafficked by their mothers," says Urmi.
After Jhinuk, children are enrolled in different schools of the city with which the organisation has a tie-up.
"We provide full financial support for them right uptil their higher studies," says Urmi.
"The only promise they have to make is to support other children like themselves in future. As they grow up, they are moved to other New Light accommodations, which include a girls' hostel in Tollygunge and a boys' hostel in Behala."
New Light renders a similar service in Sonagachi, one of the largest prostitution areas of Asia, and also runs a project for Dalit children in the city.
They work with around 250 children and offer them this window of opportunity to study, work hard and find jobs with prominent employers and companies.
This requires a spend of more than Rs 2 crore annually on their education and food, and the major part of this funding comes from the social network platform and word of mouth publicity.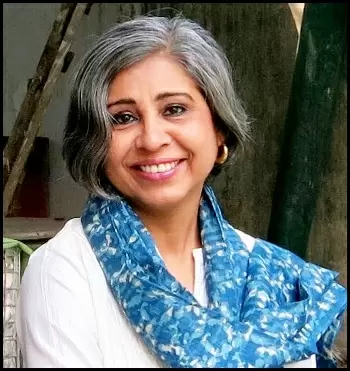 Urmi has plans to build a sixty-bed hospital on the city outskirts for HIV patients

Urmi also gets donations from Amistad International, Art in Motion, Battery 106 Project and private donors.
Not surprisingly, she has received recognition for her work in both India and worldwide, such as the Dalai Lama award for Unsung Heroes of Compassion in 2009, followed by the Make a Change Award from Children`s Hope India in New York in 2011.
In 2012, a documentary named "Half the Sky" featured Urmi and her work with the victims of trafficking. After this she received the Global Citizen Award at the Global Music Festival in Central Park, New York.
In 2013, she received the Godrej Eon Woman of Substance award, and in the same year, she was recognised as a Daughter of Greatness at the Muhammad Ali Centre, Louisville, Kentucky.
In May 2014, Urmi was recognized by Sakhi for South Asian Women, New York, for her lifetime contribution to fighting against gender based violence.
And most recently, in January 2015, the International Consortium for Social Development fêted Urmi with an award for her significant contribution in the field of social development.
The gutsy crusader isn't finished yet. She plans to come up with a sixty-bed hospital on the city outskirts for HIV patients and has earmarked a plot of land for her new project.
"The in-house patients would be provided free treatment while a nominal fee would be charged from out-patient department," Urmi explains, as the day winds down.
New Light has already been providing healthcare to sex workers and also to people outside the red-light areas. Their clinic, which operates from two locations, is manned by a general practitioner, a pediatrician and a gynaecologist.
Moreover, health workers and trained nurses are available to provide emergency medical services to sex workers and their children.
It's 5 pm and dusk has begun to envelop the sky behind the Kalighat temple where thousands of devotees have lined up for prayers.
A few metres away, Urmi and her team are busy feeding the hungry children of sex workers. It is a different kind of worship, and no less worthy.
Wish to share your story?
Trending Now: